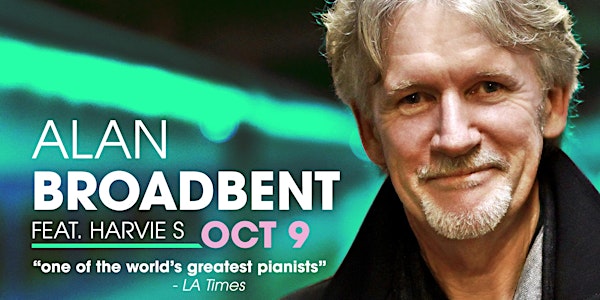 Alan Broadbent Trio Featuring Harvie S
Newly remodeled classic nightclub featuring raised ceilings, luxury booths, tiered seating, and state-of-the-art sound and lights.
When and where
Location
Crooners MainStage 6161 Hwy 65 NE Minneapolis, MN 55432
Performers
Alan Broadbent Trio
Harvie S
About this event
Dinner and cocktail seating and service begins 1 hour before showtimes.
"...one of the greatest living jazz pianists." - Los Angeles Times
Alan Broadbent was born in Auckland, New Zealand and in 1966, at the age of 19, received a Downbeat Magazine scholarship to attend Berklee College of Music in Boston. In 1969 he was asked to join Woody Herman's band as his pianist and arranger for 3 years. In 1972 he settled in Los Angeles, beginning a musical relationship with the legendary singer Irene Kral (no relation to Diana Krall). Soon he was also invited into the studio scene as a pianist for the great Nelson Riddle, David Rose and Johnny Mandel. In the early 90s he was asked to be a part of Natalie Cole's famous "Unforgettable" cd, at which time he toured as her pianist and, a little while later, as her conductor. At this time he wrote an orchestral arrangement for her second video with her dad, "When I Fall In Love", which won him his first Grammy Award for "best orchestral arrangement accompanying a vocal".
Turning Points
Shortly after, he became a member of Charlie Haden's Quartet West, touring the festivals of Europe, UK and the USA. It was while with this group that he won his second Grammy, an orchestral accompaniment written for Shirley Horn of Leonard Bernstein's "Lonely Town".
As a soloist and with his jazz trio, Broadbent has been nominated for Grammys twice for best instrumental performance, in the company of such artists as Herbie Hancock, Sonny Rollins and Keith Jarrett. In 2007 he was awarded the New Zealand Order of Merit, an honor he holds in high regard.
The Now
Broadbent is Diana Krall's conductor for her occasional orchestra concerts and is the conductor on her "Live in Paris" DVD. Recently he has been the arranger on Glenn Frey's cd with strings, "After Hours", and wrote six string arrangements for Sir Paul McCartney's "Kisses On The Bottom" with the London Symphony. He has just returned from solo piano concerts in the UK, Poland and France.
It has been his lifelong goal, through his orchestral arrangements and jazz improvisations, to discover, in popular music and standard songs, deeper feelings of communication and love.
"One thing I love about music is that, just through notes you can move people and be moved. Whether it's jazz, classical, popular music or standard songs, if it has that certain human quality to it, that's what I am looking for. And if it can be art on top of that, so much the better."
– Alan Broadbent
Harvie S, award winning bassist, educator, composer, arranger, and producer, is continually challenging himself and his peers, expanding the borders of musical direction.
Harvie's latest project is a recording done in 1985 with Jazz legend Alan Dawson and Mike Stern. going for it on High Note Savant Records.
His third release with Alan Broadbent Trio "Like Minds" on High Note Savant Records was just released in May 2022. The two previous releases "New York Notes" and "Trio in Motion" received rave reviews and were on the Jazz Week charts for over 3 months and reached #4. Harvie produced , engineered and mixed all of these projects.
Look for "Wondering" with Roni Ben-Hur and Sylvia Cuenca coming out in Sept 2022 on dot time Records and "You've been Warned" coming out August 2022 on Sunnyside records. Harvie recorded mixed, played bass, and co-led these recordings. In July 2022 Sheila Jordan "Live at Mezzrow" will be released with Harvie and Alan Broadbent.
A legendary bassist, he has performed and recorded with Stan Getz, Chet Baker, Dexter Gordon, Tony Bennett, Ray Baretto, Michael Brecker, Jean Pierre Rampal, Paquito D'Rivera, Gil Evans, Art Farmer, Mark Turner, Jim Hall, Billy Hart, Lee Konitz, Yusef Lateef, Dave Leibman, Joe Lovano, Pat Metheny, Paul Motion, Chico O'Farrill, Danilo Perez, Maria Schneider, Zoot Sims, Toots Thielemans, Ray Vega, James Williams, Phil Woods, Louie Bellson James Brown, Kenny Barron, Chick Corea, Tom Harrell, Sheila Jordan, Steve Kuhn, Pat Martino, Manhattan Transfer, Wycliff Gordon, David Mathews, Ingrid Jenson, James Weidman, Eddie Henderson, James Moody, Danilo Perez, Anat Cohen, James Weidman, Jim Hall, Mike Stern, Dave Leibman, John Scofield, Dr. Billy Taylor, Dave Liebman, Yusef Lateef and Grover Washington Jr. and countless others. He can be heard on twenty albums as a leader, fifteen as a co-leader, and over four hundred albums as a sideman.
Harvie S was selected a Jazz Ambassador for the United States and toured throughout Europe and Southeast Asia in this honored capacity. He has been a guest on NPRs All Things Considered and Fresh Air. His career is documented in Leonard Feather's Encyclopedia of Jazz, the Grove Dictionary of Jazz and the All Music Guide. Mr. S composed the musical themes for the documentaries The Trumpet Kings, The Piano Legends and John Coltrane.
Harvie S has been featured in print and internet articles in The New York Times, The New York Post, The Daily News, Japan Times, USA Today, Downbeat, All About Jazz, Jazziz, Cadence , Jazz Improv, Coda(Canada), Jazztimes, Swing Journal(Japan), Jazz Life(Japan), Jazz Forum(Poland), Jazz Hot (France), Hot House, Jazz Improv, The Los Angeles Times, Jazz Podium and Jazz-it (Italy).
Harvie S has performed at The Blue Note, The Iridium, The Kennedy Center, Montreal Jazz Festival, JVC Jazz Festival, Monterey Jazz Festival, Detroit Jazz Festival, Berlin Jazz Festival, Molde Jazz Festival, Moscow Jazz Festival and countless other venues worldwide.