Event Information
Location
Rhythmix Cultural Works
2513 Blanding Avenue
Alameda, CA 94501
Refund Policy
Refunds up to 30 days before event
Description
The Legacy Home Tour is Alameda's most exciting architectural event of the year. Every year, on the fourth Sunday in September, a selection of curated homes open their doors to tour visitors, who encounter history, inspiring restorations and modern living in these architectural beauties. The Alameda Legacy Home Tour will take place on Sunday, September 22, 2019, from 10 a.m. until 4 p.m.
This year's event, sponsored by Alameda Municipal Power, is particularly exciting with the inclusion of Alameda's own General Electric Demonstration house located in Alameda's Fernside District. Built in 1936, it is one of the unique homes GE built across America to show homeowners how electric appliances would modernize their lives. "With our 132-year legacy of providing Alameda homes with low-cost, reliable electricity, Alameda Municipal Power is proud to help illuminate the city's residential historical treasures by sponsoring the 2019 Legacy Home Tour," said Nico Procos, Alameda Municipal Power's general manager.
Event goers enjoy the selection of homes, the detailed descriptions in the brochure, the friendly docents, and the opportunity to see each house's interiors in detail. They'll have an opportunity to talk to some of the owners, find resources and meet with restoration vendors.
The ticket price includes an illustrated guidebook with a historical information and a map, and punch and cookies in the garden of one of the homes on tour. Once you have your admission ticket, begin your tour at any home, between 10 a.m. and 4 p.m. on tour day.
The tour is a fundraising event for the Alameda Architectural Preservation Society (AAPS) and the Alameda Museum , non-profit organizations.

Eventbrite fees are added on to the ticket price for online orders.
Important! You will receive a confirmation of your order almost immediately via email. If for some reason, you don't receive it, please contact us at (510) 423-3338 and we will try to find the reason.
On Tour day – September 22nd –you can bring your ticket to pick up a guidebook one of the ticket sales locations, Edison School, at Versailles & Lincoln. You may also go directly to either of two tour houses marked on your ticket that will be giving out tour guidebooks.
For your convenience, two locations will be able to give you your guidebook in advance of the tour starting September 14: Alameda Shade Shop at 914 Central Avenue, or the Alameda Museum at 2324 Alameda Avenue.
With your ticket, you may begin your tour at any home, at any time, between 10 a.m. and 4 p.m. The addresses are printed on your ticket confirmation. Houses will close promptly at 4:00 p.m. so plan your time accordingly.
Infants in arms are free; no strollers please. Children must have a ticket to enter houses.
No backpacks are allowed inside houses.
You may be required to wear booties in some or all of the houses; also, no high thin heels will be allowed inside, in order to protect the floors.
This event is our annual fundraiser. Please note that your contribution may be tax deductible within the limits prescribed by law.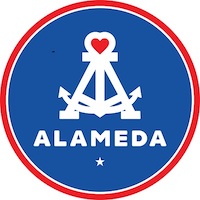 Date and Time
Location
Rhythmix Cultural Works
2513 Blanding Avenue
Alameda, CA 94501
Refund Policy
Refunds up to 30 days before event