Event Information
Location
Franklin Park
1432 San Antonio Avenue
Alameda, CA 94501
Refund Policy
Refunds up to 30 days before event
Description
Spend a day on a lovely island, visit the splendid interiors of historic homes, and stroll through neighborhoods rich in architectural heritage.
The Alameda Legacy Home Tour takes place on Sunday, September 23, 2018, from 11 am until 5 pm.
The ticket price includes a keepsake "Legacy Guidebook" and light refreshments in one of the locations on the tour. Musical performances in tour locations will be provided by students and faculty of the Alameda String Academy .

The tour is hosted by the Alameda Architectural Preservation Society (AAPS) and the Alameda Museum, both non-profit organizations.
Your purchase of a reservation on Eventbrite is a ticket voucher. On Tour day – September 23rd –exchange your voucher(s) for a wristband and a tour map at one of these two locations: Franklin Park, San Antonio & Morton St. or at Frank Bette Center for the Arts, 1601 Paru St. in Alameda, from 10:00am to 3pm.
Once you have your wristband and map, begin your tour at any home, at any time, between 11 a.m. and 5 p.m.
Infants in arms are free; no strollers please.
Bike Friendly information! Alameda's dockless bike program is LimeBike. Download the free smartphone app, add credits, look for bikes in the app, unlock, and start riding! More information at http://www.limebike.com . Because the tour happens in residential neighborhoods, we are not able to guarantee bike racks will be available for you to lock your own bike while touring inside the houses.
Web site: Alameda Legacy Home Tour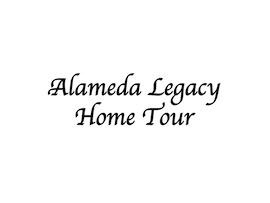 This event is our annual fundraiser.
Please note that your contribution may be tax deductible within the limits prescribed by law.
If you cannot attend the tour, your ticket voucher is completely transferable to another person to attend.
Date and Time
Location
Franklin Park
1432 San Antonio Avenue
Alameda, CA 94501
Refund Policy
Refunds up to 30 days before event