Public Salon: The Ideas Of Alain Bertaud.
About this event
Alain Bertaud will share his insights into making a great city with special attention to the Vancouver context. Alain is the former chief Urban Planner with the World Bank and author of internationally acclaimed Order Without Design. He began his career working for le Corbusier designing Chandigarh Capital of Punjab and is described as the Harrison Ford of planning because of the exotic places he has worked.
Alain and the other speakers will share their insights into making a great city with special attention to the Vancouver context. Then six local urbanists will present their views and insights on how Alain's views relate to Metro Vancouver. Alain will be joining us on the big screen from New York.
You will see the data visualization of Jens von Bergmann, Indigenous insights from Squamish Nations Leader Chris Lewis, insights from UBC SCARP Planning Professor Julia Harten, economics from SFU's Andrey Pavlov, Wendy Water's Real Estate perspective and thoughts from City Planner Michael Mortensen.
The ideas of Alain Bertaud could lead Vancouver to be a more affordable, prosperous and vibrant city that evolves organically in response to human needs.
Tickets for Presentations 7:30 - 9:00 pm at the Vancouver Playhouse
Tickets for Speakers Dinner at the Vancouver Playhouse 6:00 - 7:20 pm
Tickets available for Online Viewing 7:30 - 9:00 pm (Donation)
Members of the Architectural Institute of BC and the Planning Institute of BC are eligible for 1.5 Professional Development Credits for attending.
BCSLA CE Credits are available for members of the British Columbia Society for Landscape Architects for attending.
There will be 5 online Urban Lunches during the summer leading up to the Alain Bertaud evening on September 20th.Each workshops will be lead by a Vancouver Urbanists who will share their thoughts on Alain Bertaud's book, Order Without Design How Markets Shape Cities.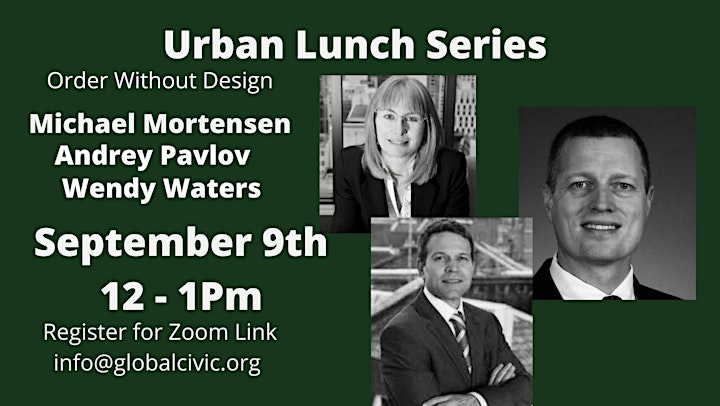 The fifth Urban Lunch includes speakers Wendy Waters, Real Estate researcher, Michael Mortensen, Urban Planner and Andrey Pavlov, Professor at SFU.
Wendy, Michael and Andrey will speak about how the ideas of Alain Bertaud have affected their research and practice.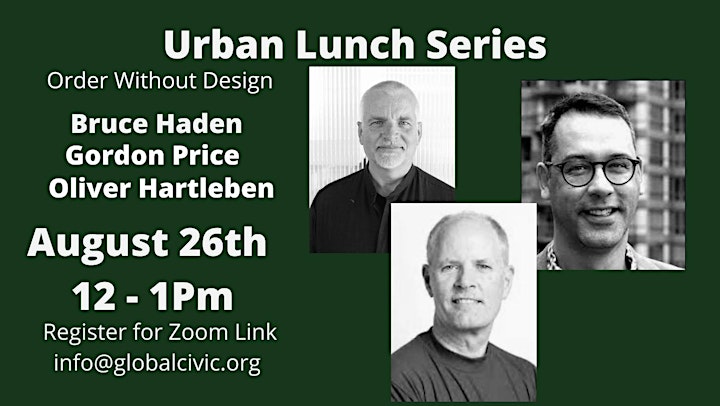 Bruce Haden is the co-author of Urban Magnets and the co-founder of Human Studio. Oliver Hartleben is the former planning head of Guatemala City and current head of IBI's West Coast Placemaking Team. Gordon Price is a former Vancouver City Councilor, the founder of Viewpoint Vancouver and the former Director of City Program at SFU.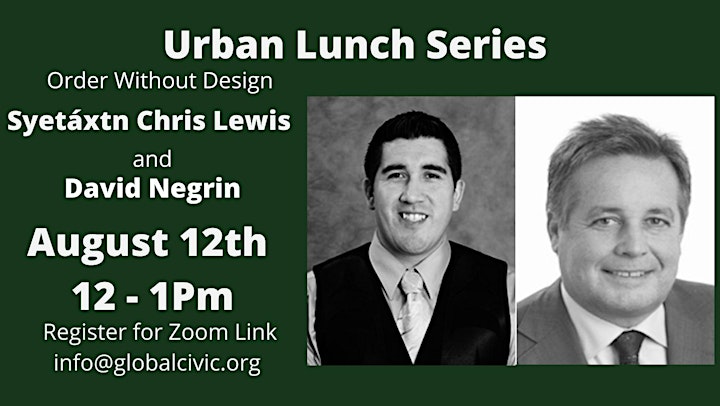 Chris Lewis has been at the forefront of the resurgence of indigenous developments that are transforming our region.
Chris Lewis seeks to ensure that indigenous values remain primary through consultations with elders and other members of the community and that these insights are shared with aboriginal people internationally.
David was head of Concord Pacific as it transformed North False Creek from a rail yard into an internationally celebrated liveable community. David will share his insights on how indigenous values and experiences can teach us all about creating a better, more resilient city.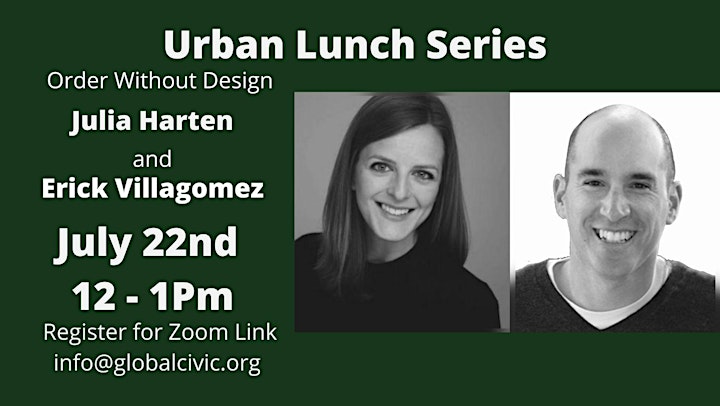 Julia Harten and Erick Villagomez of UBC SCARP will build on ideas of housing affordability and densification covered in last weeks Urban Lunch.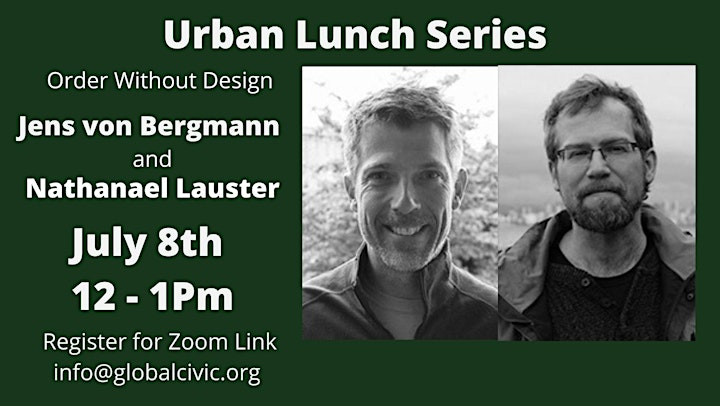 Jens von Bergmann data analyst and visualization expert will join Nathanael Lauster sociologist, demographer and author to present Vancouver's density gradient and insights into local zoning.
Jens was inspired to calculate Vancouver's density gradient after reading Alain Bertaud's book "Order Without Design". They will suggest why Vancouver's gradient is so different from other cities.
We will have 5 Urban Lunches in the lead up to Alain Bertaud's presentation at the Vancouver Playhouse on September 20th.
Don't miss this hour that will make you think different about our city.
Register at info@globalcivic.org for your zoom link or at eventbrite.
https://www.eventbrite.com/e/urban-lunch-series-tickets-161129722337
Join us online from 12 - 1:00 pm.
July 8th with Jens von Bergmann & Nathanael Lauster
July 22nd - Erick Villagomez & Julia Harten
August 12th - Syetáxtn Chris Lewis & David Negrin
August 26th - Bruce Haden, Oliver Hartleben and Gordon Price.
September 9th - TBA
September 20th - Alain Bertaud, Urban Planner & Author of "Order Without Design"
Organizer of Alain Bertaud: Urban Planner and Author
Based in Vancouver, British Columbia, The Global Civic Policy Society encourages a knowledgeable and cosmopolitan citizenry to make strong connections to their community.  Since its inception in 2010, the Society has created a number of initiatives to that end:
The Global Civic Policy Society presents regular Public Salons at which presenters speak on a broad range of topics.
The Global Civic Policy Society's newest initiative is the Public Office Project, an independent non-partisan research and education initiative based in Vancouver, British Columbia that seeks excellence in elected public governance.
It is also trying to revive the aboriginal trade language Chinook Wawa through Kumtuks, the Chinook Wawa word for "knowledge". The Kumtuks Project mines British Columbia history to explore new narratives and reclaim old ones for an increasingly diverse citizenry.
The Society runs Transcribimus, a network of volunteers that is transcribing early City Council minutes and other hand-written documents from early Vancouver, and making them freely available to students, researchers, and the general public.