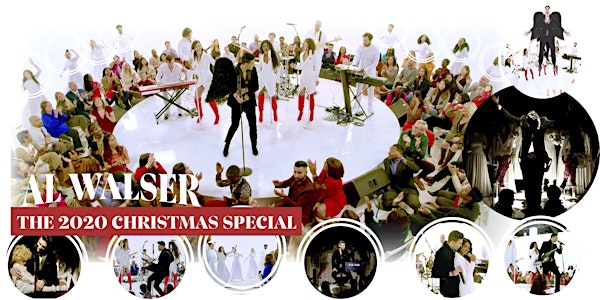 AL WALSER: THE 2020 CHRISTMAS CONCERT SPECIAL (Video On Demand - Watch Now)
Watch this breathtaking Christmas TV show by GRAMMY®-WINNER Al Walser with some of the best Christmas songs for 2020 now on your screen.
When and where
Location
Watch Concert Now: Video On Demand (Online) This concert was recorded at: 6309 Eleanor Ave Los Angeles, CA 90038
About this event
(TV Concert Special -117min)
Buy This Online Ticket for $14.99 and Watch Now directly on your screen or TV:
The 2020 Christmas concert show TV Special
Experience GRAMMY-WINNER Al Walser in this timeless epic Christmas-Holiday TV Special, as his truly electrifying performance transports his audience and viewers worldwide to a place set in heaven. You're invited to the front row to enjoy some of today's best new Christmas songs. This concert TV Special, recorded in front of a diverse live audience in the heart of Hollywood, features a truly exciting christmas songs list, additionally delivering new inspired original Christmas songs written by Al Walser. You will hear modern and classic styled Christmas Carols in a full length Christmas music concert not to be found on YouTube. Christmas music fans that enjoy Christmas songs and performances by Elvis Presley, Michael Bublé or Pentatonic, were positively intrigued by the 2020 Christmas Special.
Ticket: Online viewing in HD/4K
This ticket will give you access to watch the show online in HD/4k and shows the full length concert including nearly extra 10min of Bonus Making-of/behind the scenes footage.