Akoma: The Celebration of Black History Month Film Screening

Wednesday, February 26, 2014 from 6:00 PM to 10:00 PM (EST)
Event Details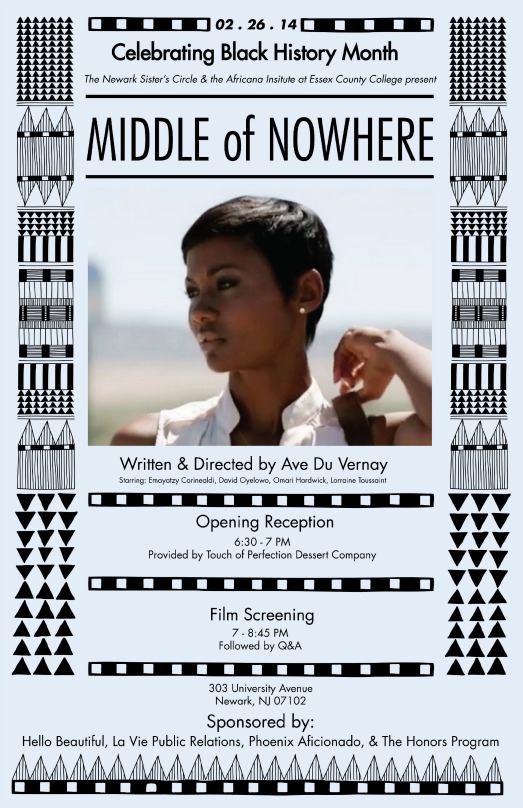 The Akoma Newark Sisters Circle in collaboration with The Africana Institute at Essex County College host a film screening in celebration of Black History Month in Newark.
The event is a special screening of, "Middle of Nowhere"
by Female African American Director,
Ava DuVernay.
The intent for this film is to spark dialogue regarding the images of People from the Diaspora in the film and media industry, the struggles of being an African American filmmaker and open discussion on the prison system in conjunction with the global black family.
This event was produced by Haitian American Artist, Sophia Domeville.
"Akoma Film Screening"
Essex County Community College
The Africana Iinstitute Theater
303 University Ave, Newark, NJ 07102
Wednesday, February 26th, 2013
Opening Reception: 6:30pm - 7:00pm
Opening Remarks - Sophia Domeville: 7:00pm
Film Screening, "Middle of Nowhere": 7:15pm
Panel Discussion: 8:45pm - 9:30pm
Closing Remarks - Jessica Dunston: 9:30pm
Wrap Up: 10:00pm
Panelists TBA
Event Sponsors
The Africana Institute at Essex County College
Empress Movements
Hello Beautiful 
La Vie Public Relations
Phoenix Aficionado Inc.
The Honors Program
Touch of Perfection Desserts
The National Black United Front
About the film:
http://www.middlenowhere.com/
Winner of the Best Director Award at the 2012 Sundance Film Festival, Middle of Nowhere follows Ruby, a bright medical student who sets aside her dreams and suspends her career when her husband is incarcerated. As the committed couple stares into the hollow end of an eight-year prison sentence, Ruby must learn to live another life, one marked by shame and separation. But through a chance encounter and a stunning betrayal that shakes her to her core, this steadfast wife is soon propelled in new and often shocking directions of self-discovery - caught between two worlds and two men in the search for herself.
When & Where

Essex County Community College
Africana Institute Theater
303 University Avenue
Newark, NJ 07102


Wednesday, February 26, 2014 from 6:00 PM to 10:00 PM (EST)
Add to my calendar