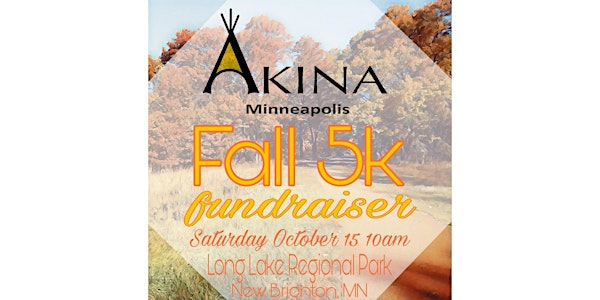 Akina's Fall 5K Fundraiser
We are excited for another amazing year investing in Akina kids. Join us as we work together to invest in these fantastic kids.
When and where
Location
Long Lake Regional Park Rice Creek Trail New Brighton, MN 55112
About this event
Consider a gift of $500 which would cover a year of Akina Kids Club for 1 student. $20 covers one week for one kid. How many nights can you sponsor?
akinampls.com/give/5k
This covers transportation, a healthy meal, and a safe place of hope, hearing the Gospel, and building positive, life long relationships. There is, as well, homework help and literacy on a second night.
Each gift of any amount makes a life lasting impact on a students life.
FREE T-shirt with your $100 or more dollar donation to Akina when attending.
FAQS
1.  What is Akina?
Akina is a religious non profit program serving the Native American Community in South Minneapolis.
OUR MISSION: Akina seeks to provide opportunities for at-risk youth in the Native American community to know Jesus, grow in Christ, and to acquire skills to live out the fullness found in Jesus. We provide this opportunity through discipleship, literacy, teaching life skills, and church partnerships.
OUR VISION: To raise up a generation of Native Americans that will be established in the Gospel and equipped to make a difference for the Kingdom of God.
2. What is the need of the Native American Community in South Minneapolis?
Traditionally, Native students and families in the community suffer from the effects of generational trauma.  This includes high rates of depression, suicide, alcoholism, and drug addiction.  Native American students and families are amazing and loved by God, They need the hope of Jesus and love of the community to thrive!
3. Where will my donation go?
All monies raised outside of registration fees will go directly to Akina programing to cover the costs of food, transportation, and special events throughout the year at Akina.
4. Can I make a donation only, without attending the event?
Yes! Go to akinampls.com/give/5k to make your donation.
5. Can I send a check via mail?
Yes.  Checks can be made out to Akina and sent to:
3249 30th Ave S, Minneapolis, MN 55406
6. How much does Akina need to raise? 
We are aiming to raise $15,000.00 to cover the cost of a year of programming.  Any extra funds raised will cover the cost of building maintenance and special projects to keep Akina a fantastic place for students to come!
7.What does the cost of registration cover?
Registration covers, event fees, snacks and water.
8. Can I set up a recurring donation?
Yes!  That can easily be done through akinampls\give/5k
9. To what organization is Akina financially accountable to?
Dan and Erin Pack and Akina are affiliated with and accountable to Assemblies of God US Missions. usmissions.ag.org
10. Is my donation tax deductible?
Yes!  Receipts will be sent to donors as donations come in.
11. Where will the walk begin?
Long Lake Regional Park (at the beach)
1500 Old Hwy 8 NW :: New Brighton, MN