Description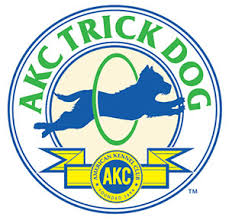 ABOUT TRICK DOG
From the 1920's and 1940's when trick dogs such as Rin Tin Tin and Lassie won peoples' hearts, trick dog training has become one of the most exciting new areas in dog training today.
TRICK DOG TITLE INFO:
AKC Trick Dog titles are official AKC titles listed on the dog's title record.
Dogs must have an AKC, PAL, or AKC Canine Partners number to earn a title.
TRICK DOG TITLES -
The dog performs 10 skills from the Novice list. (see link to "Application" below for lists of skills). If a dog has a Canine Good Citizen (CGC) certificate or title on record at AKC, it can do 5 Novice tricks (CGC + 5) to earn the Novice title.
INTERMEDIATE TRICK DOG (TKI)
The dog must have the Novice title, plus perform 10 Intermediate tricks.
The dog must have the Intermediate title, plus perform 5 tricks from the Advanced list.
See Checklists & for more information - http://www.akc.org/about-trick-dog/

Date and Time
Location
Dog Training Club of Dallas County, Inc.
604 Crestside Drive
Duncanville, TX 75137