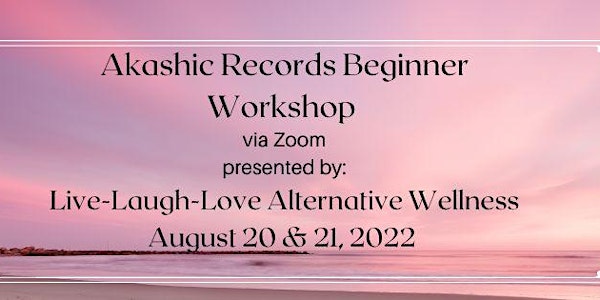 Akashic Records Beginner Workshop Online
Are the Akashic Records Calling you? Join us and learn how to read your Akashic Records
Refund Policy
Refunds up to 1 day before event
Eventbrite's fee is nonrefundable.
About this event
Are the Akashic Records Calling you?
Are you looking to discover answers to age old questions that no one can answer for you?
Do you want connection to the present and past lives?
Are you looking to discover your soul's purpose?
The Akashic Records are waiting for you….
In this workshop you will learn how to open and read your own Akashic Records. Meet Lord of the Akashic Records and Angel Riddel in a weekend of learning, connecting, and discovering the love, grace, healing, and answers to many questions that are held in the Akashic Records.
Learn how to receive healing, how to identify contracts, deals, and agreements that you have made. Learn how to get information to all those burning unanswered questions you have had about your life. Get information about your past lives. Learn how to automatic write and so much more.
Please note, while this is a beginner level for Akashic Records, it is not a beginner level Spiritual Modality. It is recommended that you have some experience in spirituality (e.g. Reiki) and familiarity and/or some practice with your Claire-abilities and/or channeling. (Please feel free to message me with any questions.)
** Please refrain from alcohol or recreational, mind-altering drugs 24 hours prior to or during training **
FACILITATOR:
Toni Snyder of Live-Laugh-Love Alternative Wellness
DATES:
This is a two-day event (limit 6 people):
Saturday, Aug 20, 2022, from 9:00 AM-4:00 PM MST
Sunday, Aug 21, 2022, from 9:00 AM-4:00 PM MST
LOCATION:
Online: Zoom link will be sent out to those who have registered and paid.
INVESTMENT:
$400.00 CAD. Registration form will be sent when you inquire. Please PM or send me an email at livelaughlovereiki@gmail.com to register and the payment information will be sent at that time. A deposit of $50.00 CAD is required to confirm a spot. Payment options for the course are either e-Transfer from within Canada and PayPal or Square for participants from other countries. E-transfer is preferred but if another payment option, such as PayPal is needed, please email Toni. The remaining $350.00 CAD is due by Friday August 19, 2022, 12:00 PM Alberta time. You may also choose to pay via Eventbrite (you are responsible for their fees this is why the difference in price).
Your registration includes a pdf manual and a mantra sheet. These items will be sent to you via email the day prior to the training session. Upon completion of the training session, participants will receive a certificate.
If you have any questions or concerns, please message Toni on Live-Laugh-Love Alternative Wellness Facebook page (www.facebook.com/tonilovesreiki )or send an email to Toni at livelaughlovereiki@gmail.com.
Sending you all love and light ~ Toni