Description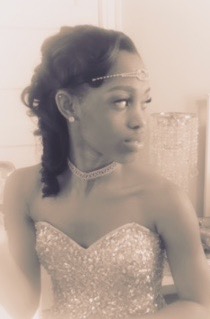 Dear Family & Friends,
I have the distingusihed honor of being selected as a debutante for the Pauline Redmond Coggs Foundation, Incorporated 44th Annual Debutante Cotillion, and I am seeking your support in my personal campaign. The Cotillion will take place on the evening of Saturday, November 25, 2017.
The commission of the Debutante Cotillion is to advocate community service and provide scholarships. As a Debutante, I will receive 35% of all souvenir booklet proceeds that exceed $1,000. However, the title of "Miss Debutante 2017" is crowned to the Debutante that raises the most money by the final reporting date of October 21, 2017.
I am a senior at Pius XI Catholic High School and have been on the track team, Pius XI Dance Department, on the student ambassador program and am a Christian Ministry "Big Buddy" mentor. I am a member of Pilgrim Rest Baptist Church and have served as a youth in action volunteer, youth choir member, praise dancer and summer learning camp worker for many years.
I am seeking your contributions in my effort to become "Miss Debutante 2017". Your support can be given in the form of purchasing a ticket to the Cotillion Ball on November 25, 2017, or in the form of purchasing a patron ad that will appear in the souvenir book. The monies I receive will assist me as I obtain my educational goals to study Fashion Design and Merchandising at either Mount Mary College, Kent State University or Savannah College of Art and Design (SCAD).
If you would like to forward your contributions by mail, send to: Chad and Robin Johnson at 2425 N Grant Blvd, Milwaukee, WI 53210. You can also contribute by purchasing tickets or making donations online.
Thank you in advance for your support.
Sincerely,
Deb. Adara A. Johnson
---
Here's How You Can Help
You can purchase tickets and/or an advertising listing to be displayed in the souvenir journal.
Listings are as follows:
Patron Listings
Enchanting Pearl $500 (Includes a 1/2 page ad and 1 event ticket)
Ads can be customed designed or submitted. Please submit images or ideas for ad designs, or your preapproved ad to imchadjohnson@gmail.com or johnson.adara@yahoo.com for approval.
Sophisticated Pearl $200.00
Graceful Pearl $150.00
Glamorous Pearl $100.00
Alluring Pearl $75.00
Captivating Pearl $50.00
Charming Pearl $25.00
Event Tickets
Individual Tickets $65.00
Table of 10 $650.00

Purchase and Donation Deadline: October 21, 2017
All contributions are accepted and appreciated!.
Check(s) can be made payable to:
Pauline Redmond Coggs Foundation, Inc.
501c(3) tax exempt charitable organization and a portion of your contribution is tax deductible.
If you are interested in purchasing an ad - individual or group - please contact Chad Johnson at (414) 305-0010 | IMCHADJOHNSON@GMAIL.COM or Robin Johnson at (414) 405-1204 | FLOWERSPLEAZE@YAHOO.COM for further support.