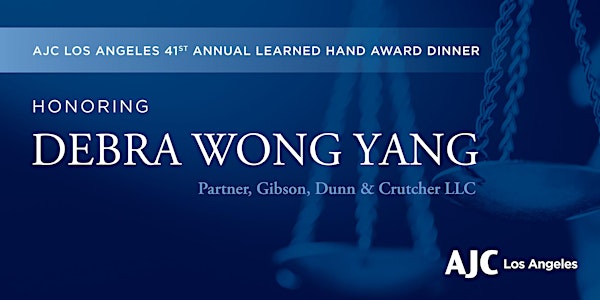 AJC Los Angeles Judge Learned Hand Award Honoring Debra Wong Yang
AJC Los Angeles | Judge Learned Hand Award | Honoring Debra Wong Yang
About this event
American Jewish Committee (AJC) Los Angeles is delighted to present its highest honor, the Judge Learned Hand Award to Debra Wong Yang, a partner at Gibson, Dunn & Crutcher LLP's Los Angeles office. Named in memory of Judge Learned Hand, one of America's great jurists and humanitarians, the award is given to outstanding members of the legal profession in recognition of their activities and achievements for the betterment of the community.
The celebration will be held on Thursday, December 15, 2022 at SLS Hotel, Beverly Hills.
For more information, please contact Melissa Saragosti at saragostim@ajc.org or at 310-405-7565.