Description
AJC Seattle Advocacy in Action Dinner
Honoring Dr. Aaron z"l and Ruth M. Bernstein
Tuesday, September 24, 2019
Cocktail Reception 5:45 p.m.
Dinner 6:30 p.m.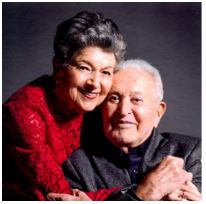 Honoring Dr. Aaron z"l and Ruth M. Bernstein
Ruth and Aaron z"l Bernstein's involvement with AJC spans more than a half-century. In the 1960's, when Ruth and Aaron were first asked to host an AJC event at their home in Short Hills, New Jersey, Aaron was a successful anesthesiologist and Ruth was busy raising their beloved children, Jay, Guy, David and Judy. Outside of their home, Ruth volunteered for numerous organizations, including serving as a board member of AJC. Ruth's focus was and still is on fighting antisemitism, defending the legitimacy of the State of Israel and building bridges with other communities to combat discrimination and areas of shared concern. Ruth remained an active board member of AJC New Jersey until she and Aaron moved to Seattle to be closer to their daughter, Judy, son-in-law Jeff and their four children. AJC Seattle is honored to have embraced Ruth and Aaron as our own and grateful for Ruth's continued involvement as an advocate and benefactor of the organization.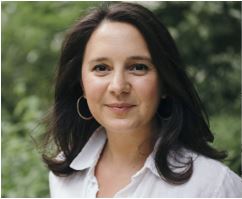 Featured Speaker
Bari Weiss - Writer and Editor, The New York Times Opinion Page
Before joining the Times, Bari was an op-ed editor at The Wall Street Journal and an associate book review editor there. For two years, she was a senior editor at Tablet, the online magazine of Jewish news, politics, and culture, where she edited the site's political and news coverage. She regularly appears on shows like The View, Morning Joe and Bill Maher.

Bari is a proud Pittsburgh native and a graduate of Columbia University. She is also the winner of the Reason Foundation's 2018 Bastiat Prize, which annually honors writing that "best demonstrates the importance of freedom with originality, wit, and eloquence."

Vanity Fair recently profiled Weiss, describing her as the Times "star opinion writer" Her first book, which could not be more timely, is called "How to Fight Anti-Semitism" and will be out this September.
Dinner tickets: $225 per person
Table of 10: $2,250
To purchase your ticket, please click on REGISTER at the top right of this page.
---
TRIBUTES:
AJC would be pleased to include you as a member of the Tribute Committee honoring Dr. Aaron z"l and Ruth M. Bernstein:
Contributions of $1,250 or more will have a tribute in our book honoring Dr. Aaronz"l and Ruth M. Bernstein or AJC Seattle and be invited to a pre-event reception with Bari Weiss. To be listed in our tribute book, please respond by August 30, 2019.
National Leadership Council level: Gives access to exclusive AJC experiences and international travel opportunities, diplomatic missions and private briefings with world leaders.
Ambassador $100,000

(Full Page tribute)

Diplomat $ 50,000

(Full Page tribute)

Delegate

$ 25,000

(Full Page tribute)

Advocate

$ 10,000

(Full Page tribute)
Marshall Society level: Gives access to exclusive AJC programming locally and nationally, and invitations to participate in regular AJC Insiders Briefing conference calls on today's most pressing geopolitical issues.
Emissary

$ 5,000 (Half Page tribute)
Activist

$ 2,500 (Quarter Page tribute)
Partner

$ 1,250 (Line tribute)
To learn more about these society levels and benefits, please contact Regina Sassoon Friedland, Regional Director, AJC Seattle at friedlandr@ajc.org or 206-622-6316 or visit ajc.org/supportourwork.
Deadline to join the Tribute Committee and be listed in the tribute book has been extended until September 3, 2019.
To complete your tribute, please click on REGISTER at the top right of this page.
---

Unable to attend? Please consider supporting AJC by making a donation at ww.ajc.org/donate or click on REGISTER at the top right of this page. To mail a check, email us at seattle@ajc.org, or call 206-622-6315 for our mailing address.
Questions? Contact us at seattle@ajc.org.
---
HONORARY CHAIRS
Dr. Jay Bernstein and Holly Gehrie, Dr. Guy and Nancy Bernstein, Dr. David Bernstein and Erika Rimson, Jeff and Judy Greenstein
HONORARY COMMITTEE
Gloria and Eric Bensussen, Susan Brotman, Deanne and Don Etsekson, Patty and Steve Fleischmann, Barrie and Richard Galanti, Rosanne Fleischmann Lapan, Yaffa and Paul Maritz, Lea Anne and Joe Ottinger, Amy Levin Ragen and Matt Ragen, Deborah and Doug Rosen, Ellen and Arthur Rubinfeld, Drs. Wendy and Michael Spektor, Bobbie and Michel Stern, Alayne and Bob Sulkin, Julie and Rogers Weed
EVENT COMMITTEE
Daniel Birk, Jon Bridge, Zach Cooper, Ian Eisenberg, Deanne Etsekson, Nina Garkavi, Jerry Hendin, Bill Hochberg, Gale Kessler, Rosanne Fleischmann Lapan, Murray Lee, Jennifer Muscatel, Amy Levin Ragen, Deborah Rosen, Keith Schorsch, Lori Shelden, Mark Warnick, Eileen Glasser Wesley
AJC SEATTLE BOARD
Eileen Glasser Wesley, President, Bill Hochberg, Immediate Past President, Paul Burstein, Zach Cooper, Jim Dubinsky, Sandra Elman, Deanne Etsekson, Jerry Hendin, Gale Kessler, Lori Kilberg, Rosanne Fleischmann Lapan, Murray Lee, Ronald Leibsohn, Rabbi James Mirel, Amy Levin Ragen, Lori Shelden, Barbara Shulman