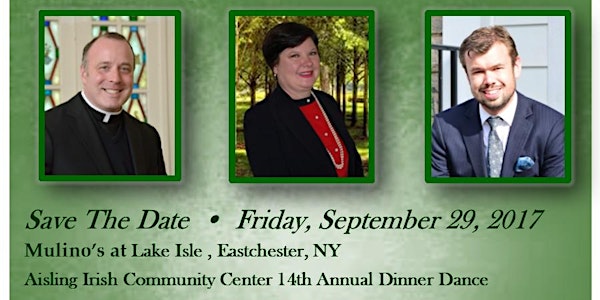 Aisling Irish Community Center 14th Annual Dinner Dance
When and where
Location
Mulino's at Lake Isle 660 White Plains Road Eastchester, NY 10709
Refund Policy
Refunds up to 30 days before event
Description
Now in our 21st year, Aisling Irish Community Center celebrates three highly esteemed members of our community at our Annual Dinner Dance and Auction; Fr. Brendan Fitzgerald, St. Barnabas Church, Denise O'Flynn-Donaghy, St. Johns Riverside Hospital and Clive Anderson, Owner Pelham Funeral Home. We are honored and grateful to have the support of Fr. Brendan, Denise and Clive for the center and in our community. They each set a wonderful example of compassion and philanthropy leading the way and making a positive difference every day.
For information on Sponsorships & Journal Ads contact Sharon@aislingcenter.org, 914-237-5121.
Father Brendan Fitzgerald has been named pastor of St. Barnabas parish, the Bronx. He served as administrator of Regina Coeli, Hyde Park, 2012-2016. He had served as priest secretary to Cardinal Egan, Archbishop Emeritus, from 2010 to 2012, and as parochial vicar of Our Lady of the Scapular-St. Stephen's, Manhattan, 2010-2012. He served at St. Margaret of Cortona, the Bronx, 2009-2010, and St. Barnabas, the Bronx, 2006-2009. He was ordained in 2000 for the Diocese of Limerick in his Ireland and incardinated in 2012.
Denise O'Flynn-Donaghy was raised in the Kingsbridge section of the Bronx. For 25 years Denise worked at United Airlines and currently works at St. John's Riverside Hospital in Yonkers and is a lector at St. Mary's Immaculate Conception Church. Denise is a member of many organizations including; the Ladies AOH Division 19, American Irish Association of Westchester and the Women In Business Committee of the Yonkers Chamber of Commerce and was an Aide in this year's Yonkers St. Patrick's Day Parade.
Clive J. Anderson, is originally from Co Cork and the owner of Pelham Funeral Home. For Clive, funeral service is not a "job," but merely a calling to serve others in their time of need. The recipient of several awards, Clive has been recognized by the Irish Echo "40 under 40" for his contributions to the Irish community and has also been an aide to the Grand-Marshal of the Irish Business Organization on St Patrick's Day.
Ticket's can be purchased online at eventbrite or through the Aisling Irish Community Center
aislingcenter.org • 914-237-5121