Description
When: September 14th, 2013
Where: 3809 Durbin Street, Irwindale, CA 91706
Time: From 10:00 am to 5:00 pm PST

Join us for our Los Angeles Store Grand Opening!

We will have over $10,000 worth of prizes with raffles throughout the day and a chance for you to WIN AN ECHO1 MINIGUN!

The first 100 to arrive will receive a free raffle ticket and an Airsplat Care Package!
Be one of the lucky people to get a top selling gun for only .99 cents!
Every purchase will come with a free gift and up to 80% off!

Bring your family and friends and enjoy the music, food and tactical missions with lots of prizes!

Test your guns at our shooting range and learn some of the best tactics during our onsite demo!

Door buster deals will run from 10:00am to 12:00pm and will include many of the most popular guns at discounts never seen before or take advantage of our one day specials when you buy $100 ($25 off), $200 ($50 off) or $400 ($100 off).

The event will also feature a Vendor Village where you will have the opportunity to talk to some of the most popular brands in the industry, fields and airsoft teams!


AIRSOFT CARNIVAL GAMES (With lots of prizes!)
*1 Raffle Ticket = 1 Game + 1 Entry into Raffle Drawing
Shoot the targets
Shoot the Echo1 M134 Minigun
Pull-up Competition
Airsoft Green Gas Toss
BB Toss
Jar of BBs
Guess the Jackpot Box
Shooting Challenge to win the Echo1 Minigun
Hammer Toss
Tactical Obstacle Course
Raffle tickets
$1 = 1 ticket
$5 = 6 tickets
$20 = 25 tickets
$50 = 75 tickets
$100 = 200 tickets
Raffle times: 12:30 pm, 2:30 pm, 5:00 pm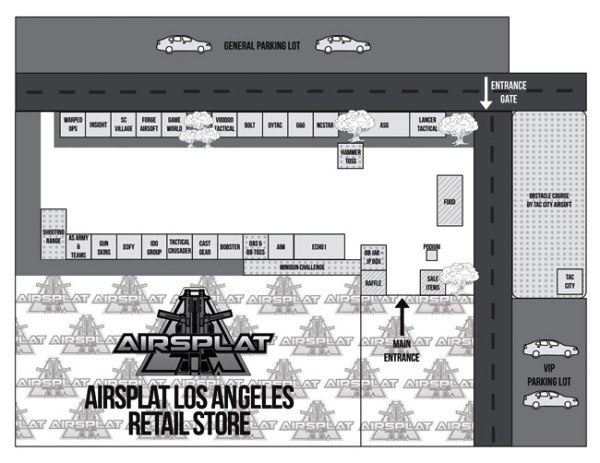 Event Details! Promotions, Sale Items, Map of Event and More
http://www.airsplat.com/airsplat-airsoft-los-angeles-store-grand-opening.htm

Join our Facebook Event here and share it with your friends here:
https://www.facebook.com/events/622687677763290/

Can't attend our Los Angeles Grand opening but are in the Seattle area? Join us for our Anniversary sale going on at the same time!
https://www.facebook.com/events/294035420735809/

Already signed up? Get in on the conversation at our Official LA Grand Opening Forum Thread!
http://forum.airsplat.com/forum/airsplat-community-news/airsplat-announcements/909-airsplat-los-angeles-retail-store-grand-opening



Organizer of AirSplat Los Angeles - Store Grand Opening
 We are the nation's larger airsoft retailer! Visit AirSplat.com for more information on our 8 unbeatable guarantees and industry leading service!