AirSplat Appreciation Event 2014

Saturday, May 17, 2014 from 9:00 AM to 11:00 PM (PDT)
Event Details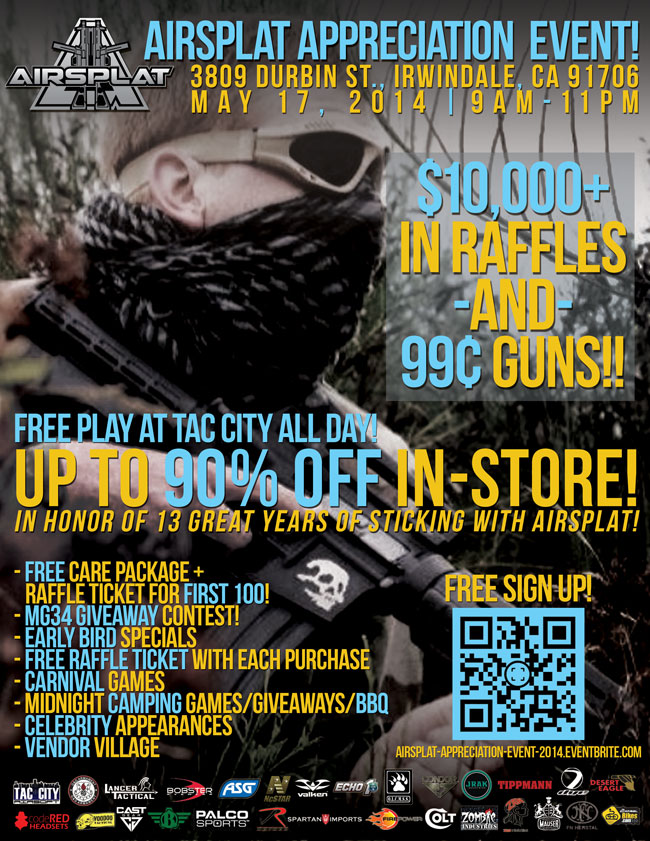 AirSplat's Appreciation Day Event! May 17th! Celebrate 13 Years of AirSplat

It's our anniversarry and we want to show our appreciation! Through thick and thin, our fans have stuck with AirSplat for 13 years! On May 17th, come celebrate with us at our headquarters!

AirSplat knows how to party:

- Early Bird Specials (Up to 90% Off)
- 99 Cent Guns (back by popular demand!)
- Free Care Package for first 100 fans
- Free Play at Tac City Irwindale! All day!
- $10,000 worth of raffle - Raffle to out-do all raffles!
- Raffle ticket with every purchase! Raffle!
- Games - Food - Snacks - Thor's Hammer Toss! - Oh My!
- Vendor Village! Meet the airsoft industry leaders!
- Midnight camping for all you hardcore, latenight, go-getters
- MG34 Giveaway Contest - Yeah, come and get it!

Appreciation Event Agenda
AirSplat Event Agenda
7:00am-8:00am – Setup
8:30am – Set Up/Registration
9:00am - Doors Open
2:00pm - 3:00pm – Main Raffle
-    2:10 - Last Call to Buy Raffle Tickets
-    2:25 - Raffle Begins
-    2:45 - PHOTO OP!
*9:00am-5:00pm Carnival

Tac City Game Play Schedule
9:00am-11:00am – Free Game Play
12:00pm-2:00pm - Free Game Play
2:00pm-3:00pm AirSplat Raffle / Photo Op
3:00pm-5:00pm - Free Game Play
6:00pm-8:00pm - Free Game Play
9:00pm-11:00pm - Free Game Play


Early Bird Specials - All Day Sales - 99Cent Guns
We will have crazy specials for you AirSplat fans! Including 99 cent guns! Last year we had $300 guns for less than a buck! Just in case you don't get here early enough for 99 cent guns, EVERYONE GETS A CHANCE TO WIN A 99 CENT GUN!

First 100 AirSplat Fans Get 1 Free Spin on our AirSplat Prize Wheel! Prizes include 99cent guns (you get to choose - while supplies last!), BBs, Green Gas, Apparel, and more!

Didn't get here early enough? Any AirSplat purchase during the event gets to spin the Prize Wheel! Simply bring your reciept and spin the wheel! You could win a 99cent gun!

Raffle to end ALL Raffles!
AirSplat does raffles and AirSplat does them like no other. AirSplat's Appreciation Event Raffle will be the Raffle of all raffles. The mother of raffles. $10,000 worth of airsoft prizes from BOLT, Dytac, Echo1 USA, G&G, Flyye Industries, Cast Gear, Dye Precision, Deep Fire and more!

We want to give you more chances to win! Here is how you can get free raffle tickets - just by doing practically nothing!
- FREE Raffle Ticket with any in-store purchase at the event!
- FREE Raffle Ticket for first 100 fans!

FREE play at Tac City North - ALL DAY!
What's an airsoft event when you can't play airsoft? Pfffttttttt - AirSplat Headquarters has a neighbor named Tac City North that has you covered. FREE PLAY AT TAC CITY NORTH - ALL DAY! Weeeeeeeeeeeeeeeeeeeeeee!!!!!

***FIRST COME FIRST SERVE!***

Tac City Free Play Information and Rules
Eye protection is on at ALL times when on the field
All eye protection must be sealed around eyes and approved by staff (full face protection mandatory for all minors)
Test firing guns without permission from field ref is not allowed
BB grenades are not allowed. BB grenade launchers( attached to guns) are allowed
Sound or stun grenades are allowed and must be rolled underhand
All guns must be chronographed and tagged each visit to Tac City
All guns must shoot five .20 BB's in a row, all under the max of 350 FPS (average does not count)
.23 and .25 BB's cannot be used to pass the chronograph
Before exiting field, remove mag from gun and fire two shots on semi into orange buckets


Get ahead of the crowds - Print and Fill out a waiver!
Games - Food - Snacks + More!
All that airsoft shopping and FREE play at Tac City Irwindale is going to get you hungry and thirsty. Yup - AirSplat has you covered! Food, snacks, and beverages will be everywhere. EVERYWHERE!

AirSplat Vendor Village
While you are walking around, eating your blue snow cone, getting cinnamon crumbs on your shirt from your churros, you can chat with airsoft vendors at the AirSplat Vendor Village!
When & Where

AirSplat.com
3809 Durbin St
Irwindale, CA 91706


Saturday, May 17, 2014 from 9:00 AM to 11:00 PM (PDT)
Add to my calendar
Organizer
AirSplat.com
 We are the nation's larger airsoft retailer! Visit AirSplat.com for more information on our 8 unbeatable guarantees and industry leading service! 
AirSplat Appreciation Event 2014