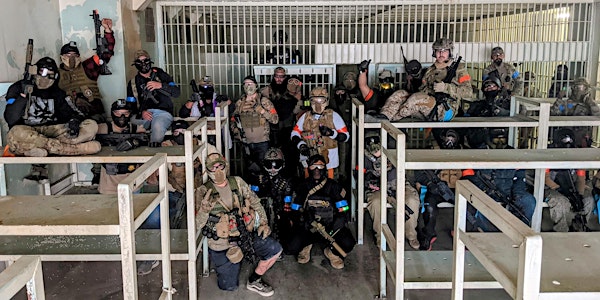 Airsoft at the Haunted Jail
An exciting jailhouse airsoft experience for players ages 12 and up, accompanied by an adult if younger than 15.
Date and time
Starts on Sunday, January 1, 2040 · 9am MST
Location
Old Dona Ana County Courthouse 251 W Amador Ave North Entrance Las Cruces, NM 88005
Refund Policy
Refunds up to 7 days before event
Eventbrite's fee is nonrefundable.
About this event
Hosted by Las Cruces Airsoft, this charity event places you inside the 17,000 square foot former County Jail at the historic and very haunted courthouse in downtown Las Cruces. 
Videos from the last game are shared on our YouTube channel.
Old Dona Ana County Courthouse, 251 W Amador Ave, Las Cruces, NM
Saturday, 28 May 2022
Be on time at 9:00am - Doors lock at 9:15am!
What's new:
Added signs for spawns, chrono, changing areas, and front door.
Pick up your purchases and rentals at check in.
Grenades are not allowed for this youth game.
All guns will be checked to confirm BBs are not launched in excess of 1.5 Joules, then tagged. We will measure with .32g BBs we provide.
1.5-Joules is equivalent to 403fps with .20g BBs or 319fps with .32g BBs.
This does not mean we require a specific BB weight for the event.
Come to chrono with empty mags and full seal ANSI Z87.1 rated eye protection. 
Support LCA by purchasing grenades, rentals, and swag from our shop, then pick them up when you come to admission.
Funds raised will be used to develop an airsoft field in Las Cruces, NM.
Our nearest paintball field is more than an hour drive to El Paso, TX.
Prepare yourself for the game.
Sign the LCA waiver now before you forget.
Sign the Venue waiver to get in the door faster.
Read the latest game plan.
Game plan details will change, so review this again the week before the game.
Join the discussion on the Las Cruces Airsoft Facebook group event page for details.
Bring shop vacs, brooms, dust pans, and extension cords to help us clean up.
Your hosts for the event:
Mike Martinson, Event Coordinator
Travis McClure, Vice Coordinator
Invite your friends! We pay hourly to use the space. The game could be shortened if we fail to sell out.
Airsoft is a team game in which participants eliminate opposing players by tagging them out of play with spherical plastic projectiles shot with mock air weapons called airsoft guns.
Although very similar to paintball in concept and gameplay, airsoft pellets do not leave visible markings on their target and hits are not always apparent.
Though the pellets sometimes leave bruises or welts on exposed skin, the game relies heavily on an honor system in which players who have been hit are expected to call themselves out by shouting "HIT".
Las Cruces Airsoft on YouTube
Las Cruces Airsoft is an all-volunteer group of friendly airsoft enthusiasts engaging in a sport that teaches team building, leadership, and firearm safety.
If you get really into the sport, you can join 650+ players just two hours west of here at Operation Copperhead September 3rd in Playas, NM. There, you will enjoy clearing up to 300 buildings with vehicle mounted machine gun and grenadier support at Playas Training and Research Center.
Most players are over the age of 18, and minors are welcome to join us with adult supervision. Veterans will find a welcoming, positive environment here surrounded by their peers and biggest fans.
Helpful Links
̿̿ ̿̿ ̿̿ ̿'̿'\̵͇̿̿\з= ( ▀ ͜͞ʖ▀) =ε/̵͇̿̿/'̿'̿ ̿ ̿̿ ̿̿
About the organizer
Join us on Facebook to RSVP.