Description
This course will provide the latest findings for both aviation specialists and for new entrants to commercial aviation.
Highlights:
The 'mechanics' of Aircraft retirement – how to maximise value recovery
Determining your options in the aircraft's 'End of Life' phase
Transaction Analysis – how trading patterns can influence the residual value and life of an asset
Which asset classes and types will be best positioned to benefit from airline demand?
How will maintenance condition influence the 'life' decision?
How significant a role will the Lessors play in determining economic life?
Who should attend:
Investors, Operators, Owners, Financiers, Traders of Commercial Aircraft, Lawyers, Lessors.

AGENDA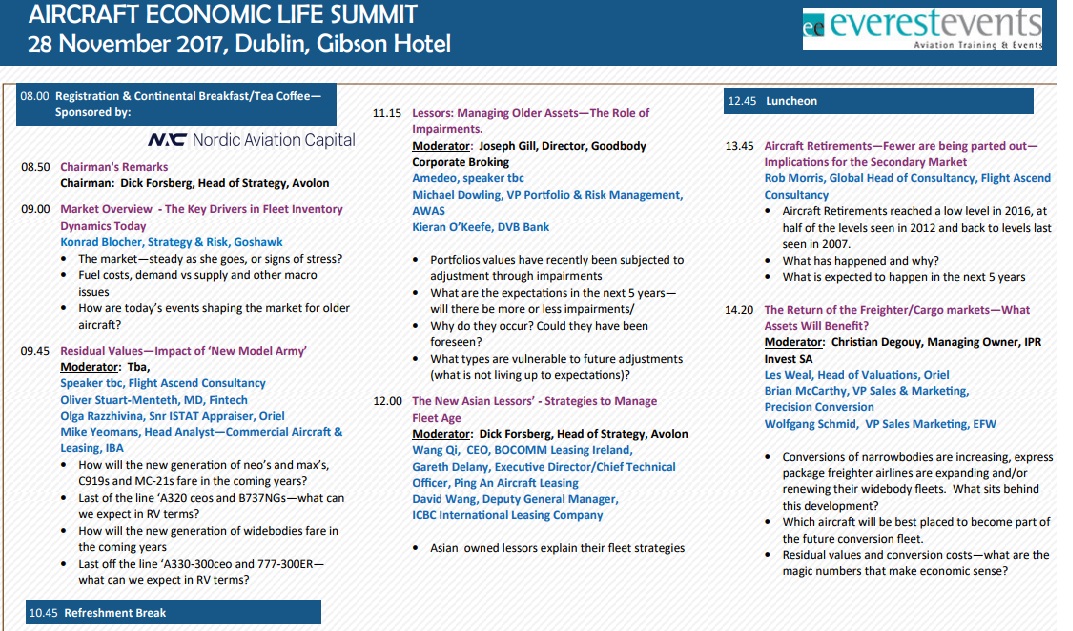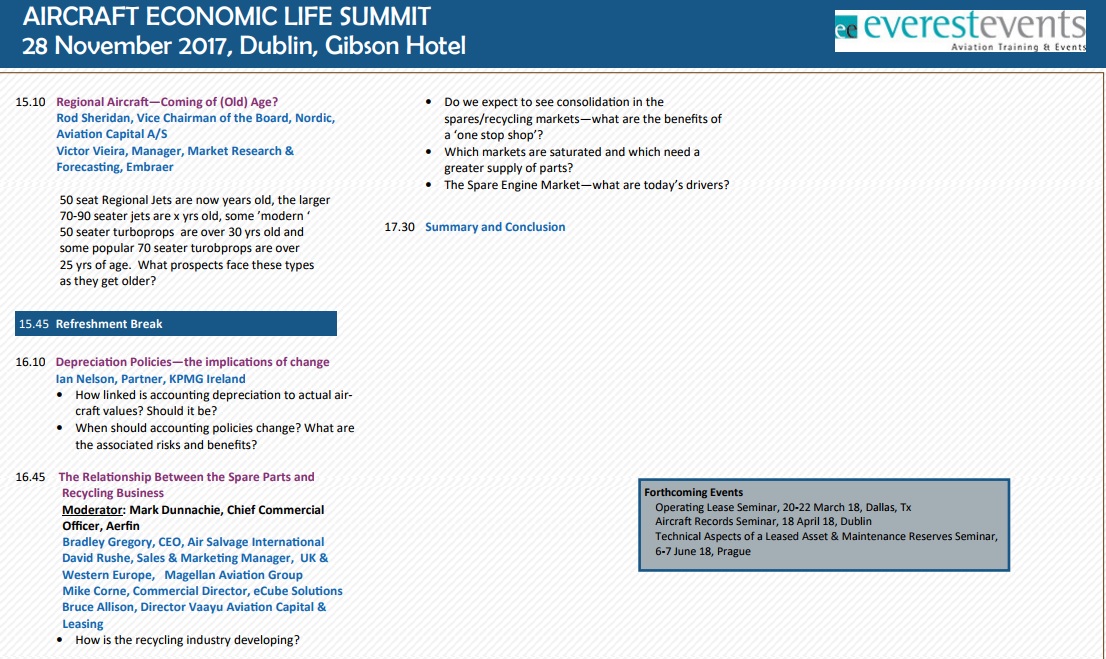 SPEAKER:
Mike Yeomans
Head Analyst – Commercial Aircraft & Leasing, IBA
PROFILE
Mark Lapidus
CEO, Amedeo
PROFILE
Mike Corne
Commercial Director, eCube
PROFILE
Ian Nelson
Partner, Head of Aviation Finance & Leasing, KPMG Ireland
PROFILE
Victor Vieira
Manager Market Research & Forecasting, Embraer
PROFILE
Kieran O'Keefe
Managing Director, DVB
PROFILE
Mark Dunnachie
Chief Commercial Officer, AerFin
PROFILE
Les Weal
Director, Oriel
PROFILE
Oliver Stuart-Menteth
MD, Fintech
PROFILE
Bradley Gregory
CEO, Air Salvage International Ltd
PROFILE
Dick Forsberg
Head of Strategy, Avolon
PROFILE
Olga Razzhivina
Senior ISTAT Appraiser, O
Sponsors
Skytamers
Skytamers web portal www.skytamers.com provides daily information about the aerospace industry and also feature ...
NO REFUNDS ON REGISTRATIONS ALLOWED

NO TRANSFER ON REGISTRATIONS ALLOWED

-----------------------------------------------------------------
This Event Listing is Promoted and Marketed by
New York Media Technologies LLC in partnership
with EVEREST EVENTS LTD.
-----------------------------------------------------------------

SHU170219CEV MAR170926UPT MYL171027UPD