Air & Water Show Booze Cruise aboard Summer of George!
Description
**$75 Standby Tickets can be purchased HERE!**
The Air & Water show features military and civilian flight aerobatics, historic aircraft, parachute teams and tons more!
Come out on our yacht with multiple bars for a cruise on the Chicago River and Lake Michigan! Tickets include the Best Views of the Air Show, a Lunch Buffet, a Live DJ, Dancing, Giveaways and a drink at the After-Party!
Imagine being at a trendy bar while enjoying the beautiful Chicago skyline as you cruise down the Chicago River and Lake Michigan aboard a yacht! ! Our yacht is equipped with 2 floors including a main deck with a full service bar and 360° view of the Chicago skyline, dance floor, and top deck to party on! Take advantage of Chicago's best asset and get out on the lake aboard the cruise!
FREE TICKETS/GROUP RATES

Want to celebrate your birthday on the boat? If you have 10 or more people in your party, your ticket is on us, and all your friends get a discount! Fill out the form HERE for more info!

Group Rates Available for groups of 10+ - Email Info@ChicagoPartyBoat.com for more info!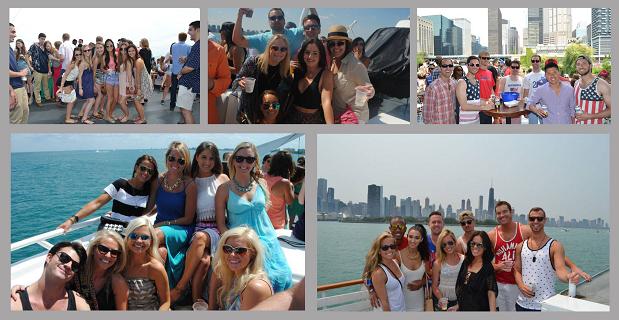 FREE STUFF!
All attendees will also receive the following Freebies*: Use code 'CTS2' for 2 FREE rides from Lyft (up to $5 off each of your first two rides) – 2 FREE rides in an affordable ride share with Via using promo code 'CTS2' – Get $10 in DoorDash cash from DoorDash – $25 in on-demand laundry service from Tide Spin with promo code 'CHI25' – $10 in FREE food at your favorite restaurants like Freshii, Protein Bar, Rockit & more from Ritual! *All offers valid for first time users only and subject to change without notice. Click HERE for more info!
BOARDING TIME
Boarding will begin promptly at 12:30 p.m. As soon as boarding is complete, the gate will close and the crew will start preparing for departure. No one else will be permitted to board. Please be on time, as the boat will leave without you!!

FAQ:
What is the dress code? There is NO Dress code for the boat.
Can I bring my own food/drink on the boat? Absolutely no outside food or beverage may be brought on the boat.

Where is the after-party? The after-party is typically at a bar in River North, and is announced as you board the boat.

What do I need to bring to get on the boat? Your printed ticket from Eventbrite and a valid ID. All guests must Be 21+.
How do I get to the boat? Please see below for a map and directions.
What kind of music will be played on the boat? The DJ will start with Top40, EDM, and Hip-hop and will play a variety of music with the goal of helping everyone enjoy themselves.
You can view photos of the actual boat HERE!
Please note the Air & Water Show is put on by the City of Chicago. If it is cancelled, changed, or delayed the party will still go on as scheduled! Guests will not receive refunds. Also, please note that due to timing, the "Water" portion of the show will not be visible from the cruise.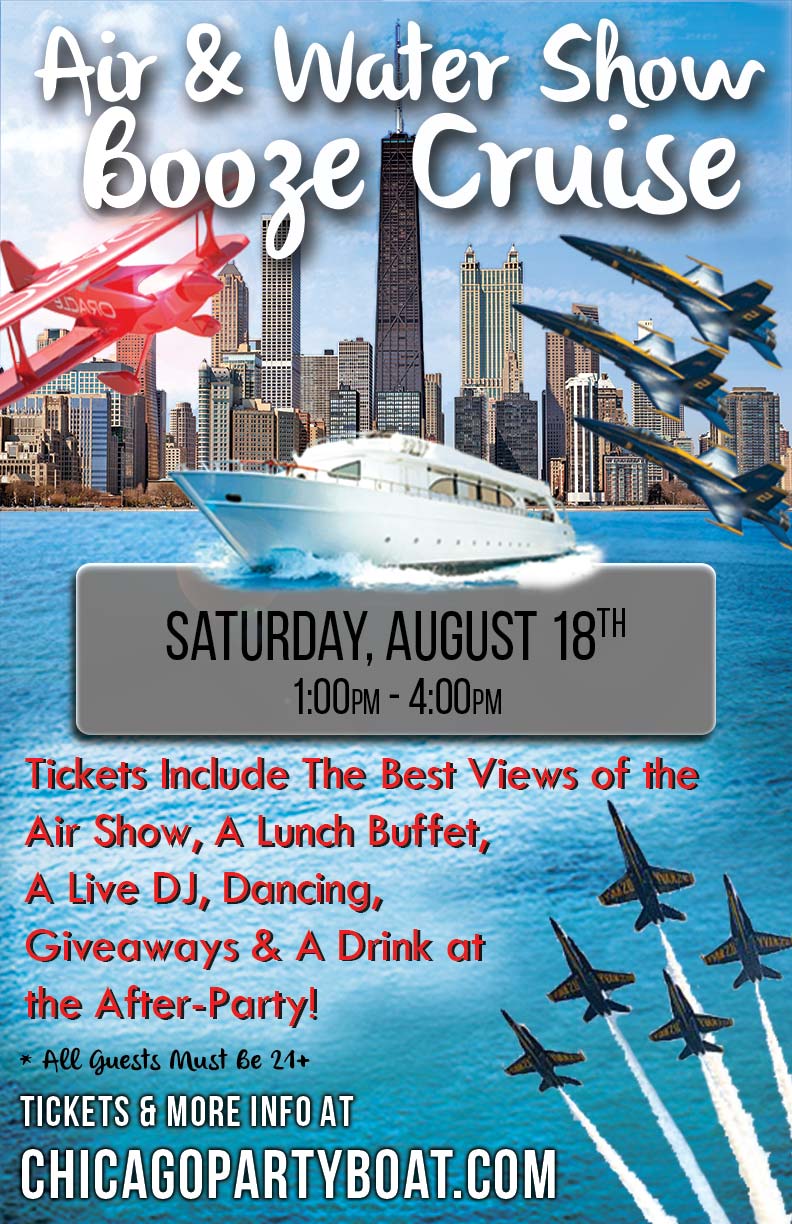 DIRECTIONS:
The dock is located at 900 South Wells Street at River City Marina. Guests need to head South on Wells Street and enter through the surface parking lot at the south end of the River City condominium building (located at the intersection of Wells and 9th Street). The parking lot is located across from the soccer field on 9th Street and Wells. You do NOT need to go in the building (see map below).
**PLEASE NOTE: Parking Lots fill quickly during the Air & Water Show. We highly recommend taking public transportation or LYFT (Use promo code 'CTS2'). If you must drive, please see parking options below.**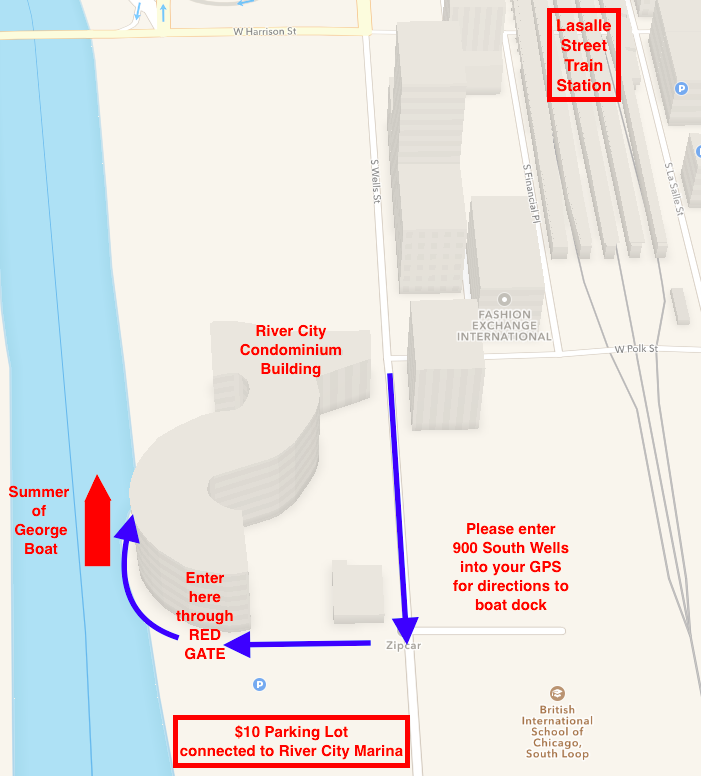 Rules, Regulations & Disclaimers:
All guests must be 21+ with a valid government issued ID that will be checked by security prior to boarding the boat. A valid ticket with scannable QR code is required by all guests to board. It is recommended to print a paper ticket to prevent any technology complications which would prevent your ticket from displaying on your phone. There is no guest list at the boat, each ticket must be scanned. Security reserves the right to inspect all bags and persons. Absolutely no outside food or beverage may be brought on the boat. Guests who are deemed intoxicated (or otherwise unfit) upon arrival, will be denied entry and no refunds will be given. We want all guests to enjoy themselves on the cruise, but please note you will be on the boat for an extended amount of time and our number one priority is the safety of all guests. The boat will depart the dock as soon as boarding is completed. Once the boat begins its cast off procedure, for the safety of all guests, absolutely no late arrivals will be allowed within the security fence to board. If you are late, you will be left at the harbor without a refund. In the event of dangerous weather conditions, security situations, mechanical issues with the locks, the boat, etc., the boat may not cruise, but the party will still go on at the dock. In the event of rain, or other inclement weather, the party will continue on the enclosed portion of the boat. Any ticketing/technical issues will be handled by Eventbrite.com. Please contact them directly at https://www.eventbrite.com/contact-us/. Sorry – no refunds or price adjustments. The Eventbrite system does not allow us to restrict people who are underage from buying tickets. If you are not 21 and purchase a ticket, you will not be allowed on board. Cruise length will vary based upon multiple factors, including, but not limited to: boarding time, lock operations, boat traffic, weather, special events such as fireworks, emergency situations, etc. The DJ's aboard the boat will play a variety of music, at their discretion, with the goal of making a fun cruise for the entire crowd. The music's volume level will be set to an acceptable level intended to please all guests and may be regulated/limited by safety regulations set forth by the captain.