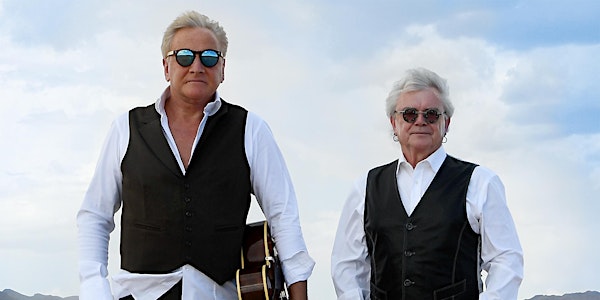 Location
Robins Theatre
160 E Market St
Warren, OH 44481
Air Supply The Lost In Love Experience
About this event
'Lost In Love' Experience VIP Package Available! price: $159
Package includes:
• One (1) premium reserved seat in the first 12 rows to see Air Supply live in concert
• Invitation to soundcheck with Meet & Greet to follow for photo opportunities with Air Supply
• Exclusively VIP Swag Bag includes:
• One (1) Kodak archival metallic signed 8×10 photo
• One (1) Lapel Pin
• One (1) Merchandise gift
• One (1) Commemorative VIP laminate and lanyard
AIR SUPPLY BIO
Graham Russell & Russell Hitchcock met on May 12, 1975, the first day of rehearsals for "Jesus Christ Superstar" in Sydney, Australia; they made a single in one afternoon and it shot to number one on the national charts. Air Supply was born! That same year, they opened for Rod Stewart across Australia and then throughout the U.S. and Canada. Back in Australia they had to start again and made a record called Life Support. On this record were some treasures of songs, including "Lost in Love" which went Top 10 in Australia and somehow found its way to music industry executive Clive Davis in New York.
Clive immediately signed Air Supply to Arista Records and in 1980, "Lost in Love" became the fastest selling single in the world, leaping to the top of all of the charts. Now Air Supply was on their way. The second single was "All Out of Love," and that went up the charts even quicker.
Seven top-five singles later, Air Supply at that time had equaled The Beatles' run of consecutive top five singles. The albums Lost in Love, The One That You Love, Now & Forever, and The Greatest Hits sold in excess of 20 million copies. "Lost in Love" was named Song of the Year in 1980, and, with the other singles, sold more than 10 million copies.
In 1983 they recorded "Making Love Out Of Nothing At All" by Jim Steinman which solidified the group as a permanent force in modern music. This song was released on The Greatest Hits album which soared past 7 million copies. "Lost in Love", "All Out of Love", "The One That You Love", "Sweet Dreams", and "Making Love Out Of Nothing At All" have each achieved multi-million plays on the radio.
The trademark sound of Russell Hitchcock's soaring tenor voice and Graham Russell's simple yet majestic songs created a unique sound that would forever be known as Air Supply. However, it is the live shows that always hold audiences captive. Air Supply celebrated their 40th anniversary in 2015 and continue to delight audiences all over the world.