Event Information
Location
351 King Street, East
17th Floor (AM) & 2nd Floor (PM)
Toronto, ON M5A 0N1
Canada
Description
AIR MILES® presents AMC: AIR MILES Marketing Conference. AMC is an annual immersive full-day conference exclusively designed for you, our valued Partners.
The AIR MILES Reward Program was built on a very simple premise: Rewarding all Canadians every day.
We know Canadians. We understand, anticipate, and stay a step ahead of their needs and wants.


Join us on Wednesday, June 5 to...
Find inspiration. Meet exceptional people. Leave with new ideas.

Theme of AMC 2019: Tech + CX
Technology is adapting faster than we can keep up. Customers' expectations for experience are increasing. Data ethics are the new competitive advantage. But, the future of CX has little to do with staff issues or service, NPS or journey-mapping. Now and in the future, it will be about how technology will enable that experience.
---

Discover our new Toronto Headquarters location: 351 King Street, East. We'll be kicking off the morning at The Globe and Mail Centre on the 17th floor and hosting the afternoon sessions & cocktail reception in our offices on the 2nd floor.
Take a look at our programming to learn more about what we have planned for AMC 2019 - from exclusive Program news, Partner showcase, collaborative sessions and tons of networking opportunities all focused around Technology + CX.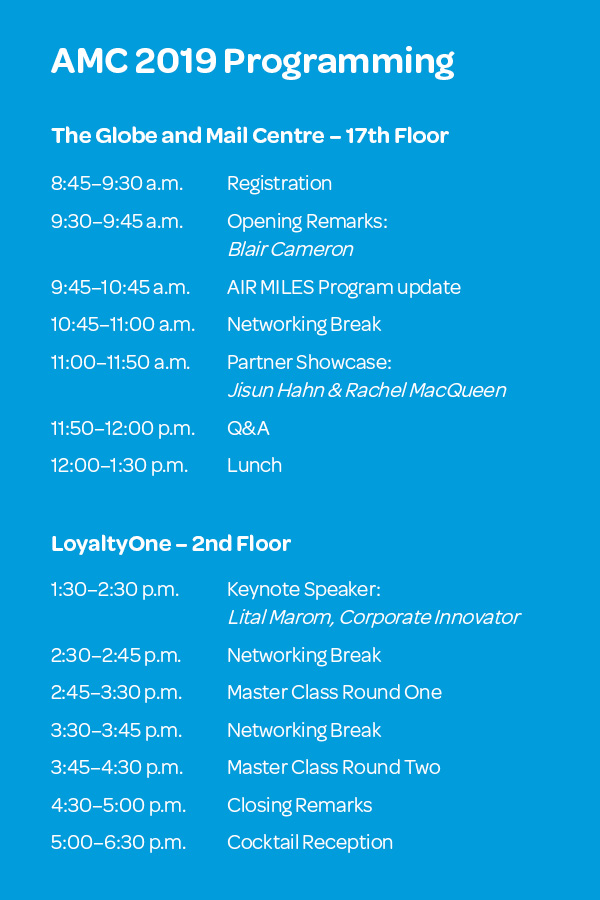 ---

New for 2019, we're introducing Master Classes led by industry leaders for hands-on learning and relevant topics to immerse yourself in.
Discover the four masterclass topics:
Data Innovation: models, machine learning, dashboards,
and more!

Delivering Ad Tech: how it works and the AIR MILES advantage.

Digital Landscape: growing our digital footprint, leveraging each other's platforms, .ca/mobile/CX roadmaps.

Engaging your Vendors/Suppliers in a retail environment: how to get what products, what offers, what platforms.


---

Keynote Speaker: Lital Marom
We're thrilled to be partnering with Lital Marom, a Digital Transformation Expert. Lital is a thought leader of agile business process and digital transformation. Lital is known to help future proof businesses.
Be prepared to be inspired, informed and motivated with tools and practices - everything we need to thrive in today's fast-paced
digital economy.


---

Travelling from outside of the Greater Toronto Area and need a hotel? There are several hotels within walking distance to 351 King Street, East – see a list of recommended hotels below that are within a
5-minute drive and less than 20-minute walk.
Guests are responsible for their own booking through the respective hotel. June is a particularly busy time in Toronto - don't delay, reserve your room today!
Driving to AMC? There are several Green P parking lots within walking distance to 351 King Street, East.
Reserve your spot today, registration closes at midnight on Tuesday, May 21.
Date and Time
Location
351 King Street, East
17th Floor (AM) & 2nd Floor (PM)
Toronto, ON M5A 0N1
Canada