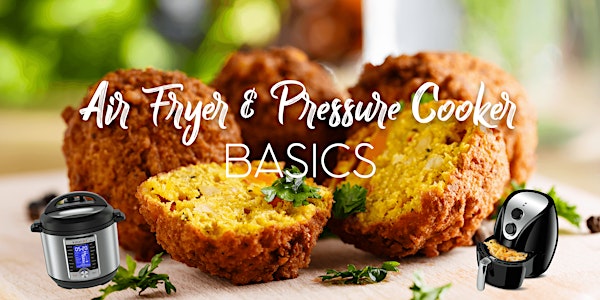 Air Fryer and Pressure Cooker Basics
Location
Nourish Wellness
3105 Summitview Avenue
#c
Yakima, WA 98902
Description
Do you have a programmable pressure cooker or air fryer that is collecting dust in your kitchen? Are you afraid to turn it on or don't know where to start? Don't own one yet and want to learn more about all they can do for making meals easy? Join Elaina Moon of Healthy Eats Nutrition Services and Ineke Ojanen, RD, CD, CDE at Virginia Mason Memorial, for this fun and informative class! Ineke will teach you a variety of ways to use your programmable pressure cooker to cook beans, grains, veggies and more and then Elaina will use those ingredients to craft some delicious and creative air fryer meals including:
Polenta Fries
Lentil Meatless "Meatballs"
Southwest Eggrolls
Chunky Monkey Granola
Sweet Potato Tots
Plus a Homemade Marinara Recipe from Dr. Yami
You won't want to miss this class as there will be drawings for an air fryer, pressure cooker, and 2 cookbooks! Each student will also receive a handy guide on cooking with your pressure cooker and air fryer. Bring your friends and family and learn how to put your appliances to work for YOU!
Tickets are non-refundable but are transferable to another person. Seats are limited to 25 so reserve your spot soon!