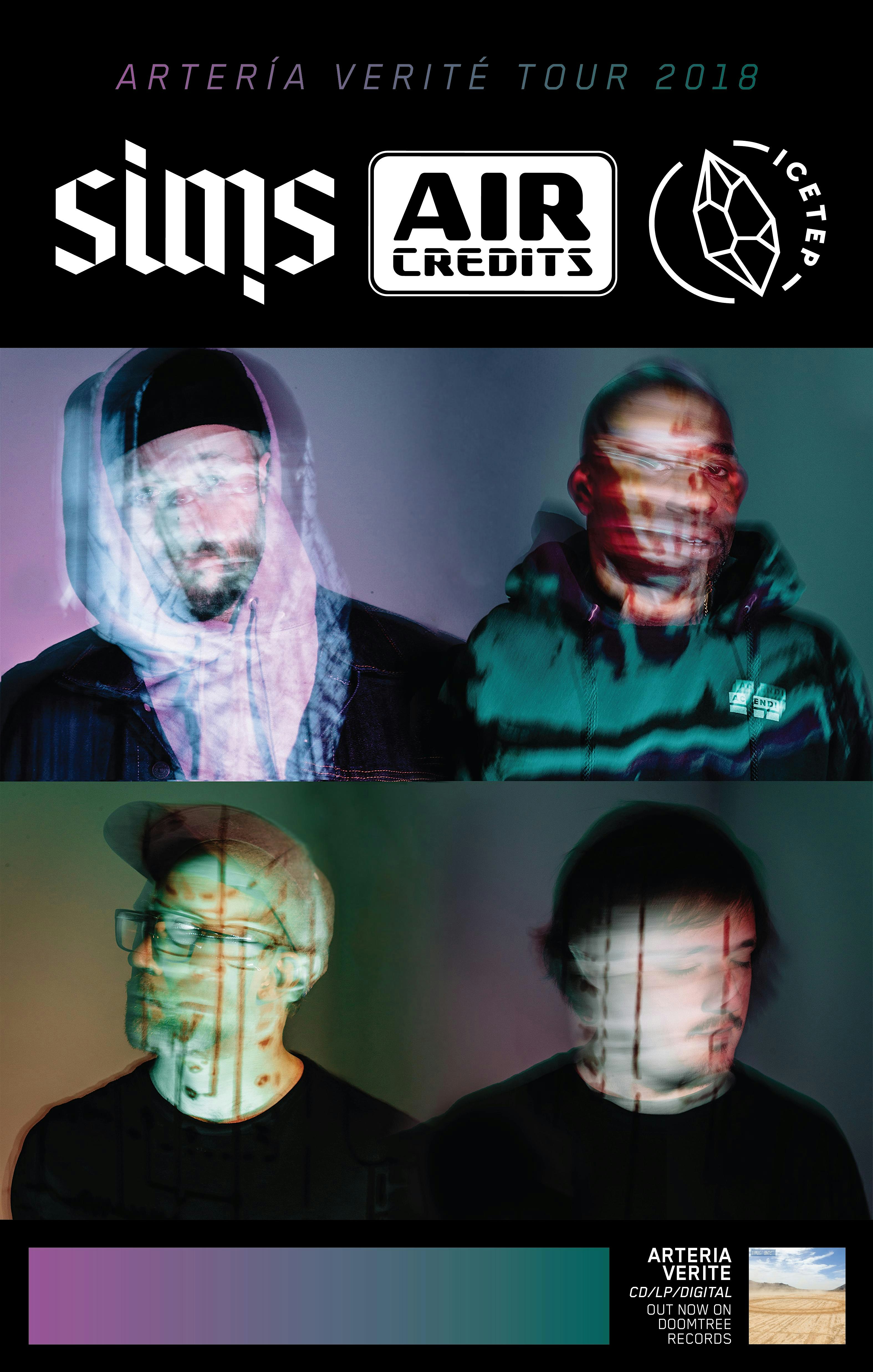 About this event
$15 // 21+
--------
Minneapolis rapper Sims and Chicago's hip hop crew Air Credits band together to perform their collaborative project Arteria Verite.
AIR CREDITS is music from the not too distant future, when the planet's water supply has all but ceased, the landscape turning to desert, the desert turning to wasteland. Radio stations worldwide have been transformed into climate controlled compounds, guarded heavily by their surrounding communities not only to maintain communique with the declining population, but to preserve music new and old— lest it expire with the planet.
SIMS grew up in Minnesota, an active part of the busy and fiercely independent Minneapolis hip-­‐hop scene. In high school, he made friends with the classmates that would eventually become his cohorts in Doomtree—the seven-­‐member rap collective now responsible for some of this era's most interesting, genre-­‐defying releases. Over the past decade SIMS has released a host of projects, both as a solo artist (Lights Out Paris, Bad Time Zoo, Wild Life EP, Field Notes) and as a member of Doomtree (No Kings, All Hands, and many others.) He's toured the world from Pittsburgh to Prague, playing festivals like Glastonbury, Riot Fest, and SXSW. He's earned and re-­‐earned his reputation as a thoughtful artist with an unstoppable live show. (When he calls "both hands up-­‐-­‐now both feet up" rooms around the world have felt their floorboards flex as the entire crowd goes airborne.)
Chicago's SERENGETI! Peppered with references to the city and its suburbs, sports, brats, and more, his brand of hip hop is unique. It takes the form of refined storytelling—from contained one-off songs to sprawling sagas (most notably about his Kenny Dennis character, who he raps as for several releases), he deals with the human experience at its purest form. And he's also not a stranger to sonic experimentation, working with diverse producers such as Yoni Wolf (of WHY?) and Chicago's own Advance Base (Owen Ashworth). To get caught up in SERENGETI's music is to get caught up in his world and it's endless lore.