Sales Have Ended
Ticket sales have ended
We are sorry ticket sales have ended for this event.
Sales Have Ended
Ticket sales have ended
We are sorry ticket sales have ended for this event.
RESULTS OF PFAS TESTING AT PART 139 COMMERCIAL AIRPORTS IN MICHIGAN
About this event
The annual AIPG Michigan Section meeting will held December 2, 2021 at Weber's Boutique Hotel and Restaurant. Please join us for the evening. Activities will include: Longevity Award Presentation, Student Poster Contest, and presentation. Meeting registration deadline is Sunday, November 28, 2021.
Featured Speaker:
Mike Jury, EGLE PFAS Specialist
Abstract: This Power Point presentation will cover sources of PFAS found at commercial airports in Michigan. It will also discuss sampling considerations for PFAS and the results of PFAS testing done by the airports.
Speaker Bio: Mike Jury
Mike Jury has been an environmental professional for over 44 years starting with the Air Quality Division in 1977. He moved to the Remediation and Redevelopment Division in 1991 as State Funded Projects Supervisor in the Saginaw Bay District office, and most recently to MPART as a PFAS Specialist in August of this year. During those years he also managed to fit in a career with the Air Force and Michigan Air National Guard, retiring in 1992. Mike has degrees from the Community College of the Air Force, Delta College, and Central Michigan University. He enjoys various sports, ham radio, gardening, and his grandkids.
Students!
Be sure to sign up for our annual student poster contest. Awards given in graduate and undergraduate categories. $1,000 to first place and $500 2nd place in each category. Register your poster here today!
Students are invited to share posters as part of our annual student poster contest. We are reserving time from 5:30 pm to 6:30 pm for students to present their work for an opportunity to win $1,000 for the best poster in both graduate and undergraduate categories and $500 to runners up in each category as well. If you would like to present your poster, please indicate your interest and title of your poster in your Eventbrite registration. We may lengthen the time for poster presentations based on the number of submissions.
The Michigan Section is seeking is seeking volunteers to judge the student's posters. If you are interested in judging the posters, please indicate your interest on your Eventbrite registration. AIPG has a standard student poster evaluation form that will be shared with judges for the event.
Cost: Members $30, Non-Members $50, Students Free
Dinner Options - (please select entrée choice when registering)
LONDON BROIL - Marinated Flank Steak, grilled, thinly sliced, house made red wine demi-glace
NORTHERN LAKES WHITEFISH - Oven broiled, Citrus Beurre Blanc
ROASTED PORTABELLA (VEGAN) - Portabella topped with roasted red pepper, garlic, spinach, sun-dried tomatoes and fresh tomatoes with a balsamic reduction (GF)
Dinner includes: Salad and Rolls. Entrée of Choice, with Rice and Asparagus. Dessert Table. Coffee and Iced Tea.
If you would like to participate as a judge for the student poster contest, please indicate this on your registration. See you in December!
We are accepting donations for the silent auction.
Please note that the Michigan Department of Health and Human Services has issued a Public Health Advisory recommending that everyone over the age of 2 wear a face mask at indoor gatherings regardless of vaccination status.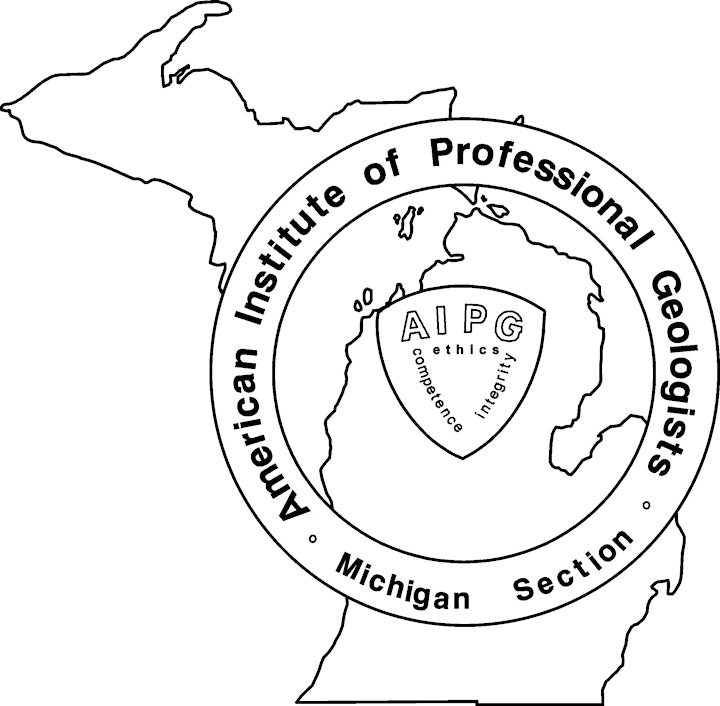 Organizer of AIPG Michigan Section Annual Meeting 2021