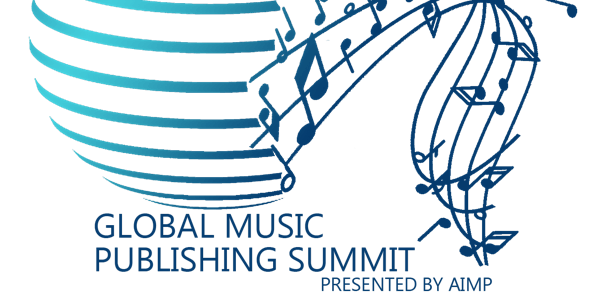 AIMP Global Music Publishing Summit 2022
A day of panels and keynotes on the business, sync, and creative areas of the industry, concluding with a reception and songwriter showcase!
By Association of Independent Music Publishers (AIMP)
Date and time
Tuesday, June 14, 2022 · 9am - 8pm EDT
Location
3 West Club 3 West 51st Street New York, NY 10019
About this event
The AIMP is thrilled to be back with the fifth annual Global Music Publishing Summit, taking place on June 14 in a hybrid format, both online and in-person, at the 3 West Club in New York City.
COVID-19 Info:
We are looking forward to seeing you in person at the AIMP Global Music Publishing Summit on June 14. New York City's Covid-19 alert levels have been raised to High, so in an effort to safeguard the health and safety of our patrons, staff, performers and crew, the 2022 AIMP Global Music Publishing Summit requires a proof of COVID-19 vaccination or recent negative test to attend. While masks are not currently mandated, the NYC Health Commissioner is advising that everyone also wear masks in indoor settings.
AIMP Global Music Publishing Summit Schedule:
9am – Doors Open @ 3 West Club
9:30 am - Welcome/ AIMP Chapter Presidents
• John Ozier, AIMP National Chair, Nashville Chapter President & EVP Creative, Reservoir Music
• Teri Nelson Carpenter, AIMP Los Angeles Chapter President & CEO, Reel Muzik Werks
• Michael Lau, AIMP New York Chapter President & CEO, Laud Music/Imachew Music
• Tony Alexander, Chair of Atlanta Chapter Steering Committee & President and Managing Director, Made in Memphis Entertainment
10am - Catalog Acquisitions Panel
• Larry Mestel, CEO, Primary Wave Music
• Barry Massarsky, Partner and Co-Practice Leader, Music Economics and Valuation Services
• Lisa Alter, Partner, Alter, Kendrick & Baron, LLP
• Denise Colletta, Senior Vice President – Team Leader, City National Bank
• Neil Gillis, Former President and Founder, Round Hill Music - Moderator
11am – The Indie Perspective
• Rell Lafargue, President and COO, Reservoir Media Management, Inc.
• Jodie Ferneyhough, President, CCS Rights Management/Daytripper Music Publishing
• Kenny MacPherson, CEO, Hipgnosis Songs Group
• Virginie Berger, SVP, Global Publishing & Society Relations, Songtrust
• Alisa Coleman, COO, ABKCO
• Tony Alexander - Moderator
11:45am - Lunch Mixer
12:30pm – Washington DC Update Panel
• Mitch Glazier, Chairman and CEO, RIAA
• David Israelite, President and CEO, NMPA
• Bart Herbison, Executive Director, NSAI
• John Ozier
1:30pm - International Alliance Panel
• Helienne Lindvall, President, European Composer & Songwriter Alliance
• Goetz von Einem, Managing Director GSA and Senior Vice President Digital & European Affairs, Peermusic
• Margaret McGuffin, CEO Music Publishers Canada
• Thando Makhunga, Managing Director, Sheer Publishing Africa
• Teri Nelson Carpenter
2:30pm - Synch and the Metaverse Panel
• Adrian Perry, Partner, Covington & Burling LLP
• Deborah Mannis-Gardner, President, DMG Clearances
• Steven Haft, ConsenSys
• Michael Lau- Moderator
3:30pm - Sonic Branding Panel
• Josh Rabinowitz, Founder, Brooklyn Music Experience
• John Melillo, Executive Producer and Music Supervisor, MELILLO MUSIC & SOUND
• Theresa Notartomaso, Executive Music Producer, North America, VMLY&R
• Brooke Primont, SVP, Sync, Concord Music Publishing - Moderator
4:30pm - Creative Keynote
• Ashley Gorley in conversation with Tim Hunze
5:15pm – Reception begins
6:00pm – Doors open for NYC3 and Music Publishers Canada Showcase*
• Jewels Gold (Rainbow Rock Music)
• Sarah MacDougall (Arts & Crafts Music Inc.)
• Tatiana Owens (Angry Mob Music)
• POESY (Daytripper Music Publishing)
* Ticketed AIMP Summit attendees do not need to RSVP, but those that only wish to attend the evening showcase must register via the NYC3 event link to attend.
About the organizer
The Association of Independent Music Publishers (AIMP) was formed in 1977 and has local chapters in Los Angeles, New York, and Nashville. The organization's primary focus is to educate and inform music publishers about the most current industry trends and practices by providing a forum for the discussion of the issues and problems confronting the music publishing industry. The opportunity to exchange ideas and opinions with others on issues of mutual concern is fostered by the atmosphere at the AIMP's monthly meetings, forums, and workshops, the videos of which can be seen (along with more general info on the organization) at http://www.aimp.org.