AIGA Thanksgiving Brand Scavenger Hunt

Monday, November 15, 2010 at 1:00 PM

-

Thursday, November 25, 2010 at 11:55 PM (EST)
Event Details
Join AIGA Metro-North (and other Chapters) in a photographic hunt for Thanksgiving-themed brands.
From Butterball turkeys to Macys' iconic parade—countless brands seek to tie into this American tradition with special products, packaging, ads, promotions, events, and more. As the holiday approaches, let's track, capture, rate, and share them. 
We will be using iconographic—www.ikonographic.com—a new platform for photo-capturing, tagging, seaching, and discussing brands to power our Thanksgiving scavenger hunt! 
Based on your ratings and comments on the images at the ikonographic website, we will award prizes for:
• The most surprising Thanksgiving brand tie-in
• The worst Thanksgiving brand expression
• The best Thanksgiving branding effort
Here's how it works.
1 Download the free ikonographic App from the iTunes store and sync your iPhone to install*
2 Open the ikonographic App and touch the "i"  symbol in the lower right corner or, if you don't have an iPhone, just go to www.ikonographic.com 
3 Create your free ikonographic account
4 Use the iPhone App or any digital camera** to capture a Thanksgiving-themed brand
5 'Tag' (using the handy tagging form on your phone or the website)
6 Type "Thanksgiving" and a description in the comment box—type Thanksgiving at a minimum!
7 Click the "Publish to ikonographic" button
8 Repeat often!
Go to www.ikonographic.com/thanksgiving or type "Thanksgiving" into the search box to view everyone's Thanksgiving scavenger hunt brand images 
* If you do not have an iPhone or iPod Touch with camera, you can simply upload images from your computer at www.ikonographic.com 
** If you use a digital camera, transfer the images to your computer, then go to www.ikonographic to sign in, upload, then tag.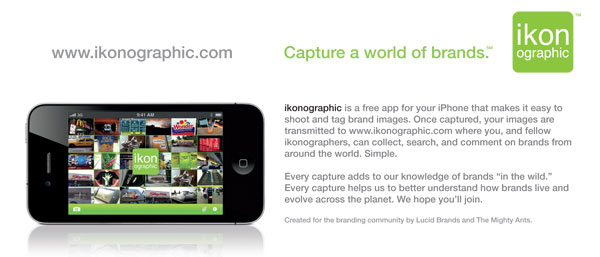 When & Where

USA




Monday, November 15, 2010 at 1:00 PM

-

Thursday, November 25, 2010 at 11:55 PM (EST)
Add to my calendar
Organizer
AIGA Metro-North
AIGA Metro-North serves graphic designers in the New York City Metropolitan area.

The Metro-North 'Branding' Chapter is dedicated to advancing the discipline of world-class branding to optimize the competitive advantage of organizations, products and services.
Our board members are graphic and packaging designers and design managers who live and/or work in Westchester and Fairfield Counties.
We host a year-round calendar of events: educational, professional and social.