Description
AIFYPLA proudly presents: "A Midsummer Night's Dream"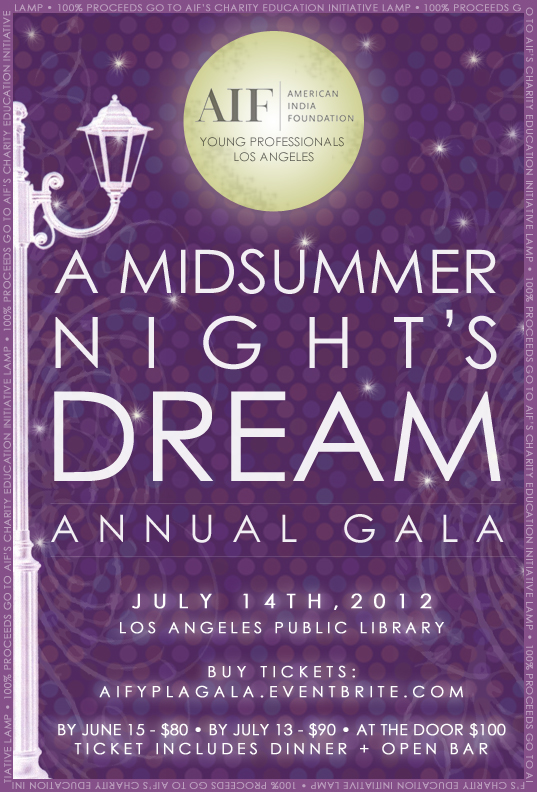 Join AIFYPLA for an evening of dinner, drinks (open bar) and dance while you support AIF's Learning and Migration Program (LAMP). Every $100 raised allows AIF to setup a library in a rural primary school that can benefit hundreds of children in the village!
Purchase your tickets early before prices go up. Tickets can also be purchased at the door (assuming we don't sell out earlier), but the sooner you buy, the more money you save! :)
About AIF
The American India Foundation (AIF, founded 2001) is a nonprofit American organization that is devoted to accelerating social and economic change in India. AIF awards grants to education, livelihood, and public health projects in India.
About AIFYPLA
AIFYPLA is the youth wing of AIF that seeks to educate young professionals in LA/OC about AIF's mission and provide them with an avenue to contribute to India's development. AIFYPLA has successfully organized multiple events benefiting the Learning and Migration Program (LAMP), AIF's education initiative directed towards children of seasonal migration workers. In addition to raising funds, AIFYPLA also partners with various non-profit organizations in the region to provide an avenue for young professionals in LA/OC to volunteer and engage with the local community.
For more information on AIF and its programs visit:
http://aif.org/


Please 'like' us on Facebook to receive updates!
Link: http://on.fb.me/ouUIaZ

CONTACT:
For information about this event please contact us at aifyplosangeles@aif.org