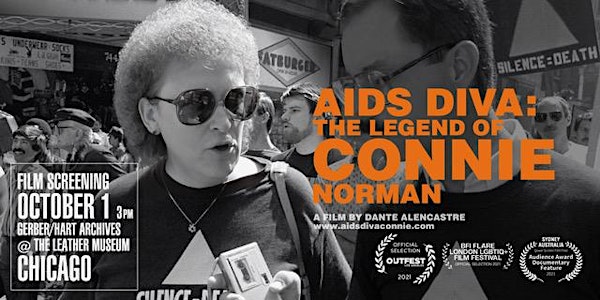 AIDS Diva: The Legend of Connie Norman - Film Screening and Panel
Join Gerber/Hart and the Leather Archives & Museum for a film screening and discussion of AIDS Diva: The Legend of Connie Norman
When and where
Location
Leather Archives and Museum 6418 North Greenview Avenue Chicago, IL 60626
About this event
Join Gerber/Hart and the Leather Archives and Museum for a very special film screening and discussion of AIDS Diva: The Legend of Connie Norman. Filmmaker Dante Alencastre will be in conversation with Sarah Schulman and Mary Patten after the screening of the film.
Join us to learn more about Connie's life and the important history of activism in Chicago.
Explore the website for the film: www.aidsdivaconnie.com It includes reviews, video and further background description and information about the film.
AIDS Diva: The Legend of Connie Norman (2021)
As the self-appointed "AIDS DIVA" and a masterful spokesperson with ACT UP/LA in the late 80s and early 90's Los Angeles, Connie Norman described herself as "ex-drag queen, ex-hooker, ex-IV drug user, ex-high risk youth and current post-operative transsexual woman who is HIV positive" and simply "a human being seeking my humanity."
Standing proudly in her multiple, fluid and evolving LGBTQ identities, she was often a lone advocate for the fledgling trans community of that era. Both beloved and confronting, Connie's soulful and salty rantings and intersectional politics were heard widely through her local LGBT newspaper column and her pioneering LGBTQ cable television talk show. Fueled by the urgency of her mortality and the hard-won honesty and clarity her survival had required, Connie challenged self-hatred, hypocrisy and denial, as she evoked a humanitarian, neighborly, transcendent vision of life and love for our tribe and us all.
She served as a bridge, in both gender and politics, - from ACT UP/LA to the Radical Fairies, to right-wing talk shows to Sacramento policy meetings to her marriage to gay husband Bruce - and challenged us to confront what it means to be a woman, a man and ultimately a human being. Conscious of the structural inequalities of oppression in an earlier era of crisis, Connie's piercing and compassionate voice, through these rare vintage video clips, leaps into the present, urging us again to wake up, to take action, and to fully engage with our collective lives and our world.
-
Dante Alencastre is a Peruvian born award winning documentary filmmaker and LGBTQ+ community activist, based in Los Angeles. His work combines and blurs the boundaries between filmmaking, activism and community participation by documenting and amplifying the under-told, but extraordinary stories of local LGBT activist heroes, told with depth, respect and sensitivity and then shared with national and world-wide target audiences.
Sarah Schulman is a novelist, playwright, screenwriter, nonfiction writer and AIDS historian. Her 20th book is LET THE RECORD SHOW: A Political History of ACT UP, New York 1987-1993.
Mary Patten is a visual artist, videomaker, writer, educator, and long-time community and political activist. Patten teaches in the Film, Video, New Media, and Animation Department of the School of the Art Institute of Chicago, and was a founding member of ACT UP Chicago.
This event was made possible by support from Howard Brown Health and the Chicago Department of Public Health
www.aidsdivaconnie.com