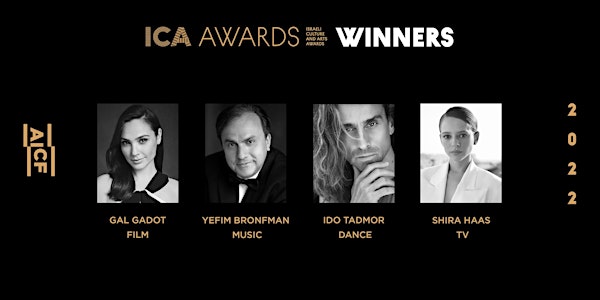 AICF Celebration & ICA Awards
AICF's 2022 Celebration and ICA Awards will take place on November 7th at the New-York Historical Society.
When and where
Location
New-York Historical Society 170 Central Park West New York, NY 10024
About this event
America-Israel Cultural Foundation (AICF) has played a leading role in the development of Israel's arts and culture. Thanks to its early support for nearly all of Israel's largest artistic institutions, and our reputation for nourishing the finest artists in music, dance, theater, and visual arts the name AICF has become synonymous with culture in Israel.
AICF's 2022 Celebration and ICA Awards will take place on Monday, November 7th at The Robert H. Smith Auditorium, in the New-York Historical Society in New York City.
The ICA Awards (Israeli Culture & Arts Awards) honors the most impactful Israeli artists in the performing, visual, design, television, and cinematic arts. Together, we celebrate the most accomplished Israeli artists, thanking them for their contribution to the global cultural landscape. The ceremony features performances from a wide array of artists, recognizes artistic excellence, and promotes Israeli artists' contribution to the global stage.
Join us in honoring Gal Gadot (Film), Ido Tadmor (Dance), Shira Haas (TV) and Yefim Bronfman (Music).
Click here for more information on the 2022 ICA Awards.
Your ticket represents a charitable contribution. AICF is a registered 501(c)(3) nonprofit. $60 of your contribution per person - the value of the event - is not tax-deductible.
You may purchase your exact seat, by selecting "Tickets" ⮕ "Stage" on the colorful seat map ⮕ plus sign "➕ " to enlarge the map and choose your exact seating location.
Can't attend the event in-person? Support AICF by making your annual contribution.
Program:
6:30pm | Arrivals, Hors d'oeuvres and Cocktail Hour
7:30pm | Celebration & ICA Awards
9:30pm | Dessert + Coffee