About this Event
The Design Awards Committee invites your participation in the 2020 AIA Wisconsin Design Awards program. The Awards Presentation and a display of the winning projects will be featured at the 2020 AIA Wisconsin Conference on Architecture on April 29 & 30 at the Monona Terrace Community & Convention Center.
Awards
Awards may be presented in two categories. Honor Awards recognize overall design excellence. Merit Awards recognize excellence in a particular aspect of project design, such as detailing, sustainability or adaptive use. The jury is comprised of distinguished architects from outside of Wisconsin. There are no entry categories and no detailed criteria beyond those in this announcement. The projects are not judged in competition with each other, but rather by measuring the architect's performance against each project's potential. Thus, projects of ordinary program or modest budget can receive an award based on the architect's skill in optimizing the design opportunity.The Architect, Owner and Contractor of each winning entry will receive a certificate of the award. Winning architects will be required to prepare a project presentation board for a banner display at the AIA Wisconsin Conference on Architecture and throughout the state during the year. Representatives from the award-winning firm must be present at the awards celebration to receive the award. In addition, the winning design architect may be asked to discuss the project at the awards celebration.
Eligibility and Authorship
Projects must have been designed by AIA Architect members of AIA Wisconsin, with construction completed by January 1, 2020. The design architect, who is the person primarily responsible for the authorship of the project's design, must be an AIA Wisconsin member. All design team members and other consultants substantially contributing to the design of the project must be given credit as part of the submission. Projects previously submitted and not receiving an Honor Award or Merit Award are eligible. For projects in which more than one architecture firm contributes to the design, all the architecture firms must be given appropriate credit as part of the submission.
Deadlines, Fees and Entry Forms
Advance registration fee of $200 per project is required. All registrations must be completed no later than January 17, 2020. Save $20 by registering by January 10. A seven-digit entry number (e.g. 2020-007 [year -_ _ _ ]), order confirmation and "Concealed Identification" form will be emailed to the registering contact person no later than January 22, 2020.All completed submissions must be received by AIA Wisconsin no later than 5:00 p.m., February 13, 2020.
Entry Submissions
Electronic files
One digital folder named "(your entry number)." This folder shall contain:
Up to 12 high-resolution image files (300 dpi). Photos/image files should be saved as individual JPEG formatted files (no larger than 3300 x 2550 px or 8 1/2" x 11" ). There shall be one image file for each of the views, photographs, drawings or diagrams you wish to present. Images will be labeled with your seven-digit entry number and order number (e.g. 2020-007-05). A maximum of four of these images may be in collage format. Show all exterior views that are required to reasonably describe the project and interior photos where appropriate. For designs that do not include building exteriors, include photographs, diagrams and/or drawings sufficient to reasonably describe the project (site plan, floor plan(s) and building diagrams). Photographs of project with people to show the design in use are encouraged. Photos shall have no borders and no captions. If project is selected for an award, the photos will be used in the order submitted at the awards ceremony.
A high-resolution (300 dpi) JPEG vertical image titled "(your seven-digit entry number) - Display Image." For use in promotional materials. This high-quality duplicate photo is selected from your submission that best represents the project.
MS Word or text formatted file containing a one-page project statement. This vertically-formatted, concise one-page project statement describes the Owner's program, site description including any significant physical parameters, factual statement of the design solution and a statement of why the project should be considered for an award. File name "(your seven-digit entry number) - Project Description"
MS Word or text formatted file containing the one-page concealed identification form (not PDF). The completed "Concealed Identification" form containing information about the project including architect, client, contractor and consultants contact information and photo credit/permission. The name of the architect/firm is not to appear anywhere else in the submitted material. File name "(your seven-digit entry number) - Concealed ID"
Printed materials are no longer required.
Delivery
Uploaded to Hightail or save to a CD-ROM, DVD or flash drive.
Send electronic files through an upload to Hightail.com (SHARE with Brenda@aiaw.org and use the entry number in the subject line or UPLOAD to https://spaces.hightail.com/uplink/AIAW )* or Mail a CD-ROM or Flash drive to AIA Wisconsin, 321 S. Hamilton St, Madison, WI 53703.
AIA Wisconsin will print the Display Image and Project Description for use by jurors in conjunction with electronic project files. AIA Wisconsin will not accept responsibility for errors in submitted material. Do not email files. By making a submission, each entrant certifies that permission has been obtained from the photographer(s) to publish the submitted photographs and electronic images for publicity in the interest of the profession.
Inquiries
Contact AIA Wisconsin at aiaw@aiaw.org, (608) 257-8477 with any questions.
*Hightail upload hint: Attach each file (images and word files). . . do not upload a folder or zip file.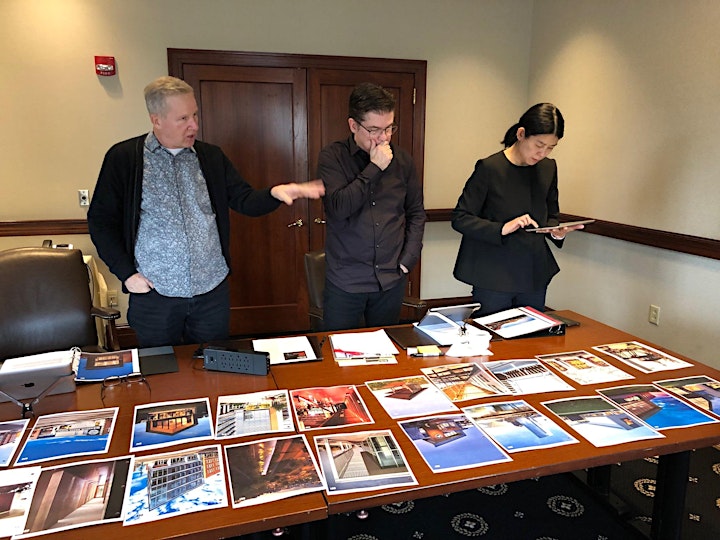 Jurors review projects on Ipads in conjunction with printed "Display Images" and Project Descriptions. [AIA Wisconsin will print provided files].