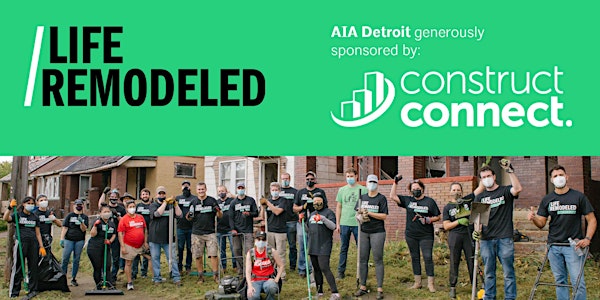 AIAD Service Day: Life Remodeled 2022
ConstructConnect is generously sponsoring AIA Detroit's involvement in the 2022 Life Remodeled Six Day Project.
When and where
Location
(former) Cooley High School 15055 Hubbell Ave Detroit, MI 48227
About this event
The Life Remodeled Six Day Project is now at new location!
This year's Six Day Project, taking place from October 3-8, 2022, will focus on an approximately 4.5-square mile area around Cooley High School.
To serve the Cooley community and its residents more comprehensively, Life Remodeled is providing free lawn care services for senior citizens, veterans and people with disabilities, increasing the level of interaction between community residents, students, and the volunteers who live outside the Cooley community.
They also plan to provide a limited number of homes near Cooley High School with increased services to upgrade their curb appeal, which may include options such as mulching, planting perennials, removing unwanted bushes, and installing planter boxes.
Lastly, every night of the Six Day Project except Saturday, Life Remodeled will host events to engage community members and all volunteers in meaningful relational interactions with one another. Under a gigantic tent located on the Cooley High School property, volunteers will enjoy snacks, drinks, and music from 4:00-5:00p.m. Each evening will be led by a different Cooley Community organization.
Because ConstructConnect has once again offered to sponsor AIA Detroit's involvement to the tune of $5,000, we can once again bring volunteers together for our Friday-afternoon shift with Life Remodeled.
PROJECT DETAILS
AIA Detroit volunteers will arrive on Friday, October 7th, at the former Cooley High School between 11-11:45 a.m. Volunteers will then board shuttle buses that will transport them to our specified Command Center location within the neighborhood.
Upon arrival at the Command Center, volunteers will receive their volunteer assignment as well as all the tools (mowers, weed whips, loppers, rakes, trash bags, etc.) and then will walk to their location (within a block or two away).
Volunteers should bring their own work gloves and protective eyewear/sunglasses. Water is provided, but AIA Detroit will bring around additional water, and we advise individuals to bring extra water (as well as any snacks if needed).
At the end of your shift (4:00pm), volunteers return the tools to the Command Center and are bussed back to Cooley High School to participate in the after-party event from 4:00pm - 5:00pm. Once that event has concluded, volunteers return to their vehicles to leave the site.
Every participant must sign a digital waiver and wear the volunteer shirt provided by Life Remodeled in order to participate (AIA Detroit has the shirts already from 2021!).
IS YOUR COMPANY NOT PARTICIPATING THIS YEAR? JOIN AIA DETROIT. We know that not everyone can afford the $1000 donation this year, so we would like to invite you to volunteer with us! There's room for everyone, even if you are the only person from your firm, or you decide to volunteer with your family this year. Let's all take the opportunity to get outside (together) for an afternoon and give something back to the community in doing so.
PLEASE SIGN THIS DIGITAL WAIVER BEFORE PARTICIPATING IN THE 2022 PROJECT
"ConstructConnect is The One Place where people connect and confidently evaluate, choose and prepare projects before they build."