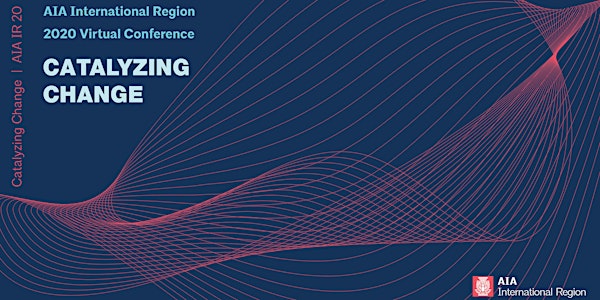 AIA International Region 2020 Virtual Conference: Catalyzing Change
The AIA International Region hosted a 5-day virtual conference on Catalyzing Change from Nov 17-21, 2020. It is now available on demand.
About this event
Now more than ever, we appear to be at a tipping point, the threshold of which has been spreading across the globe. This year's conference theme, "Catalyzing Change" seeks to embrace the opportunity presented by the many challenges society is facing in 2020, to identify potential for growth and change. Join us to imagine, debate and celebrate how architecture can be at the forefront of meaningful change that responds to our current crises of climate action, social justice, and health & well-being.
This 5-day round-the-clock virtual conference spans the globe to bring you lectures, panel discussions, building tours and more, all underscored by the AIA's Framework for Design Excellence. Conference sessions are hosted by the 7 IR Chapters in Canada, Europe, Hong Kong, Japan, the Middle East, Shanghai, and the United Kingdom, as well as contributions from Argentina, Beijing, Brazil, Colombia, Costa Rica, Mexico, Singapore, and Sri Lanka who are some of our many Country Representatives!
Registration is free. Book now to gain access to the full program of events at the IR 2020 Virtual Conference!
=======================
Conference sponsorship provided by: