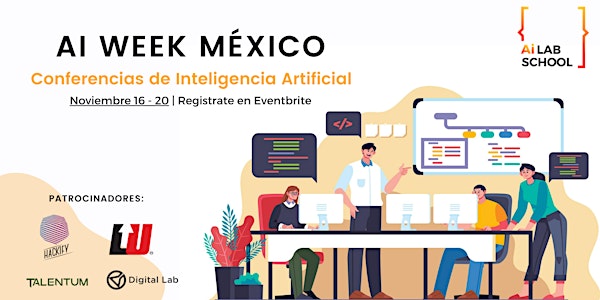 Ai Week Mexico
Ai Week México es una semana de conferencias, workshops y paneles acerca de la industria de la inteligencia Artificial en México.
Refund Policy
Contact the organizer to request a refund.
About this event
Aprende de expertos en la industria del AI, con más de 20 conferencias.
Ai Week Mexico es un formato de conferencias 100% online con una duración de 5 días .
El evento comenzará el día Lunes 16 de Noviembre a las 10:00AM y termina el Viernes 20 de Noviembre las 6:00PM (hora del Centro)
*Cupo limitado,
Temas de platicas:
Enfoque en programación:
Tendencias 2020 en Inteligencia Artificial
Herramientas y frameworks para desarrollo en AI
Metodologías y procesos de rápido desarrollo en AI
Maneras creativas de utilizar y crear Inteligencia Artificial
¿Cómo aprender a programar Inteligencia Artificial?
Metodologías avanzadas en visión computacional
Genera tu primer data set para machine learning
Cómo funciona el procesamiento de lenguaje natural
El uso de la Inteligencia Artificial en las Neurotecnologías del Futuro
El futuro de México en la industria de la inteligencia artificial
Trabaja como AI/ML Engineer en Silicon Valley
Enfoque en Negocios:
Aplicaciones de Inteligencia Artificial para los negocios
La Inteligencia artificial la nueva economía de la innovación
La nueva cultura colaborativa entre máquinas inteligentes y humanos
¿Cómo llevar tu negocio al siguiente nivel con AI?
Crea un startup de AI en 6 meses
Trabaja como analista de datos
6 ventajas en utilizar inteligencia artificial para empresas
Inteligencia artificial con impacto social
México se transforma en una economía de tecnologia e innovacion
Las videoconferencias se realizarán vía Zoom en vivo y se grabaran para los asistentes.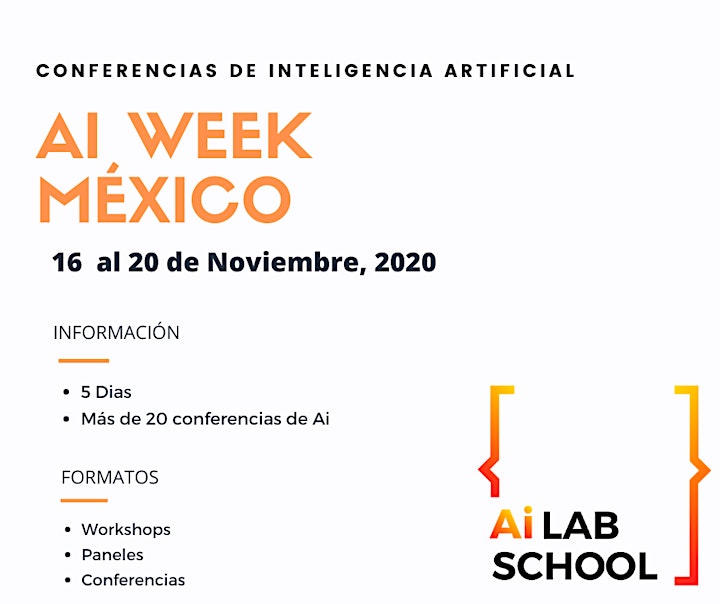 Nuestra misión: es fomentar el desarrollo de tecnología en nuestra comunidad y proveer un espacio y ambiente que propicie la creatividad, innovación, aprendizaje y crecimiento.
El evento incluye:
Conferencias
Workshops
Paneles
Networking virtual
Oportunidades de reclutamiento
(cupo limitado)
¿Qué es Ai Week Mexico?
Es un evento de conferencias, workshops y paneles que toma lugar de manera virtual del 16 al 20 de Noviembre?
¿Cómo es la dinámica del evento?
Se proporcionará un link con el calendario del evento y acceso a las conferencias via Zoom. Habrá entre 4 a 6 conferencias por día.
¿Quién puede asistir?
Ejecutivos de negocio, programadores, desarrolladores, consultores y personas interesadas en aprender y trabajar en la industria de la inteligencia artificial.
¿Cuáles son los beneficios?
Aprende de expertos en la industria del AI
Adquiere herramientas para proyectos de AI
Aprende las nuevas tendencias de AI para desarrollo y negocios
Actualiza tu base de conocimientos en AI
Haz networking y genera oportunidades de negocio y reclutamiento
Forma parte de la industria de más alto crecimiento
¿Cuál es la inversión?
Estás haciendo una inversión en ti, en tu educación, en mejorar tu posición y estar actualizado en las últimas tendencias de negocios y desarrollo en AI. La inversión de Ai Week México es de 5,000 MXN por asistente. Aprovecha el early bird y obten un descuento de hasta el 50%.
Acerca de Ai Lab School
Ai Lab School es el primer programa de educación online y colocación laboral en México de inteligencia artificial. En 3 meses capacitamos a programadores y elevamos sus habilidades en programación de inteligencia artificial para que puedan competir en un mercado global.
En la segunda etapa contamos con el programa de colocación laboral Talentum, en donde te apoyamos a conseguir empleo en silicon valley y tramitar tu visa de trabajo.
Patrocinadoes