AI Technology in Modern Society.
Description
AI Technology in Modern Society. Artificial Intelligence, by Albert Fattal.
LUNCH WILL BE PROVIDED.
For those traveling from outside of campus, all day parking passes can be purchased for $8 at the parking booth.
NOTE: Due to overwhelming interest, the event has been relocated to one of the largest Lecture Halls at the University, the University Library Room 1822 (Building 15).
Campus and Building Map: http://www.cpp.edu/maps/dynamic/?structureID=Bg-15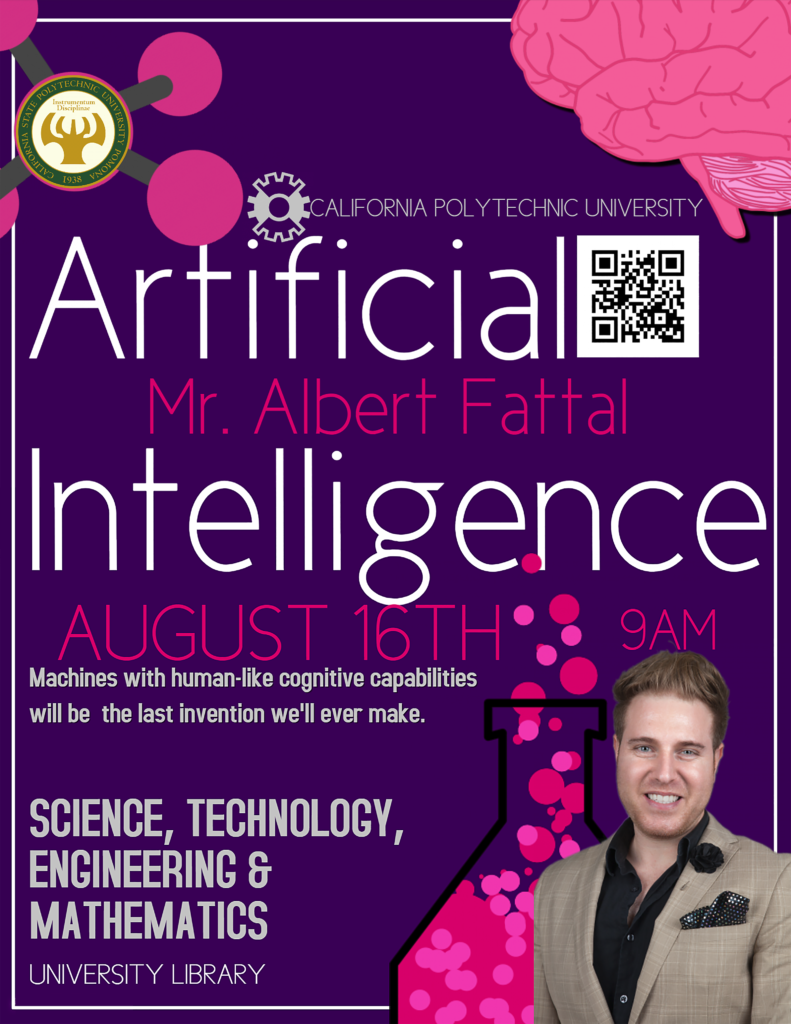 Abstract
The twenty-first century has witnessed a tremendous growth in computing technology. Artificial Intelligence is one of the most important aspects of Information Technology that has received a boost due to this growth. Computers and their accessories have become increasingly cheaper, allowing more people to participate in the evolution of the technology. The interest to develop machines with human-like thinking capabilities began in the mid-twentieth century with the invention of the Turing machine. Since then, engineers, scientists, and software programmers have successfully created programs and algorithms that enable machines to act autonomously. The future presents a vast array of possibilities, mainly spurred by advances in technology and contribution to the field. An often asked question is whether future AI will be capable of developing sentient thoughts. This research explores the principles, supporting technologies, breakthroughs, and impacts of AI technology in modern society.
--
Highlights from the event: https://albertfattal.com/in-the-press/ai-technology-in-modern-society/