Description
AI Speaker Series: PLEASE NOTE THIS IS ON TUESDAY.... NOT WEDNESDAY!!!!!!

Title: State Farm Kaggle Competition Walkthrough
Description:
An in-depth analysis of an entry for the Kaggle State Farm Distracted Driver competition using CNNs. The walkthrough will cover data preparation, data augumentation, running a CNN model, transfer learning from pre-trained Imagenet model, and submitting results.
Level: Beginner/Intermediate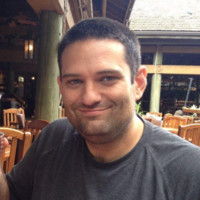 INSTRUCTOR:
Jay Mairs
Experienced software developer with a demonstrated history of working in the computer software industry. Skilled in Data Science, Python, Deep Learning, Mobile App Development, Java, and C++. Strong entrepreneurship professional with a Master's Degree in Physics from University of California, Los Angeles.

About PeopleSpace AI Speaker Series:
An expert from leading technology companies will speak about their learnings in the realm of AI & Machine Learning. Happening weekly in October 2019 at PeopleSpace
Organizer of AI Speaker Series #5: State Farm Kaggle Competition Walkthrough
15,000 sq.ft. of Non-Profit 501(c)(3) education for Tech Talent and Tech Startups. We foster Badass Companies.
EDUCATION.TECH STARTUPS.COMMUNITY
PeopleSpace is where people with common interests in computers, technology, science, art, entrepreneurship and start-up business can meetup, socialize and/or collaborate, teach and learn.
EDUCATION
For tech entrepreneurs and professionals to engage in cutting edge technical experience. Large classrooms reserved for community-generated courses on topics ranging from programming to protoyping, design, marketing, company building, and much more.
TECH STARTUPS
Build your company alongside a community of awesomeness! Between our Meetup groups, companies in residence and Pre-Accelerator, finding support for your startups is as easy as 1.2.3! Our community and people will make ALL the difference in your world.
COMMUNITY
We have 5 different areas for event space that hosts Hackathons, Demo Nights, Mixers, Meetups and more! Check out our event calendar. Have a meetup group and need to host an event? Contact us and let's talk!