Event Information
Location
Meydenbauer Convention Center
11100 NE 6th St
Bellevue, WA 98004
Refund Policy
Refunds up to 30 days before event
Description
AI NEXTCon Conference Seattle '19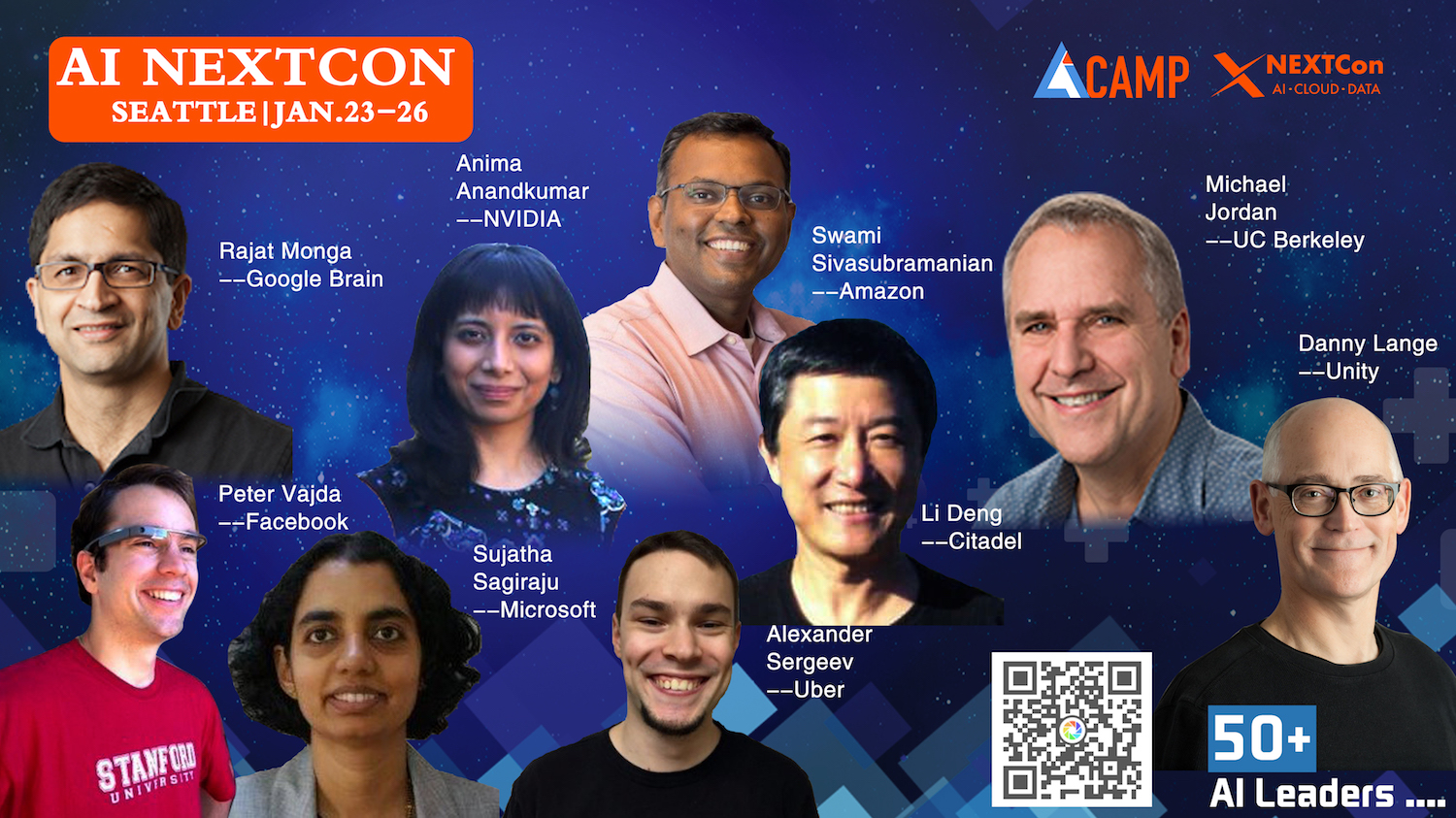 Visit website for all 50+ speakers and schedules.
Join us the 7th AI NEXTCon Seattle, the leading AI tech conference hosted around the world. AI NEXTCon Seattle brings together top technical engineers, practitioners, influential technologists and data scientists to share solutions and practical experiences in computer vision, speech, NLP, machine learning, deep learning, data science/analytics.
The conference features a blend of hands-on workshops, inspirational keynotes, deep dive tech talks, and networking opportunity with like minded colleagues. it's 4 days conference with 50+ tech speakers/tech talk sessions, 50+ tech talks, and 5+ workshop/code labs. Speakers are mainly from engineering teams from Microsoft Amazon Uber Airbnb Pinterest Google Facebook Twitter Linkedin, Nvidia, Intel, etc...
AI NEXTCon is one of premium tech events specially geared to tech engineers, developers, data scientists, and machine learning engineers, has attracted more than 500 tech lead speakers, 6000+ tech engineers attending and more than 30 sponsors (like Microsoft, Amazon, Uber, Oracle, eBay, OfferUp, Google, IBM, AI2, Zillow, Alibaba, Huawei, DiDi, LinkedIn, and more).
Date:
Main Conference: 1/23-24th, 2019 (Wed and Thu)
Hands-on Workshop: 1/25-26th, 2019 (Fri and Sat)
Tracks:
The conference features thoughtful tech leaders keynote in the morning and breakout tracks tech talks in the afternoon:
Computer Vision
Speech&NLP
Machine Learning
Deep Learning
Data Science & Analytics
Refund Policy:
Tickets are refundable until 12/23/2018.
Tickets are transferable to anyone else.
Discount:
Group discount (10% off for 5+ tickets, 15% off for 10+ tickets). use discount code: groupdisc10 for the group discount, you must purchase all tickets at one transaction to qualify for group discount price.
Student, employees of government, military service, non-profit org can apply for special discount, contact us for details.
"NEXTCon share program": help to share and promote NEXTCon, you can get more discount, free ticket and/or earn extra cash, contact us for details.
Contact: billisme@gmail.com, admin@atiglobal.org
Volunteers:
want to help to run the event? contact us for applying for volunteers.
AI learning community:
AICamp, with the mission of "Make AI available to all developers", is a global online AI learning platform for developers, engineers, data scientists to learn and practice AI technology. headquartered in Seattle and Silicon valley, we're one of largest AI tech communities and have local learning groups in Seattle, SF/silicon valley, LA, San Diego, Phoenix, Salt Lake City, Denver, Austin, Chicago, Atlanta, NYC, Boston, Vancouver, Toronto, London, Berlin, Paris, China, India, etc.. with 500+ tech lead speakers and 50,000+ tech engineers to learn and practice together AI technology. we have hosted more than 300 tech meetups, bootcamps, workshops, training, and large tech conferences.
Date and Time
Location
Meydenbauer Convention Center
11100 NE 6th St
Bellevue, WA 98004
Refund Policy
Refunds up to 30 days before event