Description
Join our award-winning journalists, innovative scholars and practitioners for a conference on the impact of AI on democracy.
Artificial intelligence is a potent force in media for both good and evil. It is used both to spread disinformation through social media platforms – yet also used to is combat the spread of "fake news" and for more benign purposes, such as connecting readers to content they like.
Yet most people have only the dimmest of ideas what AI is. They may have an inkling it is somehow tied to the spread of Russian disinformation and "fake news." Commentators talk ominously about its corrosive effect on democracy.
For all that, the influence of AI is growing in fields ranging from journalism to law, from business to teaching. What will its effect be on media and democracy? How much of a threat to democracy does AI represent? Join our distinguished speakers and panelists in a broad-ranging discussion of the issues.
"Deep Fakes and the Looming Crisis for the Truth, Elections, and Democracy"
Keynote by Danielle Citron, Morton & Sophia Macht Professor of Law at the University of Maryland Francis King Carey School of Law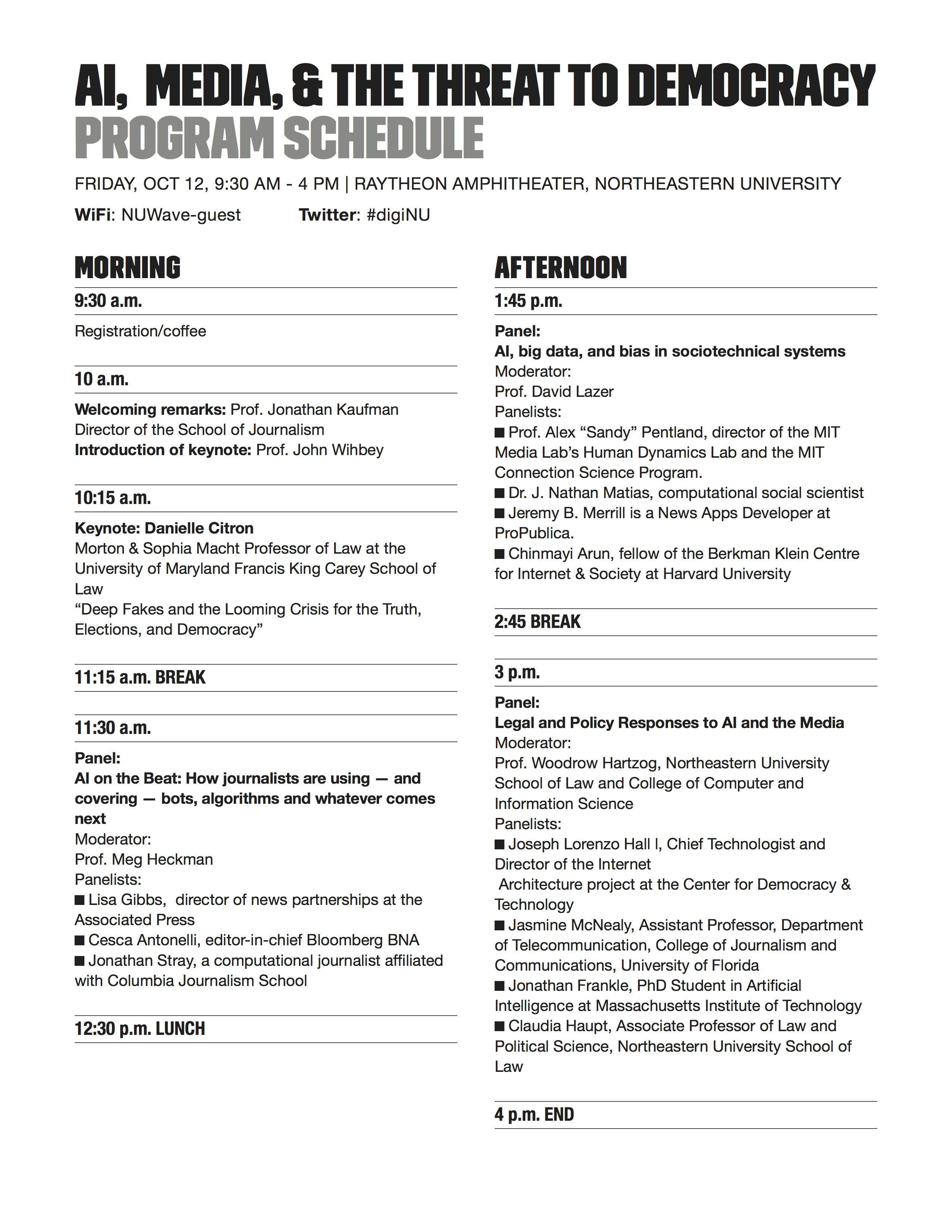 Panels:
1. AI on the Beat: How journalists are using -- and covering -- bots, algorithms and whatever comes next
-- Lisa Gibbs, director of news partnerships at the Associated Press
-- Cesca Antonelli, editor-in-chief Bloomberg BNA
-- Jonathan Stray, a computational journalist affiliated with Columbia J School
Moderator: Meg Heckman, Assistant Professor at Northeastern University's School of Journalism.
2. AI, big data, and bias in sociotechnical systems
-- Professor Alex "Sandy" Pentland is director of the MIT Media Lab's Human Dynamics Lab and the MIT Connection Science Program. Pentland, who helped create and direct the MIT Media Lab, was declared by Forbes to be one of the "7 most powerful data scientists in the world." He is one of the cited scientists in the world and has received numerous awards and prizes, such as the McKinsey Award from the Harvard Business Review.
-- Dr. J. Nathan Matias is a computational social scientist who works towards a safer, fairer more understanding internet. He completed his Ph.D. at the MIT Media on the governance of human and machine behavior. Previously he worked on tech startups and helped start a series of education and journalistic charities.
-- Jeremy B. Merrill is a News Apps Developer at ProPublica and the lead journalist on ProPublica's Facebook Political Ad Collector project, in which readers install a browser extension to contribute to a crowdsourced database of political ads. He previously built machine-learning models to summarize members of Congress's behavior. He lives in Atlanta, GA.
Moderator: David Lazer is Distinguished Professor of Political Science and Computer Science, a founder of the citizen science website Volunteer Science, author of Politics with the People: Building a Directly Representative Democracy, Director of the NULab for Texts, Maps, and Networks, at Northeastern University.
3. Legal and Policy Responses to AI and the Media
-- Jasmine McNealy, Assistant Professor, Department of Telecommunication, University of Florida and Fellow, Berkman Klein Center for Internet & Society, Harvard University.
-- Joseph Lorenzo Hall, Chief Technologist, Center for Democracy and Technology
-- Claudia Haupt, Associate Professor of Law and Political Science. Northeastern University School of Law
-- Jonathan Frankle, PhD Student in Artificial Intelligence at Massachusetts Institute of Technology
Moderator: Woodrow Hartzog, Professor of Law and Computer Science, Northeastern University School of Law and College of Computer and Information Science
Organizers:

Matt Carroll, Professor of the Practice, School of Journalism
Aleszu Bajak, Graduate Programs Manager, School of Journalism
Meg Heckman, Assistant Professor, School of Journalism
Woodrow Hartzog, Professor of Law and Computer Science
David Lazer, Distinguished Professor of Political Science and Computer and Information Science

Sponsored by the Northeastern University College of Arts, Media and Design, Northeastern's School of Journalism, the Northeastern College of Computer and Information Science, and the Center for Law, Innovation, Creativity (CLIC) at Northeastern University School of Law.