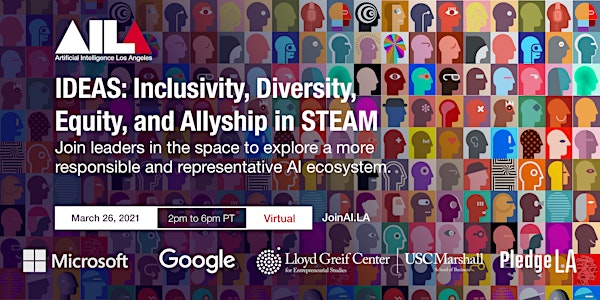 AI LA's IDEAS: Inclusivity, Diversity, Equity, and Allyship in STEAM
Join leaders in the space to explore a more responsible and representative AI ecosystem.
Refund Policy
Refunds up to 7 days before event
Eventbrite's fee is nonrefundable.
About this event
The AI LA Community and its allies are assembling virtually this year to discuss some serious topics. An amalgamation of pandemic-reactiveness and diversity discussions have pushed individuals and organizations to rethink how they live and work.
Join us for a day filled with industry and academic perspectives from Google, Microsoft, PledgeLA, and USC, as we discuss the impact and importance of inclusivity, diversity, equity, and allyship in teams and in efforts to create a responsible and representative AI.
What to expect:
A Keynote by Jen Gennai, Head of Responsible Innovation at Google.
Breakout sessions designed to be interactive with audience participation.
A panel discussion reporting the findings of the breakout sessions.
Over an hour of 1:1 video chat networking with hundreds of like-minded attendees.
SCHEDULE
2:00pm: Welcome and Google Keynote
2:30pm: Overview of content
2:35pm: Breakout session
3:00pm Break
3:10pm: Panel Discussion
3:30pm Impact Breakouts
4pm: Microsoft Panel Topic: Maximizing Your Seat at the Table
Join members of the AI Platform organization at Microsoft as they share perspectives on work their teams are driving to influence AI for the better and how they show up as leaders to impact that work. In this session, we will explore together how to move from a place of learning about D&I concepts to a place of identifying how we, as individuals, can lean into our personal power and make a difference in diversity & inclusion efforts.
Moderator: Kiesha Garrison, Director of Communications & Culture Programs
Panelists:
Sarah Bird – Principal Program Manager, Responsible AI
Widad Machmouchi – Principal Data Scientist Manager, Experimentation
Marieke Iwema - Principal Design Manager - Conversational AI
Thomas Jimma – Partner Engineering Manager, Azure Machine Learning
5pm: 1:1 Video Networking
We will be using the virtual Hopin Platform. You will receive an email 48 hours before the event with a login for access.
If you have any questions, need a free ticket, or would like to become a sponsor please email: social@joinai.la
Terms and Conditions and Privacy Policy
By acquiring a ticket to an AI LA Community, Inc event, you are agreeing to our Terms and Conditions (http://www.joinai.la/toc) and Privacy Policy (http://www.joinai.la/privacy-policy). If you have questions please reach out to social@joinai.la
Event Recording Policy  
By acquiring a ticket to an AI LA Community Inc event, you grant the AI LA Community, Inc permission to capture photo/video of the event. You can find the exact legal terms on our Event Recording Policy (http://www.joinai.la/recording). If you have questions please reach out to social@joinai.la