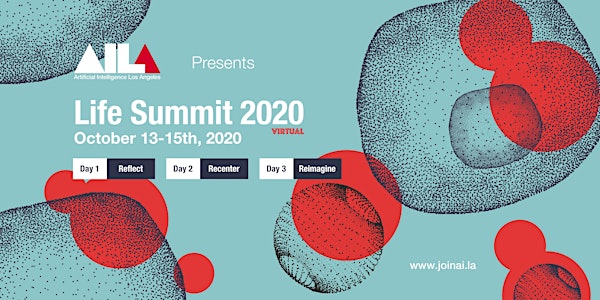 AI LA Life Summit 2020
Life Science in the Age of COVID-19: Reflect, Recenter, Reimagine
About this event
The AI LA Community is hosting its second annual Life Summit virtually this year! SAVE THE DATES: October 13-15th.
****THIS IS NOT YOUR TICKET****
Please register here: https://hopin.to/events/life-summit-2020
*** SCHEDULE ***
(All times in Pacific Time, UTC-7)
DAY 1: REFLECT (Tue, Oct 13)
* 8:00am - Keynote by Claire Bonaci, Microsoft Sr. Director, US Health & Life Sciences
* 8:15am - Hackers without Borders
* 9:15am - The Global Pivot
* 10:15am - Challenges and Opportunities in Digital Delivery of Behavioral Health
* 11:00am - Networking
* 12:00pm - Break
* 4:00pm - Keynote by Amanda Daflos , Chief Innovation Officer of City of Los Angeles
* 4:15pm - LA's COVID-19 Response
* 5:15pm - Equity in Telehealth
* 6:00pm - Health Systems Stressed
* 7:00pm - Networking
DAY 2: RECENTER (Wed, Oct 14)
* 8:00am - Keynote by George Tolomiczenko, Director of Medical Innovations at UC Irvine
* 8:15am - Temporal Scene Understanding in Robot-assisted Surgery Using Deep Learning
* 8:30am - Deep learning-enabled cellular image analysis at scale
* 8:45am - Physics-Guided Deep Learning for COVID-19 Forecasting
* 9:00am - Using Reinforcement Learning to Imitate Drug Discovery Experts and Accelerate Discovery
* 9:15am - Better Storytelling Through Data: Lessons from the Frontlines and Backends of a Pandemic
* 10:00am - Investor Roundtable
* 11:00am - Networking
* 12:00pm - Break
* 4:00pm - Welcome
* 4:15pm - AI Applications in Ophthalmology
* 4:30pm - The Entrepreneurial Scientist
* 5:15pm - Vocal Biomarkers of Neuropsychological Disorders
* 5:30pm - AI Talk
* 5:45pm - Developing tools for collaborating around 3D+ biomedical imaging data
* 6:00pm - AI in Healthcare
* 7:00pm - Networking
DAY 3: REIMAGINE (Thu, Oct 15)
* 8:00am - Keynote by Stephanie Hsieh, Executive Director at Biocom LA
* 8:15am - Reimagining Cancer Treatment
* 9:15am - Reimagining R&D in Labs
* 10:00am - Quantified Self & AI
* 11:00am - Networking
* 12:00pm - Break
* 4:00pm - Keynote by Vivienne Ming, Professional Mad Scientist
* 4:15pm - The Future of Synthetic Biology
* 5:15pm - Living Robots
* 6:05pm - Sustainable Living Systems
* 7:00pm - Networking
As the world had only begun to embrace the possibilities and promise that a new decade brings, our sense of "normal" was stopped in its tracks by the sudden and tragic emergence of the global Coronavirus pandemic. With millions infected, hundreds of thousands perished, and socioeconomic hardship brought about by mandatory quarantines, few lives have been left untouched.
All eyes have now focused on the world of biomedical science, both for delivering the vaccines and therapeutics necessary to overcome the current pandemic and to usher in a bigger, better and brighter future for us all.
In historical never before seen fashion, research labs, hospitals, and private industry have all opened their doors to collaborate, contribute, and innovate in a global effort against COVID-19.
Over the course of just five months, the pandemic has accelerated data-driven approaches through the adoption of telemedicine, R&D in computational biology, health care and infectious disease response.
Join AI LA for a three-day tribute to this unprecedented advance in knowledge, progress, data collection, and a preview of what tomorrow might bring.
On Day One, we reflect back on the rapid response in the health care and science communities as a new threat emerged.
On Day Two, world-renowned experts in computational biology and life science help us recenter for a deeper understanding of ongoing research and future data analysis trends.
On Day Three, we reimagine a post-COVID19 biotechnology foundation that will allow us to keep solving, keep pushing, and establish new frontiers of research.
Why Attend?
Whether you are science-focused or science-curious, AI LA's three-day summit will inspire and interconnect through scientific storytelling. As we embrace the New Normal and pave the way to a better future, biotech and life science will be the epicenter for a healthier future.
Learn from researchers at the core of today's innovations, especially if you are interested in pursuing a career at the intersection of biotechnology and healthcare. Through our collective effort, we can provide support and motivate those already working in these industries to continue advancing possibilities and saving lives.
The Life Summit is a forum for coming together as a community, a platform for exchanging ideas, and a catalyst for the scientists of the next generation.