Description

Get started with Watson
Apply cognitive technology across a broad range of industries and problems.
Watson Virtual Agent
Help your customers help themselves. Provide them with instantaneous, personalized support - wherever and whenever they need it. Learn more
Watson Explorer
Combine the power of cloud-based enterprise search, content analysis and cognitive solutions to connect and view data insights across silos, for better outcomes. Learn more
Watson Analytics
Uncover new insights quickly and easily with automated data analysis, automatic visualization and predictive analytics. Learn more
Watson Knowledge Studio
Teach Watson to discover meaningful insights in unstructured text without writing any code.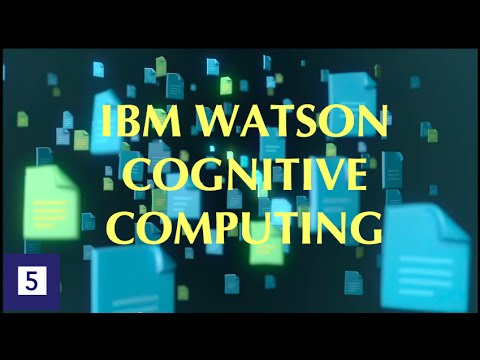 AI in VR with IBM Watson - RobotX Meetup No.32
During this Meetup session, attendees will learn about the intersection between the emerging fields of Artificial Intelligence and Virtual Reality, including some of the work IBM Watson is doing with Interactive Speech Interfaces and Chatbots in VR. From applications in science, training, therapy, rehabilitation, productivity, education and, yes, gaming, attendees can expect to learn some concrete examples from Michael's own experience and be presented industry trends and understand more about where AI and VR are going in both the near and long term future.
Speaker Bio
Michael Ludden is Director of Product at IBM's Watson Developer Labs & AR/VR Labs. Previously, Michael was Developer Marketing Manager Lead at Google, Head of Developer Marketing at Samsung, a Developer Evangelist at HTC, Global Director of Developer Relations at startups Quixey & Nexmo, and was involved at various times in development, product marketing, co-founding startups, tech show hosting, and even cruise-ship singing (don't ask). Michael has a degree from UCLA and is happy to share more about exciting developments in the exploding field of Artificial Intelligence.
---


Agenda
6:00~6:30 PM Registration, Food & Drinks
6:30~7:30 PM Keynote: AI in VR with IBM Watson

, Michael Ludden,

Program Director & Senior Product Manager, IBM Watson
7:30~8:00 PM Q&A
8:00~8:30 PM After Event Networking
---
Get Your Annual Tickets &
Join Our Vibrant A.I. Startup Community At The Heart Of Silicon Valley
Member Benefits:
Complimentary access to our full event schedule. We meet once every two weeks to network & discuss innovations .(Totally 50 times per year)
Happy Hour, Foods & Drink

Featuring robotics, artificial intelligence, 3D printing, wearables, IoT, smart devices, and more.


Unite geeks, startups, investors, and executives to explore cross-border opportunities.
Local Industry's leading companies for keynotes, collaborations and business services
Upcoming Event Schedule:
05.16 Topic: AI in VR with IBM Watson, Michael Ludden, Program Director & Senior Product Manager, IBM Watson
06.13 Topic: Tensorflow: Machine Learning for Everyone, Xiaobing Liu, Senior Software Engineer at Google Brain
07.11 Topic: Cloudsight's Visual Cognition:High Quality Understanding of Images Within Seconds, Brad Folkens, CTO & Co-Founder, Cloudsight
07.25 Topic: Netflix, on the airChad Kapadia, Chief Technology Officer at Swissclear Global, Former Engineering manager at Netflix
08.08 Topic: The secret code of da Vinci Robotic Surgery, Wanxi, Systems Analyst at Intuitive Surgical
08.29 Topic: NewGen, Cross-border VC Fund between U.S and AsiaLu Zhang, Forbes 30 Under 30, Founding Partner, NewGen Capital
09.05 Topic: ABB Ventures + RoboticsGrant, Allen, Partner at ABB Venture
09.19 Topic: Qihoo360 Lab,the best smart hardware ecosystem, Shu Cao, Chief engineer at Qihoo 360
Keep Updating and More...
Our 2017 Meetup Timeline: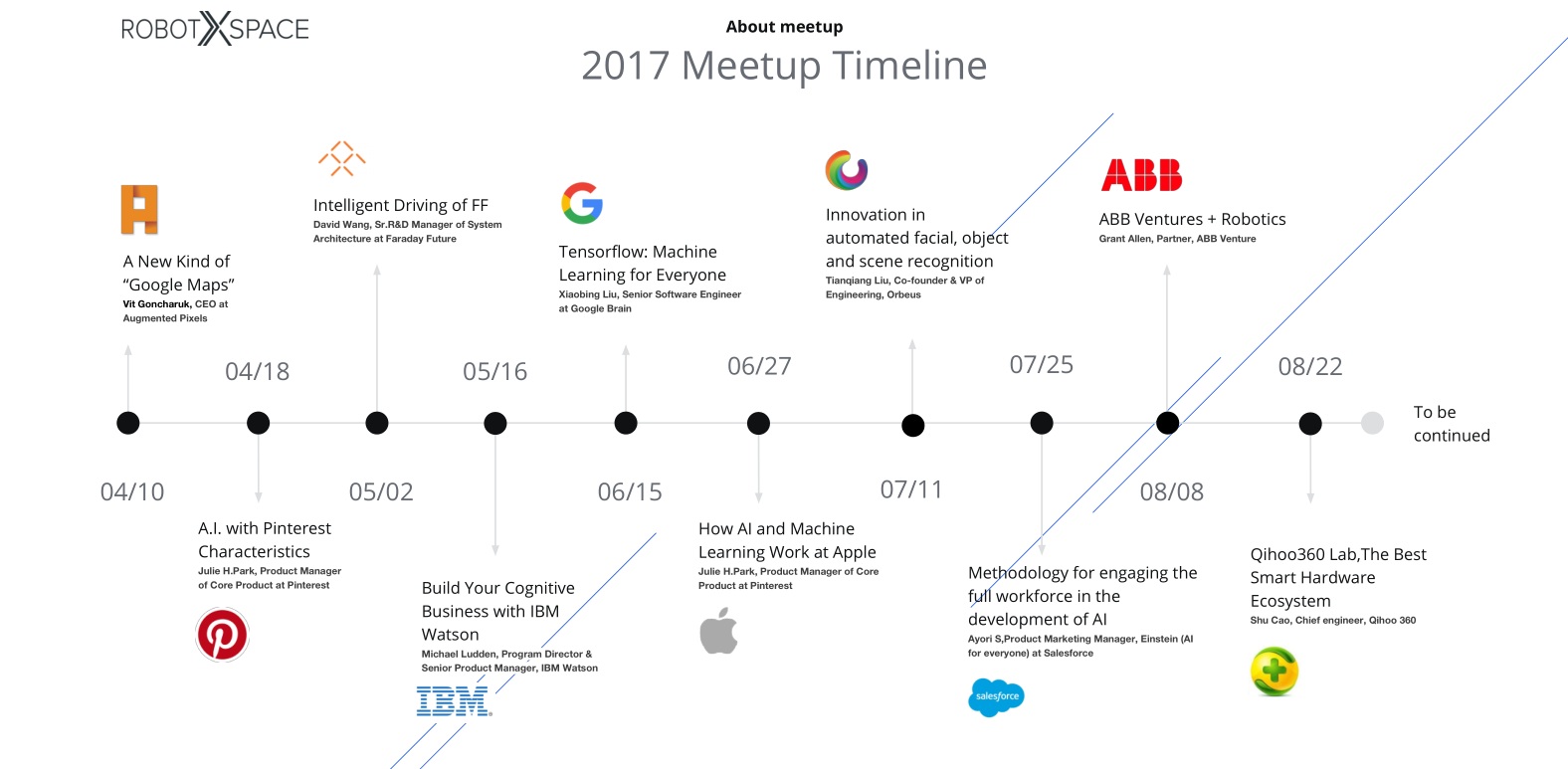 Our Clients: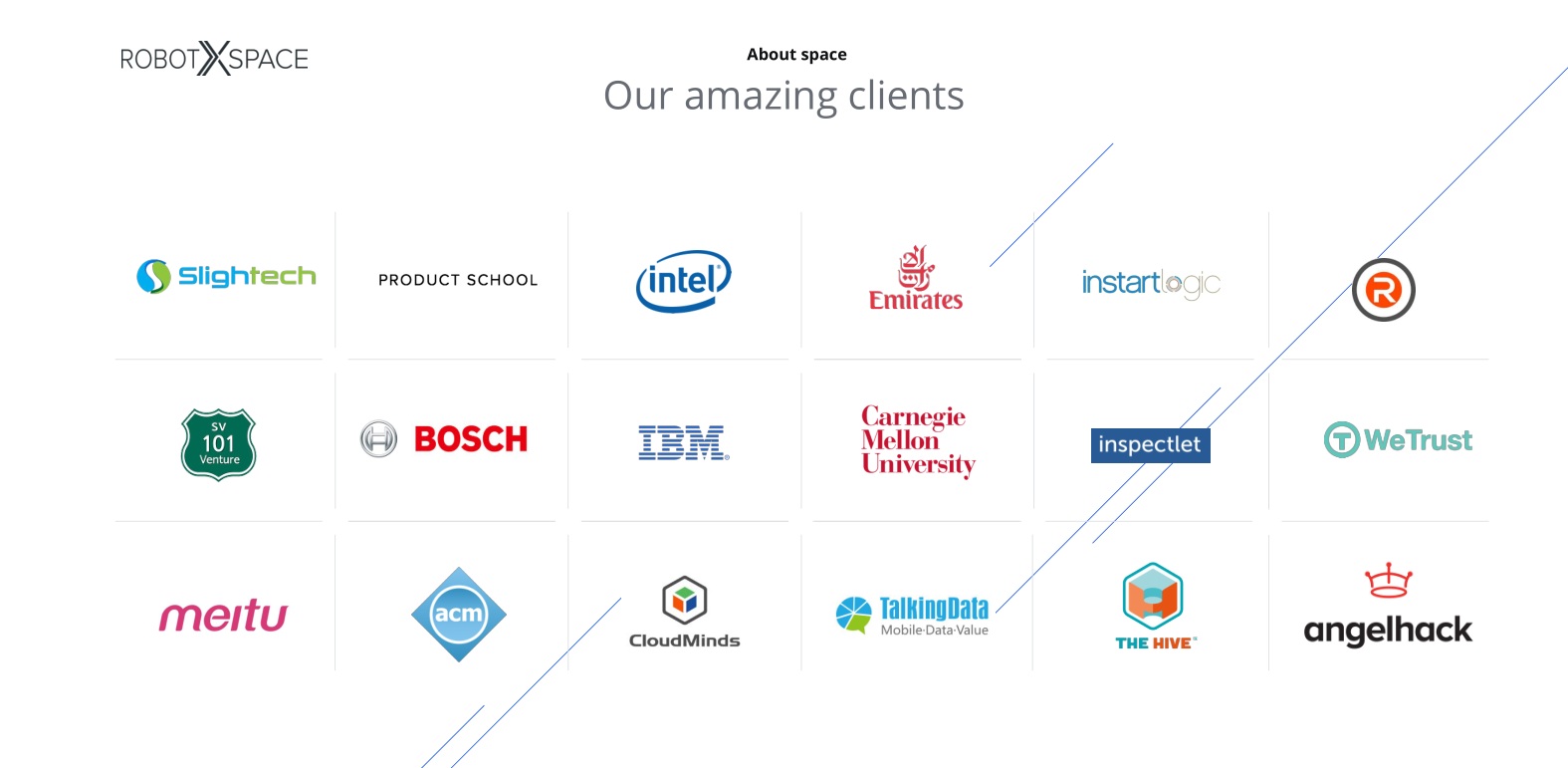 ---
The event will serve all guests food & drinks
Partners


Media Partners


More information: www.robotxspace.com or questions may be directed to email at info@robotxspace.com
For Events Calendar: http://robotxspace.com/events