Description
We need your voice to amplify the problems happening across the Greater Miami community and demystify how technology like AI can help support organizations in the work they do.
Microsoft Cities Miami is partnering up with Venture Café, Miami's largest weekly convening to push the conversation for AI for Good. We believe that AI when designed and used responsibly, can help organizations tackle big societal challenges and benefit humanity. We are building this space to elevate conversations with leaders across different civic sectors help empower our local Miami community to build the capacity to take advantage of the many benefits of AI.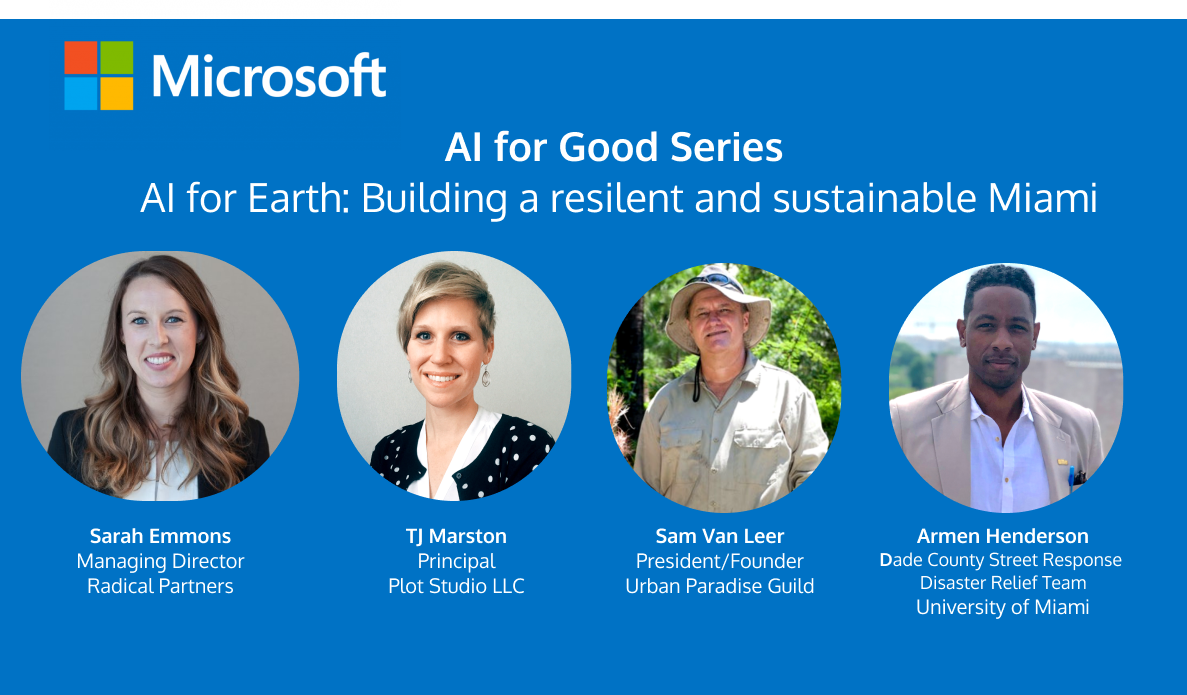 Speakers
Sarah Emmons, Managing Director at Radical Partners
Radical Partners is an accelerator for social impact. Our mission is to build a stronger Miami by investing in the leadership of the innovators solving the region's most pressing challenges and by mobilizing a critical mass of locals to engage in civic problem-solving.
Sam Van Leer, President and Founder at Urban Paradise Guild
Sam Van Leer is an inventor and community organizer working to protect Miami from Climate Change. His prior information management career included data architecture used on 6 continents. In 2008 he founded Urban Paradise Guild (UPG) to mobilize, educate and train the community to work on projects to fight the causes and effects of Climate Change. UPG was recognized as Miami Dade College Community Partner of the Year for Service-Learning three times. Initiatives include Urban Agriculture, Urban Forestry, Coastal Resilience and Urban Planning.
TJ Marston, Principal at Plot Studio LLC
TJ Marston is an Instructor in Landscape Architecture + Environmental and Urban Design at Florida International University and founder of Plot Studio, a landscape design and research firm in Miami. Plot Studio aims to use adaptive design as a catalyst to solve ecological, social, and cultural challenges within local communities. After receiving her Masters in Landscape Architecture from the University of Pennsylvania, TJ moved to Miami, Florida - a city standing at the forefront of climate change. While working for a local firm for 6 years, she lead the design and project management of multiple award winning projects. In her free time, she loves to hang out with her kids, swim, practice yoga, paint, and paddleboard.

Armen Henderson, Dade County Street Response Disaster Relief Team at University of Miami
Armen Henderson is a Miami based physician-organizer leading missions to address the social determinate of health while encouraging medical professionals to step outside of the hospital doors and into the community.