About this Event
Tech companies are facing AI challenges — such as gender and racial biases, privacy threats, fake news, deceptive political ads — that are creating distrust of digital media & data.
The novelty of the technology has created initiatives — such as The Partnership on AI, ML Perf, as well as engagements between governments, entrepreneurs and civic organizations like UNICEF — to create sustainable methods of ensuring AI ethics and privacy.
Join WomenOfAI.org on December 4 at Amazon San Diego to learn more about AI Ethics & Privacy.
AUDIENCE
This panel is intended for industry experts & non-technical folks. No experience in AI is needed.
Food and beverage sponsored by Amazon & AAUW SD.
Attendance is free. Optional donations will support WomenOfAI.org.
SCHEDULE
PANELISTS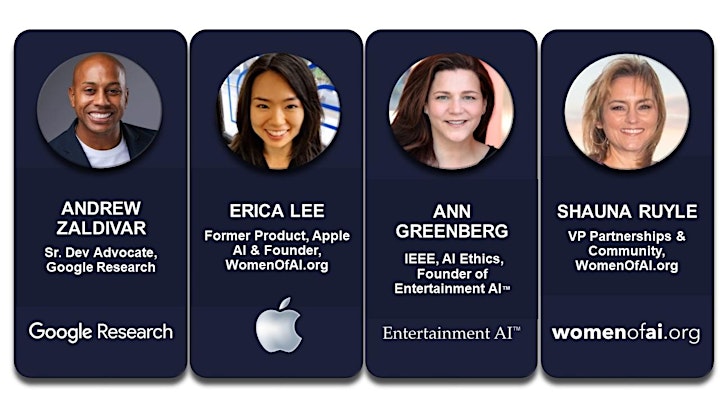 Keynote
ANDREW ZALDIVAR - Sr. Dev Advocate, Google Research
Andrew Zaldivar is a Senior Developer Advocate for Google Research. He develops and promotes tools and techniques that help communities build socially responsible AI systems. Previously, he was a Senior Strategist in Google's Trust and Safety Group protecting the integrity of Google's products by using machine learning to improve abuse-fighting efforts. Andrew has a PhD in Cognitive Neuroscience from the UC Irvine and was a Fellow at Insight Data Science.
Panel
ERICA LEE - Former AI Product, Apple; Founder & Executive Director, WomenOfAI.org
Erica Lee is an AI Entrepreneur and Product Manager. She is the Founder & Executive Director of WomenOfAI.org, a nonprofit supporting women in AI. Previously, Erica was a Sr. Technical Product Manager at Apple AI, where she built AI for Siri, FaceID & iCloud. Erica was the founder of several tech startups & studied at MIT & Johns Hopkins. Erica is the winner of TechCrunch Disrupt Hackathon in 2017 & has been featured in Forbes, NYT and more.
ANN GREENBERG - IEEE, AI Ethics, Founder of Entertainment AI ™
Ann Greenberg is an entrepreneur, inventor and thought leader in interactive entertainment. Ann is the founder of Entertainment AI™, the Decentralized Smart Content Marketplace. Previously, she was the cofounder of Gracenote, the leading entertainment data company in the world, acquired by Nielsen for $560M.
SAMIR SINGH - GENERAL COUNSEL & DIRECTOR, STRATEGIC INITIATIVES, ACCEL ROBOTICS CORPORATION
Samir Singh is General Counsel at Accel Robotics Corporation, a San Diego-based startup focused on AI and computer vision for checkout-free stores. In that role, Samir is responsible for the company's agreements and partnerships, including those enabling Accel's privacy-centered approach to frictionless retail. Samir is also a Principal at Triton Bridge, PC, a technology transactions law firm based in La Jolla, CA. Samir received a BA from Claremont McKenna College and a Juris Doctorate from the University of Washington School of Law.
Moderator
SHAUNA RUYLE - VP Partnerships & Community, WomenOfAI.org
Shauna Ruyle is Director Channel Success for SaaSMAX Corp., VP Partnerships & Community for WomenofAI.org, and VP Public Policy for AAUW San Diego. She is a B2B tech professional with experience in business development, field sales, partner management, marketing and sales enablement for high growth startups to global brands (Microsoft, TD Ameritrade, SaaSMAX).