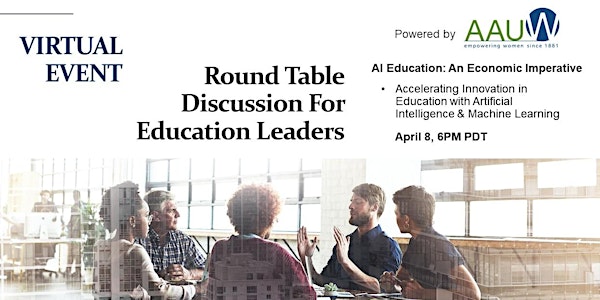 AI Education: An Economic Imperative
Universities are in a unique position to help lead response, recovery & rebuilding -- in the midst of the global unemployment crisis.
Date and time
Wednesday, April 8, 2020 · 6 - 7pm PDT
About this event
Hear from this high-power panel of education thought leaders, computer & data science professors, artificial intelligence (AI) professionals and governments leading innovation in education for San Diego and across the state of California.
The economic consequences of the COVID-19 pandemic will be more severe for certain groups of workers. In the US from 2017-18, less than one-fifth of Hispanic and black workers had the option to work from home, while more than a third of white and Asian workers were allowed or able to do so. This suggests that COVID-19-related layoffs will likely do more economic harm to Hispanic and black workers. The same data suggest that younger, less-educated, lower-income and part-time workers are less likely to have the option to work from home. In other words, it is the least financially secure workers who are most at risk in the COVID-19 crisis.
Join the crucial discussion on "How to empower students from all backgrounds to learn and succeed in the future of work & how to democratize access to technology and education." Learn what technology tools can be used to bridge the equity gaps, whether socio-economic status, gender, physical or cognitive ability.
We will also be announcing the second annual *Global Amazon Web Services (AWS) AI Challenge - an opportunity for student builders to pitch their Social Innovations on a GLOBAL stage with the aim of tackling some of the world's biggest challenges. Learn how we are helping put AI and ML in the hands of women, minority, historically underserved and first-generation student builders through instruction, hands-on learning, demos, tech talks, mentoring, teamwork, pitch presentations, judging, fun prizes and more. This year's theme: Alexa VUI. Design & Build Alexa Skills .
* We hope to return to our on-campus format soon. However, due to COVID-19, format is moving 100% online.
Sponsors/Community Partners
Thank you to our generous sponsors & community partners!
Interested in becoming a community partner or sponsoring the next Global AI Challenge/Hackathon? Contact the organizer
06:00-07:00 PM PDT
06:00-06:10 Opening
06:10-06:55 Panel w/ Q&A
06:55-07:00 Looking to the Future/ Closing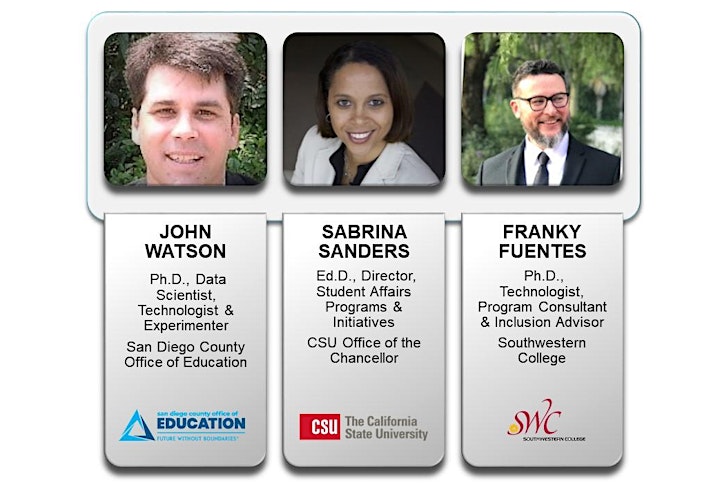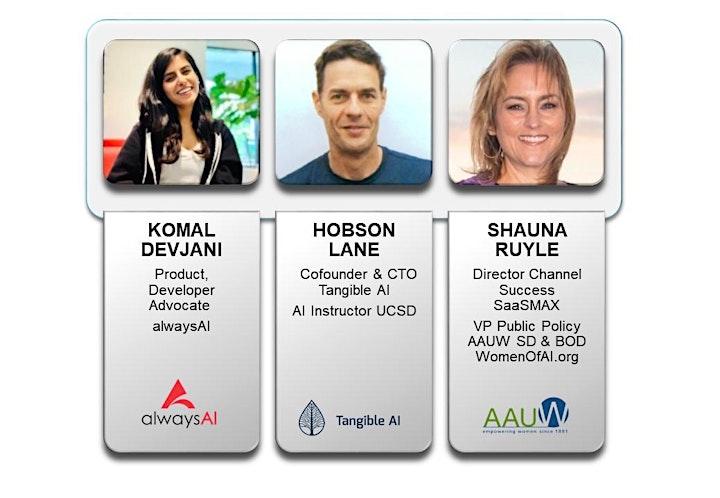 Panelists:
John Watson, Ph.D., Data Scientist, Technologist and Experimenter, San Diego County Office of Education -- John Watson's background as a software and database developer early in his career was a good foundation for his current role as data scientist at San Diego County Office of Education. During the internet boom, he built technology for several startups while completing his MA focusing on artificial intelligence algorithms and then his PhD in education where he conducted metacognition research. John developed the software engineering masters program while an associate professor at National University, then served as Director of IT and Analytics at The Institute for Evidence-Based Change, a nonprofit that ran CalPASS, the California community colleges research database.
Sabrina Sanders, Ed.D., Director, Student Affairs Programs & Initiatives at California State University, Office of the Chancellor -- Dr. Sanders is on the team supporting the Graduation Initiative 2025 for the California State University Office of the Chancellor. The Graduation Initiative 2025 aims to improve degree completion and eliminate equity gaps for underrepresented and low-income students. The CSU, the largest four-year higher education system in the country endeavors to lead the country in providing affordable, high quality degree opportunities for students from all backgrounds. Dr. Sanders was also a core leader in the development of the CSU Basic Needs Initiative, addressing food and housing insecurity in the CSU. She presents and speaks about the work happening in higher education, across California and in our communities in supporting students on their path towards graduation and addressing issues of equity.
Franky Fuentes, Ph.D., Technologist, Program Consultant, and Inclusion Advisor at Southwestern College -- For the last decade, Dr. Fuentes has worked heavily in the intersections of technology, research-based education, and EDIA+. The Steve Harvey Show, Tech Insider, TechCrunch, Stanford Social Innovation Review, The Atlantic, and Wired are some mediums who've featured programs including his work. He has consulted for companies like Uber, AdRoll, AirBnB, DevBootcamp, and directed the launch of the Impact Center, a co-working space to fight poverty in San Francisco's poorest neighborhood, Bayview Hunters-Point. In 2019, Dr. Fuentes moved back near where he grew up, in a working-class neighborhood a mile away from the San Diego border with Mexico.
Hobson Lane, Cofounder & CTO Tangible AI and UCSD Instructor -- Hobson has more than two decades of experience in a broad range of industries solving automation and machine learning problems for corporate labs like Northrop Grumman, Intel Labs, and Sharp Labs as well as startups like TalentPair, DeepCanopy, Mindcurrent, and Aira. Hobson led the writing of the best-selling book Natural Language Processing in Action and uses it to develop diverse engineering talent on open source projects which contribute to the greater good.
Komal Devjani, Product, Developer Advocate, alwaysAI -- Formerly a Product Manager, as a developer advocate, Komal is a liaison between our users, product, and engineering. She collects product, user, and industry data to drive product and feature implementations for alwaysAI's Computer Vision AI platform. Komal represents the product vision to current and potential users at industry conferences, and other tech events to acquire meaningful user insights and to drive greater product engagement.
Moderator:
Shauna Ruyle, MBA, AWS Cloud Practitioner | VP Public Policy, AAUW San Diego | Board Member, WomenOfAI.org -- B2B enterprise tech professional accelerating business growth by building strategy and execution for executive engagement programs in the Public Sector; delivering differentiated and high-impact executive marketing for decision-makers and influencers in government, education, and non-profits. Cultivating community engagement to drive adoption for high growth startups to global brands (Microsoft, TD Ameritrade, and Lenovo). Industries: SaaS, Software, Hardware, Banking, Financial Services, Public Sector. Shauna is a social entrepreneur focused on using her leadership to advance higher education and economic equity for women & minorities through technology workforce development leveraging Amazon Web Services (AWS).