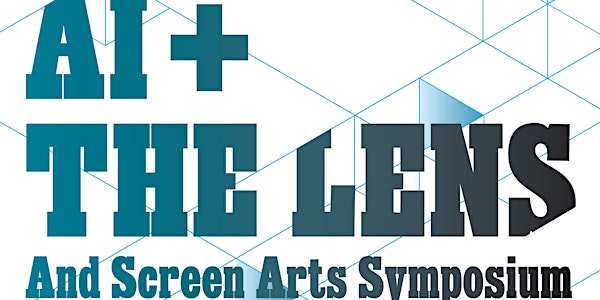 AI and the Lens & Screen Arts Spring Symposium
A special symposium on Artificial Intelligence and the lens and screen arts.
By SVA MFA Photography, Video and Related Media
When and where
Date and time
Saturday, March 18 · 10am - 8pm EDT
Location
SVA Theatre 333 West 23rd Street New York, NY 10011
About this event
The MFA Photography, Video and Related Media Department will host a comprehensive, one-day symposium focused on the pervasive emergence of AI and its effects upon the lens and screen arts. This event is the first part of a series of lectures and discussions with artists, theorists, educators, and industry professionals reflecting on the recent explosion of interest, use, and questions surrounding AI image synthesis through tools such as DALL-E, MidJourney, Stable Diffusion, and others.
As Charles Traub notes, "Once again, a major technological revolution has come upon us. AI has clearly emerged as a now ubiquitous tool. Its impact on the lens and screen arts, and all of our social, intellectual, and scientific practices, is only beginning to be understood. There's no doubt that this is a profound transformation of the digital world. It is now time to learn about it, its consequences, its utility, and its creativity."
The day-long symposium will begin with an opening keynote address by the celebrated Berlin-based filmmaker and writer Hito Steyerl, whose work offers incisive discourse across the fields of art, philosophy, and politics. Her talk will be followed by three sessions that discuss the ways that artificial intelligence (AI) impacts arts education, society, creative practices, and industries. The first session, AI + Arts Education, will feature the chair of MFA Photography, Video and Related Media Charles Traub in conversation with the chair of MFA Fine Arts Mark Tribe, Christiane Paul (Professor in the School of Media Studies at The New School and Curator of Digital Art at The Whitney Museum of American Art), and the chair of MFA Computer Arts Terrence Masson. The second session, Ethical, Legal, + Social Implications of AI, will feature a conversation between writer and critic of digital photography Fred Ritchin, the founding CEO of the non-profit AI for the People Mutale Nkonde, and media and copyright attorney Ed Klaris of Klaris Law. The final session, Creative AI, will focus on the creative capacity of AI with presentations and discussions by artist and educator Stephanie Dinkins and new media artist Carla Gannis, with writer and media theorist Natasha Chuk as moderator. All of these speakers are major authorities in their fields.
The event is free and open to the public, but registration is required. The symposium will begin promptly at 10 am. It is strongly advised that attendees arrive early for check-in. Seating is on a first-come, first-served basis. Breaks will be held between sessions.
Please Note: In accordance with SVA Theatre COVID-19 protocols, all visitors must show proof of vaccination (including booster, if eligible) and remain masked while indoors. Please click here for our current COVID protocols.
This event is sponsored by Adorama.
Bios
-----------------------------------------------------------------
KEYNOTE
-----------------------------------------------------------------
Hito Steyerl (born 1966 in Munich, Germany) is a filmmaker and writer, who lives in Berlin.
Photo: Dominik Butzmann/Flickr
-----------------------------------------------------------------
PANELISTS AND PRESENTERS
-----------------------------------------------------------------
Charles H. Traub has been a photographer/educator for over 50 years. His work is represented in the major museums and collections around the world. In 1988, he founded the MFA program of Photography, Video and Related Media at the School of Visual Arts in NYC and still serves as its Chair. Formally, he was a founder of the Museum of Contemporary Photography, Columbia Collage, Chicago. Later he directed New York's prestigious Light Gallery, and for over 25 years was president of the Aaron Siskind Foundation. Traub has received numerous awards including the prestigious ICP Infinity Award for his work on here is new york: A Democracy of Photography. He has published 17 books, including 11 monographs of his own. Recent publications include Dolce Via (2014), Lunchtime (2015), the iBook No Perfect Heroes-Photographing U.S. Grant (2016), Taradiddle (2016), and Tickety-Boo (2021), Vacant (2022) and Skid Row (2023).
-----------------------------------------------------------------
Christiane Paul is Curator of Digital Art at the Whitney Museum of American Art and Professor in the School of Media Studies at The New School. She is the recipient of the Thoma Foundation's 2016 Arts Writing Award in Digital Art, and her books are A Companion to Digital Art (Blackwell-Wiley, May 2016); Digital Art (Thames and Hudson, 2003, 2008, 2015, 2023); Context Providers – Conditions of Meaning in Media Arts (Intellect, 2011; Chinese edition, 2012); and New Media in the White Cube and Beyond (UC Press, 2008). At the Whitney Museum she curated exhibitions including Refigured (2023), Programmed: Rules, Codes, and Choreographies in Art 1965 - 2018 (2018/19), Cory Arcangel: Pro Tools (2011) and Profiling (2007), and is responsible for artport, the museum's portal to Internet art. Other curatorial work includes DiMoDA 4.0 Dis/Location, The Question of Intelligence (Kellen Gallery, The New School, NYC, 2020), Little Sister (is watching you, too) (Pratt Manhattan Gallery, NYC, 2015); and What Lies Beneath (Borusan Contemporary, Istanbul, 2015).
-----------------------------------------------------------------
Terrence Masson is an educator and computer graphics raconteur with 30 years of production and education leadership experience. As an animation and visual effects artist and producer, his work includes live action, animated feature and short animated films, VR/AR, video games, and ride films.
His book CG101: A Computer Graphics Industry Reference is a standard text worldwide for both studio execs and students, in print and online at www.historyofcg.com
Terrence came up through the ranks on more than 20 feature films including Hook, True Lies, Interview with the Vampire and three Star Wars movies; along with supervising numerous interactive projects such as SimCity4, Bruce Lee, Batman Dark Tomorrow and Alter Echo. He developed the original CG animation method for SouthPark in 1996, and his short film Bunkie & Booboo won first place in the World Animation Celebration in 1998. An active lecturer, Terrence has enjoyed speaking at over 100 international venues as keynote speaker and panel moderator; in addition to being on camera for multiple seasons of the History Channel docudramas Ancient Aliens and UFO Hunters. An active volunteer with SIGGRAPH since 1988, Terrence served as 2006 Computer Animation Festival Chair, SIGGRAPH 2010 Conference Chair and ACM SIGGRAPH Outstanding Service Awards Chair. Terrence is a member of the Producers Guild of America, the Visual Effects Society and a past ACM Distinguished Lecturer. He has been involved with FMX since 1999 and the View conference since 2010.
-----------------------------------------------------------------
Mark Tribe is an artist who believes in the power of aesthetic experience to forge new pathways of understanding. His paintings, photographs, video recordings and installations have been featured in numerous international solo exhibitions. He is the author of two books, The Port Huron Project: Reenactments of New Left Protest Speeches (Charta, 2010) and New Media Art (Taschen, 2006), and numerous articles. Tribe has served as Chair of the MFA Fine Arts Department at School of Visual Arts in New York City since 2013. Previously, he was an Assistant Professor of Modern Culture and Media Studies at Brown University, Director of Art and Technology at the Columbia University School of the Arts, and Visiting Assistant Professor of Art and Artist in Residence at Williams College. In 1996, he founded Rhizome, a nonprofit arts organization that supports the creation, presentation, preservation, and critique of emerging artistic practices that engage technology. He received an MFA in Visual Art from the University of California, San Diego in 1994 and a BA in Visual Art from Brown University in 1990. Born in San Francisco, California in 1966, he lives and works in New York City.
-----------------------------------------------------------------
Fred Ritchin is a writer, critic, and Dean Emeritus of the International Center of Photography (ICP) School. Prior to joining ICP, he was professor of Photography and Imaging at New York University's Tisch School of the Arts from 1991–2014, where he co-directed the NYU/Magnum Foundation Photography and Human Rights educational program. Ritchin has been picture editor of the New York Times Magazine (1978–82) and executive editor of Camera Arts magazine (1982–83). In 1999 he co-founded and directed PixelPress, an online publication and a collaborator on human rights initiatives with organizations such as UNICEF, the World Health Organization, the Centers for Disease Control, Rotary International, Crimes of War, and UNFPA.
Ritchin has written and lectured internationally about the challenges and possibilities of the digital media revolution. He has published three books on the future of imaging: In Our Own Image: The Coming Revolution in Photography (Aperture, 1990); After Photography (W. W. Norton, 2008); and Bending the Frame: Photojournalism, Documentary, and the Citizen (Aperture, 2013). In 2016 he co-authored with Carole Naggar the Magnum Photobook: The Catalogue Raisonné. He has also been the curator of numerous exhibitions on subjects ranging from Latin American photography to alternative image strategies for social change. He is currently working on a book on A.I. and photography entitled The Synthetic Eye. Ritchin also developed the first multimedia version of the New York Times in 1994-95, and was nominated in 1997 by the Times for a Pulitzer Prize in public service for the non-linear photo essay, "Bosnia:Uncertain Paths to Peace."
Photo: Ports Bishop
-----------------------------------------------------------------
Mutale Nkonde is the founder of AI for the People, a communications firm that seeks to add a technical analysis to racial justice discourse. She is part of the team that introduced the Algorithmic Accountability Act to the US House of Representatives, a member of the TikTok Content Moderation Team, and writes widely on race and technology. Her work has appeared in the New York Times, Washington Post and she has recently published an op-ed on the implications of Elon Musk's acquisition of Twitter for Slate.
-----------------------------------------------------------------
Edward Klaris is the managing partner at Klaris Law and CEO of KlarisIP. He founded the firms in 2015 after having been a litigator at Davis Wright Tremaine, as well as a 17-year stint in-house at ABC/Disney, The New Yorker, and Conde Nast. Since 2005, Ed has been an adjunct professor at Columbia Law School, teaching media law and intellectual property. Since starting Klaris, Ed has been recognized as one of the Best Lawyers in America by US News & World Report and as a Trailblazer by the NY Law Journal. The Financial Times and Inc. 5000 both awarded the firm one of the fastest growing businesses in North America. Ed has published many articles and contributed to several books, including three chapters in the American Bar Association's "Intellectual Property and Technology Due Diligence" published in 2018. He speaks at conferences around the world and is an active member of the Media Law Resource Center and the Association of the Bar of the City of NY.
-----------------------------------------------------------------
Stephanie Dinkins is an artist and educator whose research centers emerging technologies, documentary practices, and social collaboration toward equitable social and technological ecosystems. She is interested in exploring intersections of love and data, stories that uphold and challenge the status quo, technologies that prioritize societal care, and intellectual risk.
Dinkins exhibits internationally at a broad spectrum of community, private, and institutional venues. Dinkins is a Sundance Artist of Practice Fellow, United States Artist Fellow, Knight Arts & Tech Fellow and Creative Capital Grantee.
Wired, Art in America, Artsy, Art21, Hyperallergic, the BBC, Wilson Quarterly, and a host of popular podcasts have highlighted Dinkins' art and ideas.
-----------------------------------------------------------------
Carla Gannis is an American new media artist, who creates digital and mixed media works that explore the relationship between technology, identity, and the human condition. Her works often feature human-like figures in surreal landscapes, commenting on the ways in which technology shapes our lives and perceptions.
Gannis's research interests include computational humor and artistic approaches to working with artificial intelligence. She is dedicated to pushing the boundaries of what is possible in this rapidly evolving area of technology. A regular lecturer on art, innovation, and society, in March 2019 Gannis was a speaker at the SXSW Interactive Festival on the panel "Human Presence and Humor Make Us Better Storytellers."
Gannis has exhibited her work globally and has been featured in various publications, including The New York Times, The Wall Street Journal and El PaÍs. Gannis's 2022 exhibitions include "Welcome to the wwwunderkammer" at Pérez Art Museum Miami and "The Elevated Line" at Ryan Lee Gallery in New York.
-- ChatGPT (edited and fact-checked by Carla Gannis)
-----------------------------------------------------------------
Natasha Chuk, PhD is a media theorist, writer, and educator whose work focuses on the relations between art, philosophy, and creative technologies. She is the author of the book Vanishing Points: Articulations of Death, Fragmentation, and the Unexperienced Experience of Created Objects (Intellect, 2015), and she is currently working on a book called Traces in the Image: The Photographic in Post-Photography. Her art criticism has been published in Millennium Film Journal, Chronogram, Ultra Dogme, the Institute of Network Cultures, Metaverse Creativity Journal, Baltic Screen Media Journal, Flat Journal, and others. She is a faculty member of the MFA Photography, Video and Related Media department at the School of Visual Arts. This symposium is co-organized by Chuk and Adam Bell.
-----------------------------------------------------------------
ORGANIZER
-----------------------------------------------------------------
Adam Bell is a photographer and writer who received his MFA in Photography and Related Media in 2004. His work has been widely exhibited, and his writing and reviews have appeared in numerous publications including Aperture, Afterimage, The Art Book Review, Brooklyn Rail, fototazo, Foam Magazine, Lay Flat, photo-eye, and Paper-Journal. He is the co-editor of The Education of a Photographer (Allworth, 2006) and Vision Anew: The Lens and Screen Arts (University of California Press, 2015). In 2018, he received an Individual Artist Fellowship from the New Jersey Council of the Arts.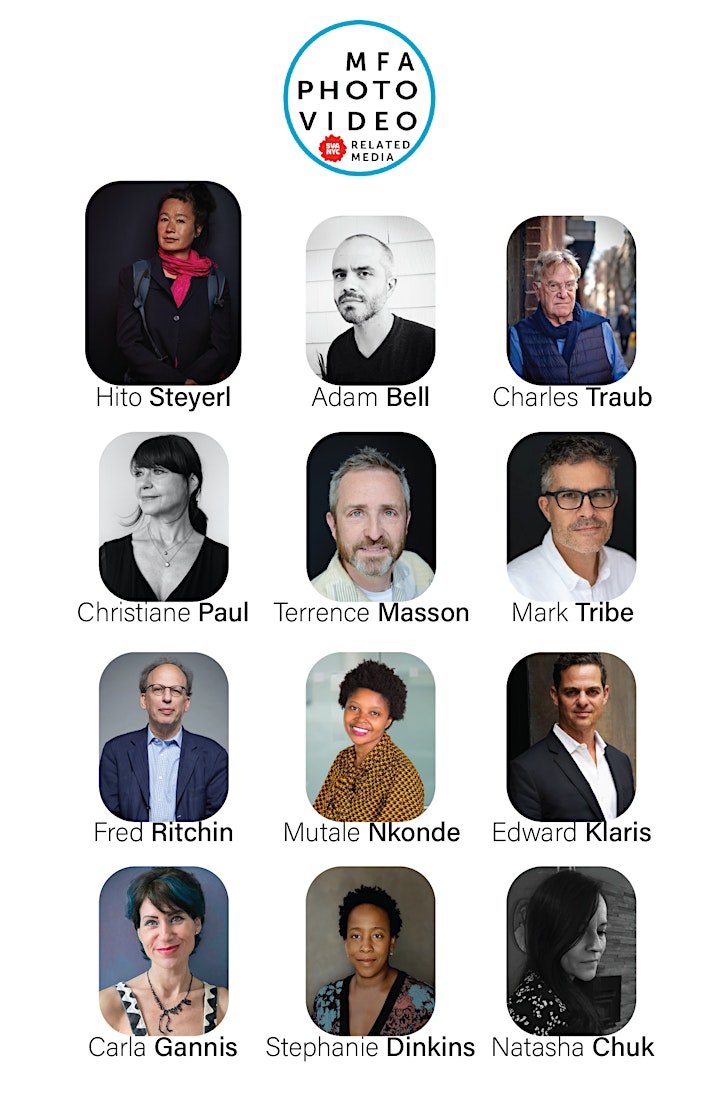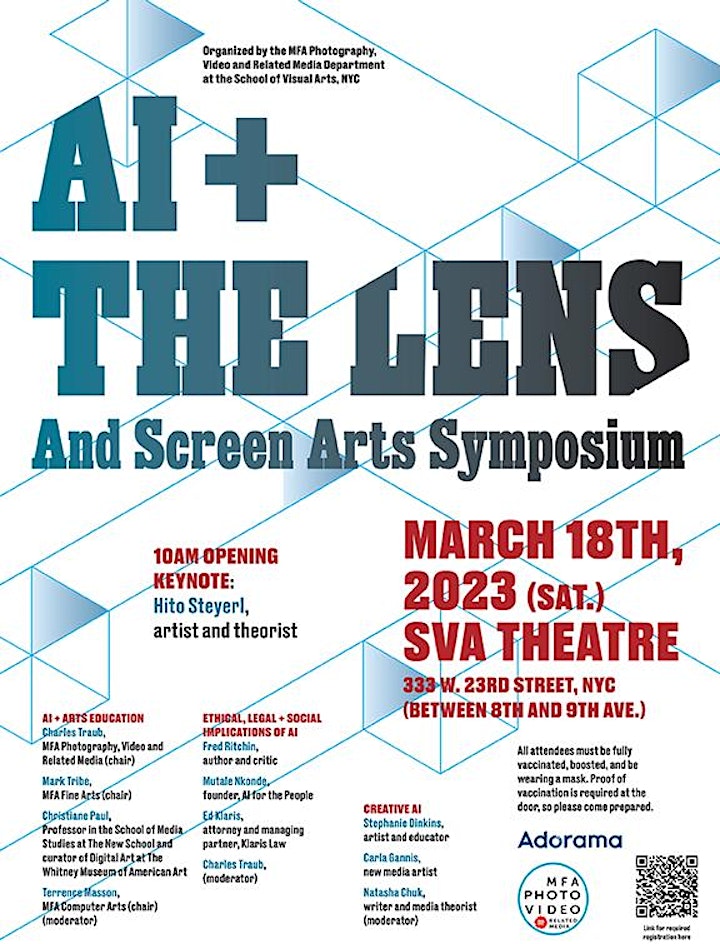 Agenda
10:00 AM - 10:15 AM
Welcome
---
Charles Traub, Chair of MFA Photography, Video and Related Media
10:15 AM - 11:15 AM
Keynote: Hito Steyerl
---
Artist + writer, "The Janus Problem".
11:15 AM - 2:00 PM
Session One | AI + Arts Education, Roundtable Discussion
---
Incorporating AI into arts department curricula. With: Mark Tribe - Chair of MFA Fine Arts SVA, Charles Traub - Chair of MFA Photography, Video and Related Media SVA, Christiane Paul - Curator of Dig...

2:00 PM - 3:00 PM
Lunch Break
3:00 PM - 6:00 PM
Session Two | Ethical, Legal + Social Implications of AI
---
The ethical, legal, and social implications of AI for the creative industries and journalism. With: Fred Ritchin - writer & Dean Emeritus ICP, Mutale Nkonde - founder of AI for the People, Ed Klaris ...

6:15 PM - 7:45 PM
Session Three | Creative AI
---
Artists using and creatively pushing AI technologies toward new aesthetics and sociopolitical examination + critique. With: Carla Gannis - artist, Stephanie Dinkins - artist. Moderator: Natasha Chuk ...