About this Event
"AI is one of the most profound things we're working on as humanity. It's more profound than fire or electricity" - Alphabet Inc. CEO Sundar Pichai, Davos 2020
Whether you believe AI heralds the next glorious revolution of mankind, enslavement to machines, or our ultimate extinction, one thing is pretty clear. It's going to be a totally different playing field, and we can't afford to wait to work out the rules.
Even if we set aside the human impact- the business impact is undeniable - the estimated market size of AI is expected to grow by about 1248% from 2018 until 2025, reaching a global market value of $118.6 bn in revenue.
Emerging technologies bring huge opportunities for both contemporary workspaces and new, customer facing solutions, but many have raised concerns and pointed out risks to our social lives, privacy, discrimination, and the increased impact of cyber-attacks or hacks.
To help you weigh the risks and potential of AI, and how you think about it for your business, or future new businesses, we have invited Daniel Hulme, leading expert in AI, to de-bunk the topic.
What is AI and what is it not? What questions should we be asking? And to who? Can we really prepare for it? Is it more threat or opportunity?
There'll be of time for audience Q&A after the keynote- so don't be afraid to bring your own burning questions!
Agenda
16:30 - Arrival & networking
17:00 - Keynote speech with Q&A
18:00 - Optional group discussion & networking
19:00 - Close
About the keynote speaker
Daniel Hulme (PhD) is a leading expert in Artificial Intelligence (AI) and emerging technologies, and is the CEO of Satalia, an award-winning company that provides AI products and solutions for global companies such as Tesco and PwC.
Daniel has a Master and Doctorate in AI. Daniel is also UCL's Computer Science Entrepreneur in Residence and a lecturer at LSE's Marshall Institute, focused on using AI to solve business and social problems. He is a serial speaker for Google and TEDx, holds an international Kauffman Global Entrepreneur Scholarship, and is a faculty member of Singularity University. Daniel also holds executive and advisory positions in various companies across the private and public sector.
His mission is to create a world where everyone has the freedom to spawn and contribute to innovations, and have those innovations become free to everyone.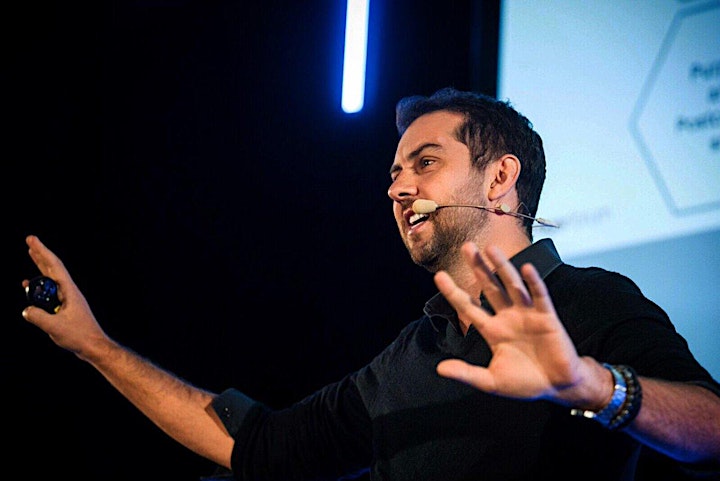 Let's innovate together
Our Innovate Together series brings together Rainmaking's community of innovators, entrepreneurs, and change agents to exchange views and share ideas.