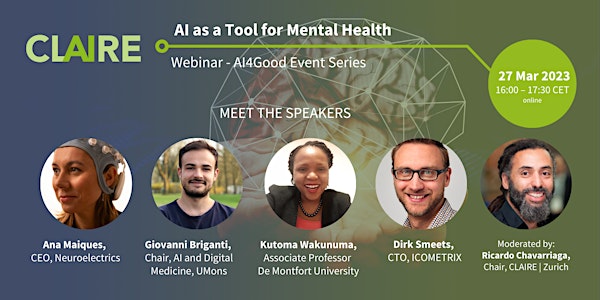 AI and Mental Health Series
This AI4Good event series is a CLAIRE initiative with the aim to highlight what the European AI community does for "the Common Good".
By CLAIRE Confederation of Laboratories for Artificial Intelligence Research
Date and time
Monday, March 27 · 7 - 8:30am PDT
About this event
1 hour 30 minutes

Mobile eTicket
Overview
The relationship between AI and mental health is reciprocal and can be a double-edged sword: AI is now increasingly being used as a tool to help mental health researchers and clinicians in understanding how our brain functions. The use of neuroscience-inspired AI holds great promise in discovering new regimes for treatment, diagnosis, and prevention. At the same, we also often encounter real world cases depicting how AI can affect our mental well-being, such as the case of addictive algorithms and how recommender systems can manipulate behaviors.
In this two-part online events, we will explore these two sides of the coin:
Webinar: AI as a tool for Mental Health
On March 27 at 4PM CET, we will dedicate 1.5 hours on discovering how AI transforms our understanding of brain functions and how it helps in psychiatric practices e.g. diagnosis, treatment, prevention. We will be joined by neuroscientists, psychiatrists, and AI developers to bring use cases and future applications.
All-Questions-Answered (AQuA event): Impact of AI on our Mental Well-being
On March 29 at 10AM, we open the floor for you to ask our multidisciplinary panel of experts about the link of online algorithms and recommender systems to our mental well-being, especially in this day and age where we interact with AI more often, unconsciously. In this AQuA forum, we will tackle the ways by which algorithms (in social media and other platforms) impacts us, our behaviors, our way of thinking, and some mental disorders associated with these everyday technologies.
Speakers:
Ana Maiques is the CEO of Neuroelectrics, a company aiming to change the way we interact with the brain, developing innovative technologies to monitor and stimulate the brain to help many patients in need. She was nominated by IESE as one of the most influential entrepreneurs under 40 in Spain (2010) and received the EU Prize for Women Innovators from the European Commission EC in 2014 and one of the Most Inspiring Fifty Women in Europe. Neuroelectrics recently received the Best Start-up in Health 2015 by Wired UK magazine in an amazing event in London. She spends her time between Barcelona and Boston.
Giovanni Briganti is a medical doctor at the Department of Psychiatry of the Brussels Teaching Hospital – Brugmann (CHU Bruxelles Brugmann) and an associate professor Associate Professor at Université de Mons and Université libre de Bruxelles. He specializes in the potential of machine learning for the improvement of how we understand and define mental disorders. He is also formerly a postdoc at Harvard University, in the Richard J. McNally laboratory and now leading the AI4Health group at AI4Belgium.
Dr Kutoma Wakunuma is Associate Professor at De Montfort University where she has worked and continues to work on a wide range of research projects on areas around the intersection of digital technologies for development, ethics, responsible innovation and gender. She is especially interested in exploring and understanding the impact and implications of current and emerging digital technologies on modern society in both the Global South and the Global North. Currently, she is involved in AI research and explores the importance of embodying social-cultural values which account for inter-regional consideration of both the Global South and the Global North in the global AI discourse. She believes this will be a way of strengthening policies, strategies, regulations and ethics considerations that can result in a truly responsible AI. More recently, she has co-edited a book on Responsible AI in Africa which offers great insight into the Challenges and Opportunities for the Global South as well as contributes to the gap in the AI global discourse from a Global South perspective. Dr Wakunuma is also interim Co-Director of the Centre for Computing and Social Responsibility and is also Subject Group Leader for the Information Systems Group in the School of Computer Science and Informatics.
Dirk Smeets is the CTO of icometrix. Dirk has also worked as a Postdoctoral Marie Curie Research Fellow at the University of Antwerp from May 2014 to April 2016, where they researched combining MRI with MALDI data. Dirk has also worked as a Visiting Researcher at Inria from July 2011 to September 2011, researching on "Diffusion geometry for 3D shape matching". Dirk's most recent position before becoming CTO at icometrix was as a Research Fellow at KU Leuven from August 2008 to May 2015. Dirk Smeets has a PhD in Medical Image Computing from KU Leuven, as well as degrees in Entrepreneurship 2.0 and Management Acceleration from Vlerick Business School. Dirk also has a master's degree in Biomedical Engineering from KU Leuven and a bachelor's degree in Mechanical Engineering from Politecnico di Milano. Dirk Smeets is currently an Academic Teaching Trainee in Physics at KU Leuven.
Hannah Lea Dykast-Wildhaber Creative practitioner, guest lecturer and coach (bso) for creative transformation processes, mindful leadership and culture change. After intensive years of creativity research at the renowned Parsons The New School for Design in New York City, ZHdK and ZHAW in Switzerland, she now applies her tools of visual, emotional and interpersonal communication in a world full of technology for more humanity. Hannah Lea equips individuals and organizations with 21st Century Skills and Innovation. Within the last decades she practiced empathic Design Thinking & Doing, Mindfulness and Embodiment on an international level, and today applies her personal consulting style, which combines hypno-systemic, systemic, creative and intuition-based methods for mindful self-leadership and innovative organizational ecosystems, to face change courageously with resilience and vision. www.kraftpol.ch
Moderator:
Webinar: Ricardo Chavarriaga has more than 12 years of experience in brain-machine interaction, computational neuroscience, and artificial intelligence. He heads the Switzerland Office of the CLAIRE Initiative for excellence in AI, and chairs the IEEE group on standards for brain-machine interfacing and executive-in-residence at the Geneva Cente for Security Policy, as well asthe publications committee of the IEEE Brain Initiative and member of the MIT Technology Review Global Panel.
AQuA: Hans de Canck heads the Brussels Office of CLAIRE and co-directs FARI – AI for the Common Good Institute, a joint VUB-ULB initiative that aims to boost digital transition in the Brussels Capital Region. He also directs the development of the AI Experience Center at the Vrije Universiteit Brussels (VUB) and co-leads the AI4Good workgroup of AI4Belgium. He has years of experience in Digital Innovation & People Management and worked in the past for iMinds, imec and VITO.
This AI4Good event series is an initiative of CLAIRE Brussels and Switzerland, with the aim to highlight what the European AI community does "for Good".