AHS ENE Drone Night and Trivia Challenge (Info from AHS)
Description
The New England Section is pleased to pass along this announcement to our members. AIAA Members and guests may register at the AHS site at the $12 rate. Students may register at the $5 rate.
DESCRIPTION
The East New England chapter of the American Helicopter Society presents: Drone Night and Trivia Challenge 2017!
Join us for pizza and a great lineup including presentations from GE Ventures, the Boston University UAV Club, Northeastern University AIAA chapter, and AHS ENE's own Bob Gettler. The event will be in the 5th Floor Common Area.
The event will include a social hour and UAV show-and-tell with the guest speakers, pizza dinner (no additional fee), four short presentations with Q&A, and a trivia challenge with a prize for the winner!
AHS Members: $12, Students: $5.
Tickets must be purchased by 4/3/2017, and are non-refundable.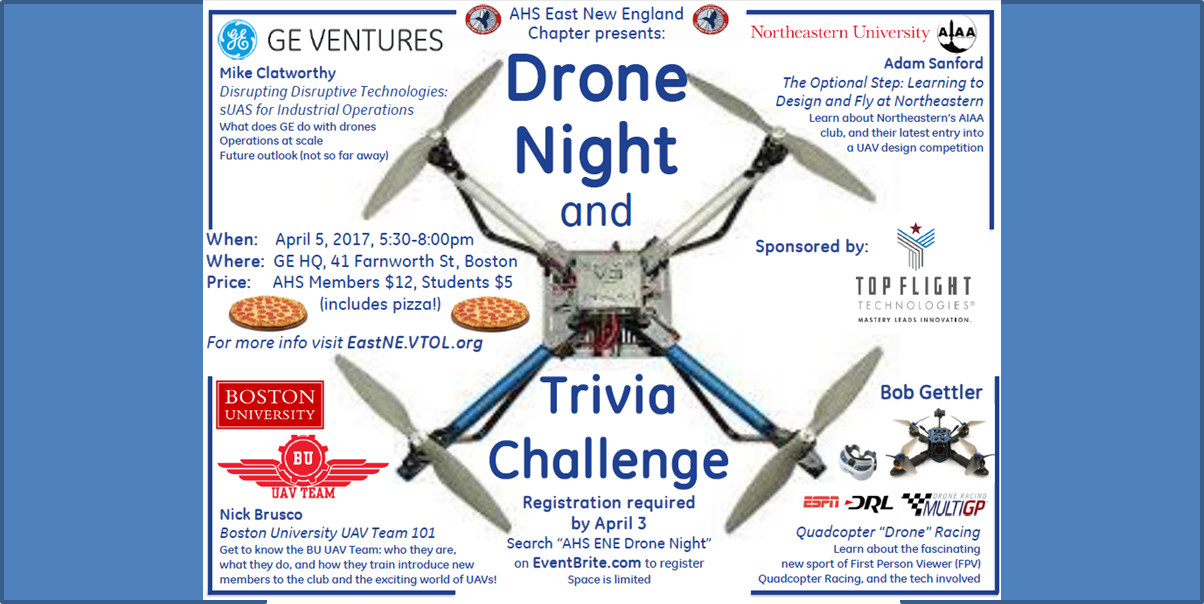 For more information contact Brent Vlasman at Brent.Vlasman@ge.com or 781 594-7058.
Tickets are available through this link to the AHS announcement: https://ahs-ene-dronenight.eventbrite.com