AHPSI,Expo feria nacional de Salud, Santiago, Republica Dominicana.
Description
AHPSI, Asociacion Hispana de profesionales de la salud, Invita a sus miembros a viajar par Santiago de los caballeros, Republica Dominicana, a nuestra Primera EXPO Feria nacional de slaud a celebrarse en Octubre 24-28, 2018, Hora 10am-10pm, libre de costo para todos los participantes, ofrecemos facilidades de paquete turistico para este Viaje desde Estados Unidos, mas detalles: 732-277-9640, 516-422-9623, resti1@aol.com
Version Ingles:
Our Association Ahpsi, Hispanic Health ProfessionalsAssociation Inc NY, invites its members to register for our first National Health Fair Expo, to be held in the city of Santiago de los caballeros, Dominican Republic, on October 24-28, 2018, from 10 am to 10pm, Ahpsi will be establishing the first National Stroke Prevention Plan in the Dominican Republic, with the collaboration of Dr. Carlos Williams, Neurological Specialist in Neurological Intensive Care, Stroke prevention specialist from the University of Virginia will also collaborate. Professionals confirmed who will be collaborating offering lectures, courses and Workshops, also Dr.Eliscer Guzman, President Advitam of ahpsi, Dr.Ivan Subervi, former president of ahpsi, Dr.Mario Paulino, Dr.Sergio Martinez.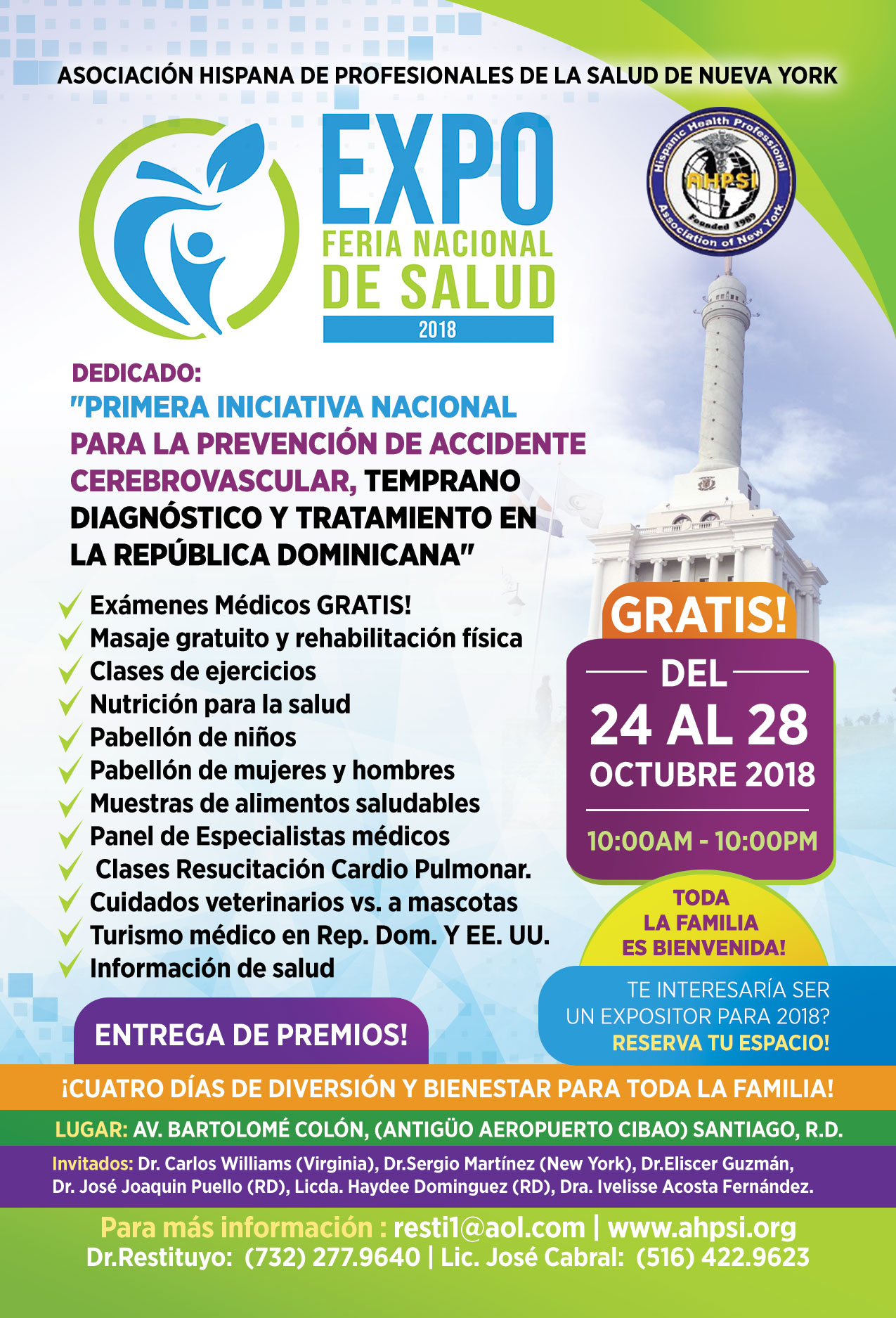 For those interested in joining and collaborating in this expo national health fair, in Santiago, we offer:
WHAT INCLUDES THIS EXPO NATIONAL HEALTH FAIR:
1.Tickect air with special discounts, through the airline Jet Blue line. you will be surprised at the low cost these tickects.
2. Accommodation in a central and cozy area of ​​the city Hidalga de Santiago.
3. Transfer from Cibao airport, from Santiago to the hotel.
4. Transportation from the hotel to the expo Feria, Parque Nacional de Santiago, former cibao airport.
5.Tour cultural tour through the historic area of ​​Santiago, sponsored by the city hall of Santiago.
6.Reception, Cocktail - Dinner, artistic presentation & Welcome Party, with all our international and local guests.
7. Certification courses in Basic Life Support [BLS]
8. Certificates of participation.
Organizing Committee in the Dominican Republic:

Lic.Jose Cabral, Licda.Elba Rosa Garcia, Licida.Haydee Dominguez, Dr.Ivelisse Acosta Fernandez, Dr.Crsity Massiel Alcantara.
Organizing Committee in the United States:
Dr.Diogenes Fermin, Licda.Plinia Rosaura Almonte, Dr.Aritmedes Restituyo.
http://www.ahpsi.org
http://www.ahpsi.wordpress.com