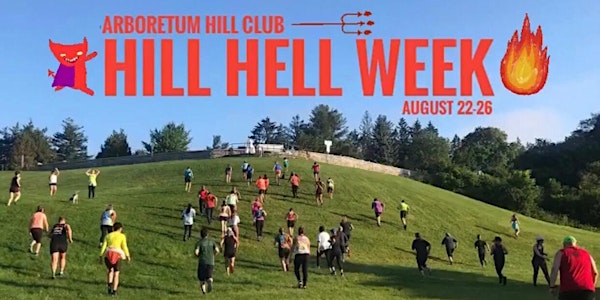 AHC Hill Hell Week 2022 - Friday August 26 @ 6:29am (Dominion Arboretum)
Hill Hell Week: 5 mornings. 5 locations. 5 FREE WORKOUTS.
When and where
Location
Dominion Arboretum Arboretum Ottawa, ON K1A 0C6 Canada
About this event
Join Arboretum Hill Club for our ... gulp ... 4th Hill Hell Week from August 22-26, 2022.
FREE TO ALL!
5 mornings
5 locations
5 FREE WORKOUTS.
Crush all 5 mornings and be crowned a HELL of a hill rockstar ... AND you might win a fresh pair of kicks from Brooks Running! Are there other surprises? HILLS YEAH there are!
HELL DAY 1: Monday, Aug 22 at 6:29am (31 min) - Carlington Park ski hill (behind J.A. Dulude Arena - 941 Clyde Ave N)
HELL DAY 2 Tuesday, Aug 23 at 6:29am - Old Irving Place (corner of Sherwood Drive near Ottawa Civic hospital)
HELL DAY 3: Wednesday, Aug 24 at 6:29am - Stairs behind Parliament Hill
HELL DAY 4: Thursday, Aug 25 at 6:29am - Blair Road (dead end next to Sir George-Étienne Cartier Parkway)
HELL DAY 5: FRIDAY, AUGUST 26 at 6:29am - DOMINION ARBORETUM HILL (choose your adventure: yoga or hills)
[bonus Hell Day 6? To be confirmed]
All ages. All fitness levels. All fun (we promise).
YOU IN?!
Share with your friends, family, colleagues, enemies & frenemies.
#HillHellWeek #HellWeek #FreeFitness #RunHappy #FuelYourGoals