Multiple Dates
AHA HeartSaver CPR | Beachwood Highschool | UH Affiliated Coaches | 2020 Tr...
Description
This class is for UH Affiliated Coaches.
American Heart Association Heartsaver CPR courses are designed for anyone with little or no medical training who needs a course completion card for their job, regulatory (for example, OSHA), or other requirements. Heartsaver courses are ideal for workforce employees (for example construction, childcare, health & fitness, hospitality, and more) or for those who want to be prepared for an emergency in any setting.
This course is led by University Hospitals AHA Certified Instructors and features video training as well as group interaction with hands-on coaching from the instructors.
This training will give you the skills and knowledge needed to recognize cardiac arrest, get emergency care on the way quickly, and help until more advanced care arrives to take over:
Perform CPR for adults, children and infant victims
Use an AED
Assist an adult, child, or infant victim who is choking
Naloxone
Thank you for taking part in this lifesaving training!
All participants who complete the course successfully will be issued an AHA HeartSaver CPR/AED certification by email.
For the training, wear comfortable clothes. Please be a few minutes early for registration confirmation.
CANCELLATIONS
As a courtesy to our instructors, If you need to cancel your registration, please contact us at least a couple days prior to the training you registered for or use the "View and manage your order online" link at the bottom of the confirmation email you will receive.
Thank you for taking part in this lifesaving training!
---
FAQs
What are my parking options?
You can park for free in any parking areas at Beachwood Highschool. Park close to the main entrance.
Where is the class located in the School?
Marketing Room 114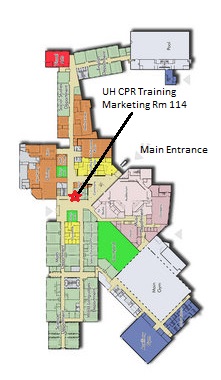 How can I contact the organizer with any questions?
Give us or call: 440-735-3513