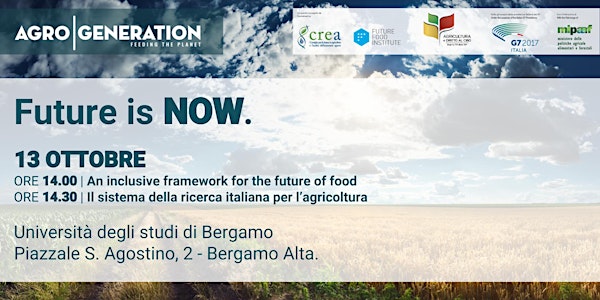 Agrogeneration G7 Bergamo: Future is now
Date and time
Friday, October 13, 2017 · 2 - 5pm CEST
Location
Università degli Studi di Bergamo Piazzale S. Agostino, 2 24129 Bergamo Italy
Description
Dall'Agricoltura alle Scienze della Vita, abbiamo raggiunto un nuovo stadio di consapevolezza su ciò che impatta quotidianamente l'esistenza umana: il cibo.
La conferenza di chiusura di AGROGENERATION vedrà coinvolti grandi esperti internazionali che parleranno delle ultime frontiere dell'innovazione agroalimentare, dell'importanza della ricerca scientifica per far fronte alle grandi sfide del nostro tempo, per culminare con focus specifico sul ruolo della ricerca italiana, motore dell'innovazione.
IL PROGRAMMA
ore 14.00 - 14.30 - Future Is NOW. Future will be diverse. Towards an inclusive framework for the future of food:
Food Innovation: Recipes for the Next Decade - Rebecca Chesney IFTF
Food Care - Michiel Bakker - Google Food
The plant revolution - Stephen Ritz - The Green Bronx Machine
ore 14.30 - 16.00 - Il sistema della ricerca italiana per l'agricoltura
Ore 14.30 - Introduce e modera Michele Stanca, Vice-Presidente Accademia dei Georgofili
Ore 14.45 - La ricerca nelle università - Chiara Tonelli, Pro-Rettore Università Statale di Milano
Ore 15.00 - Gli enti di ricerca pubblici - Massimo Inguscio, Presidente CNR
Ore 15.15 Gli enti di ricerca privati - Andrea Segré, Presidente Fondazione Edmund Mach
Ore 15.30 I competence center di Industria 4.0 - Fabrizio Dughiero, Pro-Rettore al trasferimento tecnologico Università di Padova
Ore 15.45 La ricerca dedicata - Salvatore Parlato, Presidente CREA
Ore 16.00 Il nuovo polo per la ricerca italiana - Stefano Paleari, Presidente del Comitato di Coordinamento di Human Technopole
Concludono Maurizio Martina, Ministro delle Politiche Agricole Alimentari e Forestali e Valeria Fedeli, Ministro dell'Istruzione, dell'Università e della Ricerca
ore 16.00 - 17.00- ...and The Winner is...: PREMIAZIONE HACKATHON AGROGENERATION BERGAMO
IL CONTESTO
Investire nell'agricoltura non significa guardare al passato, ma piuttosto interpretare il futuro con nuovi strumenti. L'Italia dev'essere il faro del rinnovamento agroalimentare europeo, salvaguardando il patrimonio culturale e di esperienza creato e disseminato grazie a Expo 2015. L'aumento del numero delle aziende agricole, coniugato con una maggiore attenzione per il nostro patrimonio agricolo, sta creando un'opportunità irripetibile per creare valore sul territorio italiano. La straordinaria biodiversità italiana è un'eredità che è stata ottenuta attraverso l'antica conoscenza della tradizione agricola e le nuove tecnologie che ogni giorno espandono le possibilità di sviluppo: queste rappresentano un grande valore per l'industria e per la cultura. E quale modo migliore di fare ciò, se non attraverso la saggezza dei giovani digitals e degli imprenditori agri-food?
Quest'accoppiata esplosiva è la più adatta ad esplorare il benessere che si può creare a partire dalla saggezza radicata nella storia e nell'antichità della tradizione e delle opportunità che la tecnologia è in grado di offrire al futuro dell'agricoltura in continua evoluzione. Tutto questo è Agrogeneration!
About the organizer
Future Food Institute
Founded in 2014 in Bologna, FFI is an entire ecosystem that makes food innovation a key tool to face the great challenges of the future, speaking to the world, and enhancing the existing  territory starting from Italy. An ecosystem whose soul is focused on education: the Future Food Institute is a non-profit trust that, thanks to strategic global partnerships, has given life to the international Food Innovation Program Master's, now in its third edition: the Food Innovation Global Mission, Summer School, Young Talent Academy, laboratories for primary schools and executive workshops.
A platform for positive contamination and constant inspiration that gave life to Future Food Accelerator in 2015, an innovative startup created to support companies in the agri-food sector and institutions on open innovation paths to feed the community of young entrepreneurs or scientists with "disruptive" ideas.
A group of companies and places of innovation that today includes:
> Future Farm (Ravenna), a real, 60-hectare farm, a playground for AgTech startups;
> Future Food Urban Coolab (Bologna), nourishment space for the body and mind, welcoming hundreds of students every day and designed with students, a permanent and operational laboratory on FOOD INNOVATION in the heart of the city, Bologna, offering traditional and healthy food, and community service, stimulating critical thinking and the participation of all
> Officucina (Reggio Emilia) Laboratory and headquarters of the Food Innovation Master's Program;
> Future Food Americas (San Francisco), the American headquarters of the group.
www.futurefood.network